Gilliam Center for Entrepreneurship - Academics
The GCFE isn't your only entrepreneurship learning option. Within the College of Business and beyond, JMU offers classroom and hands-on options for all students. Management majors can add an entrepreneurship concentration, and all other majors across campus can pursue an entrepreneurship minor. All Dukes can join JMU X-Labs for project-based innovative problem solving.
Open to students of all majors, the Entrepreneurship Minor pairs course work in the COB with different disciplines across campus. Your entrepreneurial spirit can drive innovation, and the entrepreneurship minor can help get you there by providing the business knowledge and skills necessary for successful new venture creation.
The JMU X-Labs also offer many exciting classes in their innovative, work-shop lab space.
Real problems. Using emerging technologies, students from over 35 different majors work directly with client partners on real problems that resist easy solutions.
Real skills. By working with people from different areas of expertise, students gain unprecedented experience, knowledge and skills in teamwork, leadership and meaningful problem solving.
Real impact. JMU X-Labs students graduate with critical thinking skills that allow them to contribute immediate value as global citizens, earning 33% higher salaries than their peers.
The Innovation and Entrepreneurship concentration is for management majors, and is designed to provide you with an introduction to the role of innovation in business development. You'll gain a solid foundation in the principal elements of entrepreneurship and small business management and the opportunity to get hands-on experience working with a team to create a new business venture.
---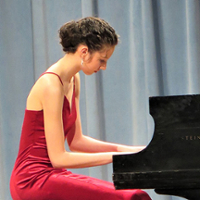 "There is the starving musician stereotype, and I think that one of the reasons is not the quality of the musicians, but the need to figure out how to sell yourself as a professional. The arts are important, but you have to know how to package everything and fill a concert hall or fill your studio, so the business skills are also important."
-Arielle Sukhram ('20)
Piano performance major, and entreprenesurhip minor
---