Any student across campus can pursue an entrepreneurship minor (with the exception of management
majors who can add an entrepreneurship concentration). The entrepreneurship minor provides business
knowledge and skills necessary for successful new venture creation.
GCFE non-academic programs complement the entrepreneurship courses offered within the College of
Business. Students can combine the knowledge gained through their coursework and integrate it with
the start-up tools and methods learned in the GCFE programs.
---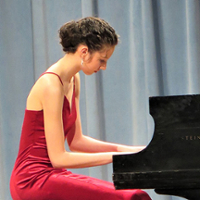 "There is the starving musician stereotype, and I think that one of the reasons is not the quality of the musicians, but the need to figure out how to sell yourself as a professional. The arts are important, but you have to know how to package everything and fill a concert hall or fill your studio, so the business skills are also important."
-Arielle Sukhram ('20)
Piano performance major and entrepreneurship minor
---