GIS Projects and Services
From 2015–2018, CISR conducted multiple innovative GIS and mapping projects sponsored by the U.S. Department of State. In partnership with faculty and students from James Madison University's Geographic Science Program, CISR conducted a widespread needs assessment from global leaders at the intersection of humanitarian mine action and information management.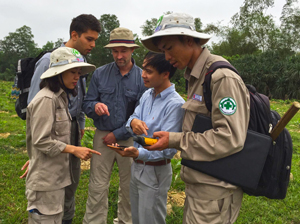 CISR/JMU identified the major GIS operational and reporting needs of the community used to create tools directly addressing those issues. The work resulted in the CISR ArcGIS Online Survey Tool (CAST), an integrated GIS tool using the ESRI company's ArcGIS Online platform. The tool allows clearance operators to record spatial and qualitative information directly into geodatabases using mobile technology.
CISR/JMU, in partnership with Norwegian People's Aid and Project RENEW, then successfully piloted CAST with Cluster Munition Remnants Survey teams in central Vietnam. In addition, faculty from CISR/JMU assisted organizations in Vietnam with GIS software to conduct spatial analysis of casualty data, and prioritization of survey and clearance work.
Click here to read a JMU news article about the project  (2015)
Map Catalog
CISR has provided a variety of ready-to-use country, regional and continental maps for use at no cost. Please click an area below to view map inventory:

Journal articles about GIS and mapping