Click here to view the entire report
Thousands of communities across East Asia and the Pacific face lingering dangers from landmines and explosive remnants of war dating back to World War II, the Vietnam War, and the Indochina Wars. Strong economic development and population expansion into previously uninhabited areas in the decades since combat ended continue to expose civilians to landmines and explosive remnants of war.   Climate change is also seriously impacting communities across the region, further complicating land development activities as well as landmine and unexploded ordnance clearance efforts. In mainland Southeast Asia, heavier rainy seasons caused by stronger typhoons result in increased landslides and devastating floods, which can expose long buried explosives and slow clearance work.  In the Pacific, rising sea levels displace communities and force them into previously uninhabited areas contaminated by explosive remnants of war.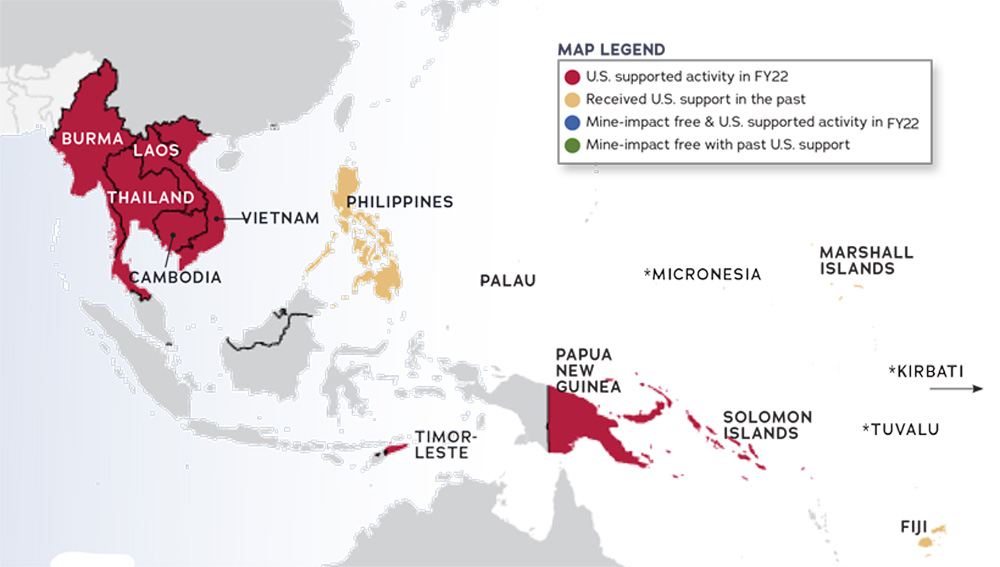 *Click on map to download a .pdf of the East Asia Pacific factsheet.
For nearly 30 years, U.S. conventional weapons destruction programs have been a key component of American diplomatic engagement in the region.  These investments save lives, deepen diplomatic ties, and open new economic opportunities.
Since 1993, the United States has invested more than $822 million in the East Asia and Pacific region to find and remove unexploded ordnance, provide communities with explosive ordnance risk education, assist survivors of landmine and unexploded ordnance accidents, build local capacity, and improve weapons and ammunition management practices. 
The U.S. government's implementing partners accomplished the following in fiscal year 2022:
| | |
| --- | --- |
| | 125,509,785 square meters (31,014 acres) of land was cleared of explosive hazards |
| | 317,318,233 square meters (78,411 acres) were surveyed for cluster munition remnants |
| | 6,280 landmines were destroyed |
| | 102,841 explosive remnants of war were destroyed |
| | 2,183,175 individuals received explosive ordnance risk education |
| | 10,040 explosive ordnance disposal callouts were conducted in response to urgent requests for unexploded ordnance to be investigated and rendered safe |
| | 427 personnel were trained in explosive ordnance disposal |
| | 6,937 excess and obsolete small arms and light weapons were destroyed |
| | 84 metric tons of unserviceable ammunition were destroyed |
The United States is the world's leading financial supporter of conventional weapons destruction, providing more than $4.6 billion in assistance to more than 120 countries and areas since 1993.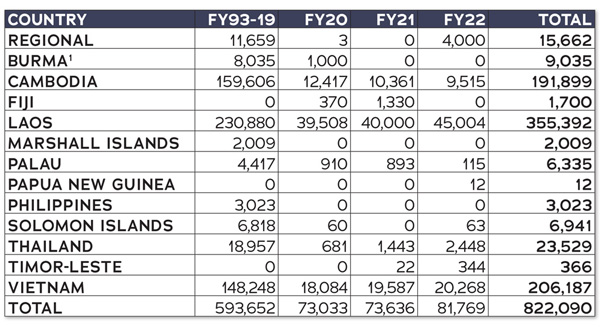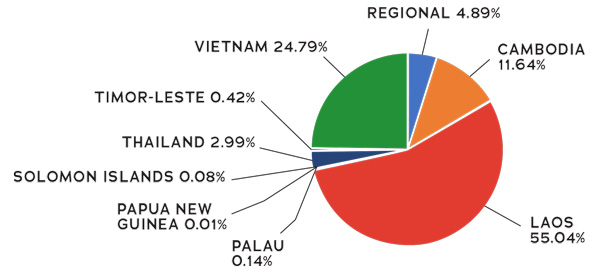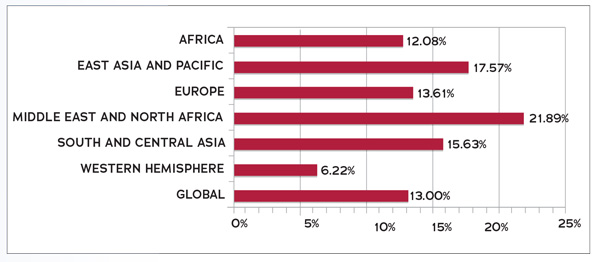 For more information on U.S. humanitarian demining and conventional weapons destruction programs, see the latest edition of our annual report, To Walk the Earth in Safety.
For further information, please contact the U.S. Department of State'a Bureau of Political-Military Affairs, Office of Congressional and Public Affairs at PM-CPA@state.gov, and follow the Bureau of Political-Military Affairs on Twitter @StateDeptPM.