Student Learning Improvement
Learning Improvement by Design: Work of National Importance
Articles such as Does Assessment Make Colleges Better? Who Knows? highlight the growing concerns of parents and students regarding assessment in higher education. One of the Center of Assessment and Research Studies' new initiatives is to help academic and student affairs programs focus their efforts on improving student learning. Although learning improvement in higher education seems intuitive, researchers have found very few examples of demonstrable program improvement across the nation. CARS, the JMU administration, the Center for Faculty Innovation (CFI), and NILOA (the National Institute of Learning Outcomes Assessment) are working collaboratively to find our nation's best examples of learning improvement and provide a simple model to demonstrate student learning: a process that involves collecting data, changing classroom experiences based on the findings, and re-collecting data to showcase learning gains.
Weigh Pig, Feed Pig, Weigh Pig
In December of 2014, NILOA published an occasional paper, A Simple Model for Learning Improvement: Weigh Pig, Feed Pig, Weigh Pig, written by director of CARS, Dr. Keston Fulcher, and several assessment and measurement graduate assistants: Megan R. Good, Chris M. Coleman, and Kristen L. Smith. The heart of the article demonstrates how assessing students does not improve student learning "…much like a pig never fattened up because it was weighed." In the article, Fulcher and colleagues propose a resolution to the typical criticisms of assessment, one "whereby faculty, upper administration, pedagogy/curriculum experts, and assessment specialists collaborate to enhance student learning" by weighing the pig (assessing students), feeding the pig (making programmatic changes), and weighing the pig again (re-assessing students to measure the degree to which learning improved).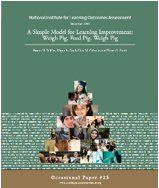 Learning Improvement Examples
Although nationally, examples of program-wide learning improvement are rare, JMU academic degree and student affairs programs have a few outstanding examples to add to the national landscape.
Additionally, with the support of CARS and the Center for Faculty Innovation (CFI), programs such as computer information systems and communication studies have begun using the simple model of learning improvement outlined in the "Pig Paper."