Where do WRTC students intern?
All WRTC students complete a 150-hour professional internship prior to graduation.
WRTC students often report that their internship experience was one of the most important aspects of their undergraduate careers. Professional internships allow students to apply the skills they are learning in the classroom, experience specific work environments and industries according to their interests, and often lead to full-time employment following graduation.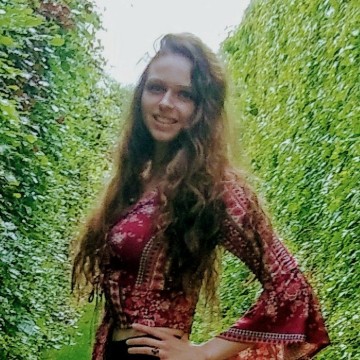 Rachel MacDonald
Community Liaison Office (CLO) Intern
U.S. Embassy
Belgium
My projects range from designing flyers that promote official embassy events to modifying documents, drafting content for the weekly newsletter, updating emergency information, and organizing welcome packets for incoming families. I am also responsible for writing and editing articles for the Brussels Weekly newsletter; my first article was about the Royal Palace of Brussels and the Royal Family. This was a thrilling experience since it was the first time I've worked on an article that was actually published.
Hannah Kaufman
Editorial Intern
Ivy Life and Style Media LLC
Charlottesville, VA
This has been such an enriching experience. My responsibilities include helping publish the magazines through producing research for articles, writing articles, updating a calendar events to keep readers up to date about the events in Charlottesville and central Virginia. I am excited about the experience and opportunities to expand my portfolio. Besides writing as many stories as I can, I plan to enhance my skills in Adobe InDesign, and create a professional working relationship with my coworkers for potential future connections.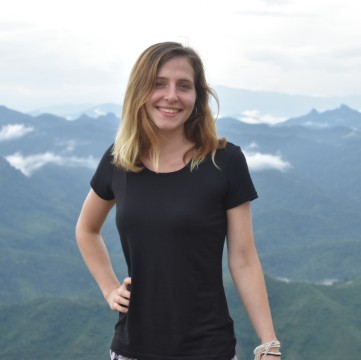 Jenna Simkins
Social Media Intern
Always Creating Studio
Sterling, VA
I was able to find this social media internship where I have been drafting social media posts. The platforms I am responsible for are Instagram, Twitter, Facebook, and Pinterest. In addition, I am also responsible for brainstorming and creating content for our company's blog. The company began just two years ago with the purpose of helping to design, coordinate, and organize events, gatherings and weddings. My main role at these events is to photograph our displays and post behind-the-scenes pictures on social media.
Graham Schiltz
Social Media Manager/Intern Contributor
James River Writers/C-Vile Weekly
Richmond/Charlottesville, VA
I'm managing social media for James River Writers, a nonprofit in Richmond. I'm learning the application tweetdeck, which schedules social media posts, and will be editing and uploading the copy other volunteers provide about the conference's lectures, speakers, and events. I will be writing copy as needed. For C-Ville, I began by writing an article about the Heritage Theater Festival. I also interviewed two directors of the program and an actor, which were valuable experiences. My piece was published last Wednesday; I'm very proud of it.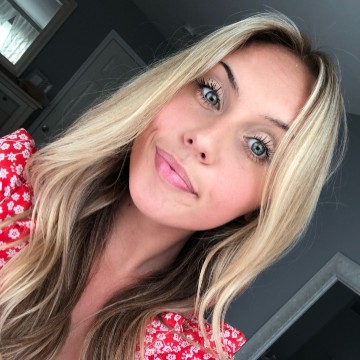 Julia DiLeo
Multi-Platform Content and Marketing Intern
PBS
Arlington, VA
My internship is exciting, yet also intimidating. On the Content team, my main responsibility is PBS' Summer Film Festival where I write short descriptions of the films and import them onto the website, Media Manager, that is then imported onto the live Film Festival webpage. I also met with our team's coding-wizard who taught me how to use a website called Bento where I format all of the text, input videos or pictures and then publish on the site. My interning experience has been more than I could have imagined.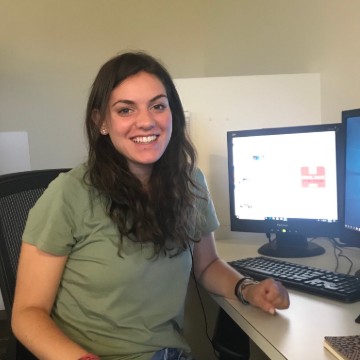 Emma Fantuzzo
News Analysis Intern
Media Research Center
James Madison University
I found out about the internship through JMU's Handshake program and was excited to find that the internship looked like a perfect fit. It combines my interest in writing and politics and allows me to use writing in a real-life professional setting. My specific internship is with the NewsBusters division, which works to expose media bias.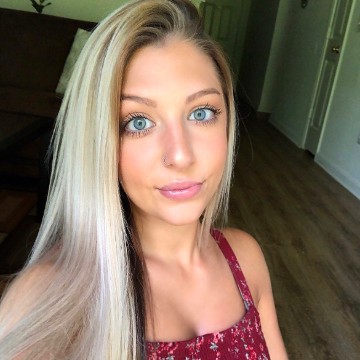 Riley Clements
Marketing Intern
Virginia Beach Hotel Association
Virginia Beach, VA
Early on, I created the VBHA general meeting flyer discusses three new large hotels currently undergoing construction down at the oceanfront. I also selected graphics and created the first page of the VBHA monthly newsletter. I'm also creating a website from scratch for their annual expo. I update the association's social media on Instagram page (vbhotels). It was actually very cool that I tagged the HeartStraws company in my post about them and they shared my post to their own Instagram page, allowing advertising for both companies.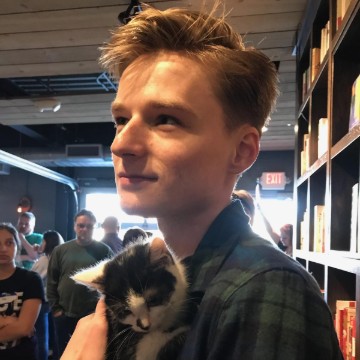 Peter Friesen
Community Outreach Intern
Sierra Club: Virginia Chapter

Richmond, VA
I chose the Sierra Club because it is an environmental non-profit with a long history of being influential in environmental policy. I believe environmental policy needs to be changed and want to help using my skills gained in my writing, rhetoric, and technical communications major. My job is to write letters to the editors of multiple newspapers, edit social media, and create flyers. I created a flyer on Canva for an upcoming event.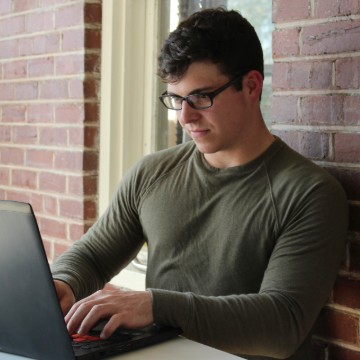 Kevan Olsen
Blog Writer and Social Media/Graphic Designer
WXJM Radio/PrePOPsterous
Harrisonburg, VA
At WXJM, I wrote multiple articles coving upcoming artists, events and unique subjects. I also worked directly with the technical director for the station to help recode their Rivendelle operating system. At PrePOPsterous, I am the social media/graphic design artist. I have designed new labels, stickers, banners and other print media, as well as graphics for social media posts and events. I was able to work directly with the owner to come up with unique new designs the reinvent the brand of this growing business.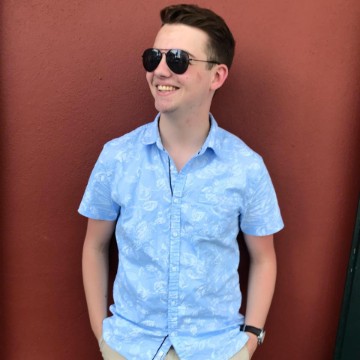 Evan Lattanzi
Writing Intern
Virginia Quilt Museum
Harrisonburg, VA
During my time at the museum, I have done a little bit of everything. I helped them transition the paper-based inventory system of their gift shop to an app-based system operated with an iPad. I also had the opportunity to write multiple press releases detailing upcoming events and exhibits at the museum that I have sent to various regional newspapers. I was also assigned to photograph each exhibit and write content about each one to later be posted to social media based on a rotating schedule.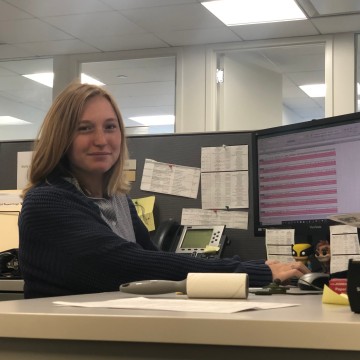 Kinsey Watson
Media Buying and Digital Intern
ITN Networks

New York, NY
I work with the other 12 interns on what will be the end-of-the-internship presentation. The guidelines for this project are loose because our supervisors want each team to use creativity and to eventually present on something about the company in which we are passionate about; each team presents their project at weekly meetings. My teammates and I decided to create a video on the overview of the company and a "survival guide" for the incoming interns next year. We thought the video approach would be most effective because future interns will view it as part of their orientation process.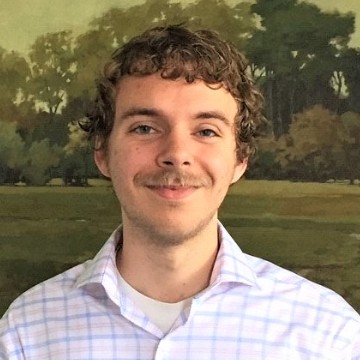 Cooper Hufman
Intern
Blue Ridge Legal Services

Harrisonburg, VA
I start answering the phones right away, speaking with prospective clients; I make the judgement on whether their issue is a legal issue. Then I send client to the lawyers. I also write memos for volunteer attorneys to streamline their hotline calls to clients, and I write summaries for private bar attorneys who agree to take some of our simpler cases. I've learned how to to write a new kind of memo: a closed case summaries, which require involvement not found in the other summaries I've written. With an entire case's worth of papers, from start to finish, I have to apply a different diligence to summarize so much paper into three or so short paragraphs.
Sheila Crespy
Writer/Editor
Media Trust
London 
So far, I have been invited to a networking event that is a documentary film premiering in Westminster, accepted an invitation to an awards ceremony at BAFTA, planned a meeting for a workshop with Google, and matched potential mentors who are established in media and communications and mentees who want to break in or refine their skills in the field. The organization has been very welcoming to me and the other intern working here.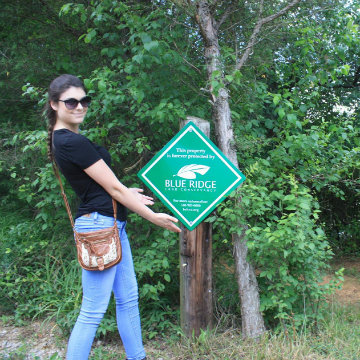 Alex Hoen
Environmental Writer
Blue Ridge Land Conservancy
Roanoke, VA
I have had the chance to work on our newsletter logos for prospective partners, and to send out press releases. I also helped write the July e-News post and posted on Facebook about the Conservancy's newest Outdoor Adventure Series event, "The Bees Knees." Equally fun, I designed some graphics in Canva for both events.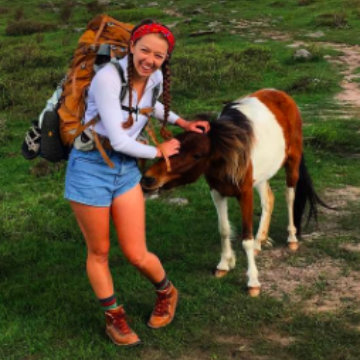 Maddie Matarazzo
Communications Assistant
Montana Wilderness Association
Helena, MT
My internship involves finding hikes in and around proposed wilderness areas, doing the hikes and taking photos, and then writing stories that will get readers motivated to explore these wilderness areas, since they are beautiful but rarely visited.
Nathan Humphrey
Client Representative
Alliance Group
Richmond, VA
In order to most adequately represent our clients, we make sure that special events they wish to attend are attended by members of our team. We put out appropriate social media blasts and we ensure that our clients receive proper representation on Capitol Hill.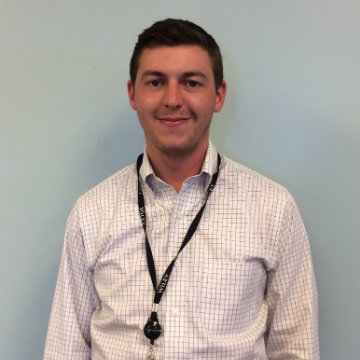 Peter Cagno
Production and Content Management
John Wiley and Sons Publishing
Hoboken, NJ
The experience I had at Wiley this summer was unlike anything I could've imagined. I gained real-world experience at a Fortune 500 company in a great location. In terms of work experience, it was great for me to get insight into the vastness of the publishing industry.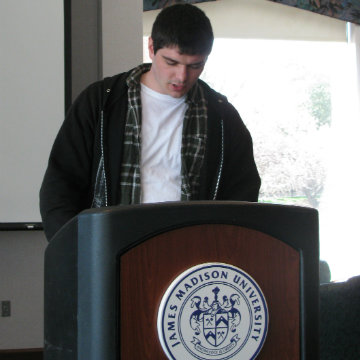 Tommy Sheffield
Document Editor
Center for Business Acceleration
Gaithersburg, MD
I would highly recommend the CBA to anyone in WRTC looking to fulfill their internship hours and gain crucial experience in editing. Though is is hard work - repetitive and meticulous at times, as with any editing process - it was well worth it.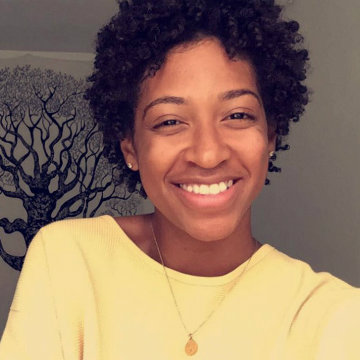 Tavia Taylor
Writer
Gemeinschaft Home
Harrisonburg, VA
I would definitely recommend interning at the Gemeinschaft Home. Not only does a position at this facility provide ample real-world experience and transferable career knowledge within the realm of WRTC, but it is also vastly rewarding. 
Pete Yecco
Legal Assistant
Blue Ridge Legal Services
Harrisonburg, VA
While interning at BRLS, I honed my legal writing skills, gained several references for when I apply to law schools, and experienced the legal service setting. Any WRTC students interested in becoming a lawyer or working in the legal realm should consider interning at BRLS.

Karey Gardner
Writer/Editor
Coastal Virginia Magazine
Virginia Beach, VA
I never expected to start writing so soon. On my first day, my supervisor asked me to write up a press release for an upcoming business conference. She liked what I wrote and told me it was already online. I was shocked. My first day and my writing was already in the magazine. From there, I began working on a weekly blog post about which restaurants receive their produce from local farms around Virginia. My internship gets better with each day that I work.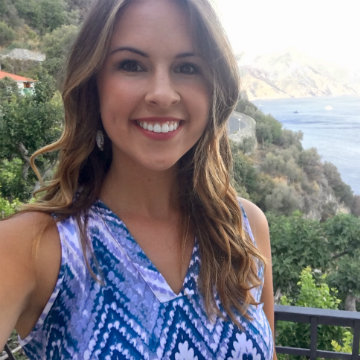 Ciara Benz
Writer, Blogger, Social Media 
Answering the Call
Roanoke, VA
Throughout this internship, I am learning a great deal about people I have never met, conflicts in distant places and suffering to which I have been oblivious. It is humbling to assist a nonprofit that serves the forgotten, oppressed and abused.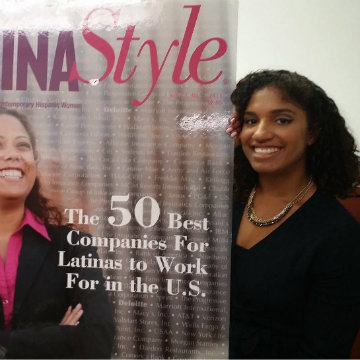 Alexia Constanza 

Editor and Special Events Coordinator

Latina Style Magazine

Falls Church, VA
I learned the inner workings of a magazine but, more importantly, I learned how a successful website operates. I witnessed how management works in this type of setting and how responsibilities are delegated. I watched a story bloom from pitch to feature and strengthened my Photoshop skills.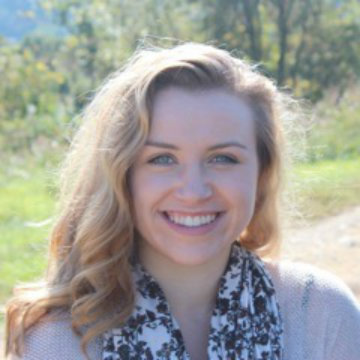 Sarah Sykes
Editor
The Journal of Neurosurgery Publishing Group
Charlottesville, VA
It has been very interesting working with medical/technical subject matter. I have learned more than I ever thought possible about the medical publishing world and how it relates to WRTC. 
Ben Wolfin
Videographer
JMU Athletic Communications
Harrisonburg, VA
Through working with JMU Athletic Communications, I discovered that storytelling is a passion of mine. I get hands-on help to tell stories about our student athletes and I get to make highlight packages of sporting contests that the whole university can enjoy online via Facebook. 
Emily Kerekes
Public Relations and Social Media Intern
Beyond Organic Growers
Freehold, NJ
Along with writing event or announcement posts on the social media platforms, I have also begun to organize details of an upcoming Farm-to-Table event which includes designing and distributing digital invitations. 
Yasmine Maggio
Content Writer
Health Greatness
The Breeze
My internship with The Breeze and Health Greatness helped me get a better sense of what working in the journalism field will be like post-grad. Through these two experiences I have improved my writing, communicating, and interviewing skills. I have also gained a network of writers who I can look to for guidance in the future.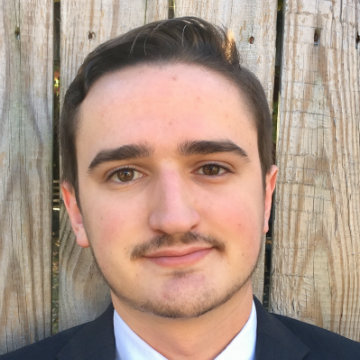 Brian Morefield
Copy/Novel Editor
Book Author, Patricia Spurlock
Brentwood, CA
I started working on my internship with Patricia Spurlock at the end of September. I am copyediting the second book of her historical fiction trilogy titled The Balle Chronicles. This involves meticulously going through every page of the novel to look for grammatical and consistency errors. 
Sarah Chase
Editing and Communications Intern
Verity Vareé Magazine
Winchester, VA
Verity Vareé has proven to be an incredible experience with a wonderful group of positive women to work with and for. I've already learned so much about editing and I'm becoming more confident with my writing voice being valued. 
Stephanie Lugbill
Adventure Intern
University Recreation (UREC)
James Madison University
I love being able to write about my experiences outdoors. So far, I've researched and written various modules for mountain biking and kayaking. I've begun creating a quiz for the whitewater kayaking modules and working with Photoshop to create a picture to allow employees to be tested on the different parts of a boat.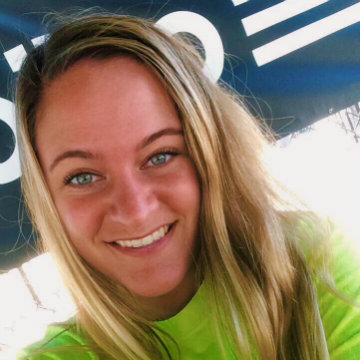 Nicole Mangialardi
Digital Media, Marketing and Promotions
Long Island Rough Riders
South Huntington, NY
I was super excited to get this internship because not only could I use it for course credit and apply the different skills I've learned in the classroom, but I could also combine it with my passion and love for soccer. The Long Island Rough Riders are a semi-professional soccer team from Long Island, New York, which is near my home, making it convenient for me.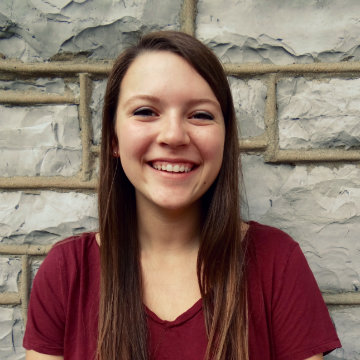 Saskia Beitzell
Grandmother's Biographer
I hadn't been prepared for the wonderful way she would remember moments of her life. I began covering Oma's home life from what she could remember with her two sisters, Els and Wilhelmina. I wrote as many memories about professors, classmates and events as she could remember from her school. The cool thing is that Oma recalls certain memories as she reclines in her chair, looks to the ceiling, and paints images in her mind. 
Divya Williams
Blogger
ShoutOut!
James Madison University
Preparing for the newsroom and for my blog posts takes up the majority of hours I dedicate to ShoutOut!, but I am also responsible for keeping up to date with feminist-related news.
Emily King
Content Editor
Center for Business Acceleration
Gaithersburg, MD
Overall, this was such an amazing experience and, in many ways, a perfect fit for what I hoped to get out of the WRTC internship. As a remote intern, I could keep my local part-time job, and I was able to gain genuine experience that makes me feel better about the skills I can bring to future positions. I also felt like I was contributing in a meaningful way to a phenomenal cause.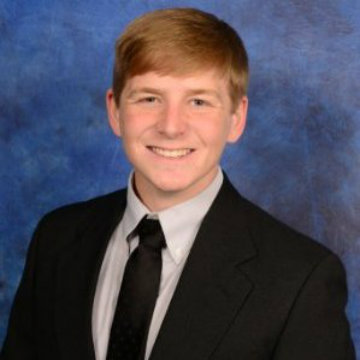 Joey Moughan
Industrial Sales
Volvo Penta
Chesapeake, VA
I very strongly recommend a summer internship at Volvo Penta. I have been treated with the utmost respect and fairness, and I feel like the work I do here is meaningful and appreciated. I have been able to practice my technical writing skills as well as my interpersonal skills.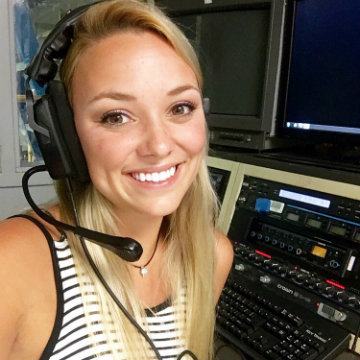 Kamryn Comer
Reporter/Writer/Producer
WYCG-TV
Yorktown, VA
I did a lot of script writing but, outside of that, my internship was very TV/news oriented. I also reconnected with my passion for writing. Not that I ever lost it, but when I started writing scripts, it made me remember why I love writing so much.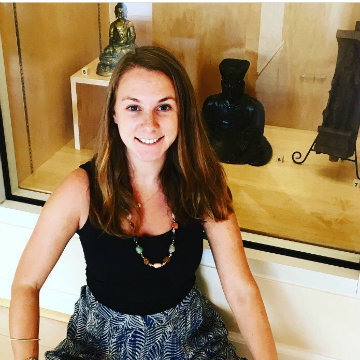 Kara Delfino
Technical Writer and Social Media Manager
Lisanby Museum
James Madison University
I would recommend the Lisanby Museum to any WRTC student interested in art, social media, and creative writing. This internship provides hands-on activities in a casual atmosphere. The directors genuinely want the interns to succeed and respond positively to new ideas. 
Katelyn Petty
Technical Writing Assistant
Rockingham Educational Foundation, Inc. 
Harrisonburg, VA
I recommend this internship to anyone who wants experience in the field of communications or for anyone who is interested in nonprofits. REFI really provides some amazing opportunities for students in Rockingham County schools, and I was thrilled to be a member of their initialtives. 
Kayla McMahon
Digital Marketing Intern
recharj
Washington, D.C.
At recharj, a premier mindfulness studio, I create content for the company's Twitter (using Hootsuite) and Instagram page (using FontCandy), send pitches to bloggers, and write blog posts for the company's website. I am also responsible for selecting relevant tweets that the company can "retweet" and "favorite" on their account. 
Kyle Howard
Teaching Aide
International Study Center
James Madison University
I recommend this program for anyone interested in foreign cultures, English as a second language education, communication across various demographics, or simply enjoys working one-on-one with people. As a WRTC major, it fascinated me to approach my native language from the perspective of a non-native speaker and explain proper and common usages of words and phrases. 
Lauren Didawick
Marketing and Graphic Design
The Virginia Quilt Museum
Harrisonburg, VA
I knew that I was interested in museums and nonprofit work, which is one of the reasons that I was so interested in this internship. After completing this internship, I am still interested in the field. Overall, I had an enjoyable summer at the VQM. The work that I completed can help me get a job in my field.
Marissa Bricker
Writer/Editor
Tote Magazine
Towson, MD
Tote Magazine is a great place for aspiring journalists to get their feet wet. I liked brainstorming, choosing ideas, and publishing content with readers in mind. I had fun playing with words and implementing humor in a way that would connect with readers and that would make them want to keep reading and coming back to Tote. 
Marissa Mancuso
Social Media Intern
7 Charming Sisters
Dumfries, VA
I would definitely recommend an internship at 7 Charming Sisters to someone interested in social media management. They are small enough that interns here are able to take on greater responsibility than they would be able to at a larger company. Even if a potential intern has no experience in social media management, I think this internship provides quality beginner and hands-on experience.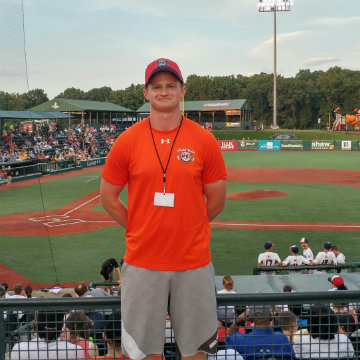 Max Goodwin
Content Producer
Maroon PR/Cal Ripkin Baseball
Columbia, MD
This internship was everything I could have asked for and more. It gave me a great understanding of what a professional reporter goes through on a daily basis: the content generation, research, deadlines and everyday person-to-person interaction. The position really showed me what I can look forward to in any kind of news reporting position.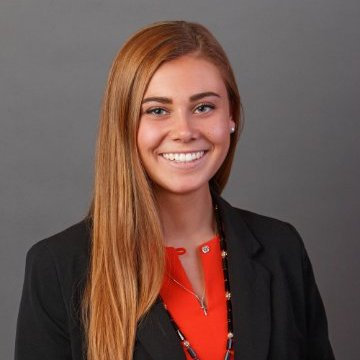 Meghan Raphael
Content Editor
Arrow Electronics
Garden City, NY
My internship provided me opportunities for tremendous growth in the technical writing field. Arrow allowed me to not only grow as a professional writer, but also showed that opening yourself up to new experiences and subject matter, even if you are nervous, can prompt you to work harder and become a smarter writer. I have learned much about science and technology, but even more about writing and working within a team. 
Melanie Farrell
Marketing and Communications
Catholic Relief Services World Headquarters
Baltimore, MD
My internship gave me real-world experiences that I could never have gained from another nonprofit or business. I have learned just how powerful writing can be. I have seen my team spend hours trying to decipher the proper wording in order to make something meaningful before publishing it to social media and our website. 
Olivia DePasquale
Tutor
University Writing Center
James Madison University
The idea of becoming a tutor had never crossed my mind until I got an email that the Writing Center was looking for writing tutors. I thought I could really help other students that struggle with writing assignments since I have such a passion for writing and for my major. 
Suzanne McHeffey
Content Writer
GoEnnounce
New York City, NY
GoEnnounce was a great company to intern for, especially for a WRTC major who is looking to take on more responsibilities than the average intern. I was given a great deal of independence in the creation of written material for the company, which absolutely helped me grow as a professional writer in a real company setting.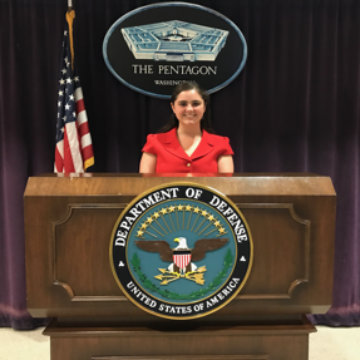 Teresa Cummings
Business Development/Proposal Writer
Millennium Corporation
Arlington, VA
I primarily worked with the Proposal Team. I was required to meet predetermined and timely deadlines. Most of my time was divided into creating new employee manuals and training modules as well as editing and revising company documents, which ranged from government proposals to in-house documents.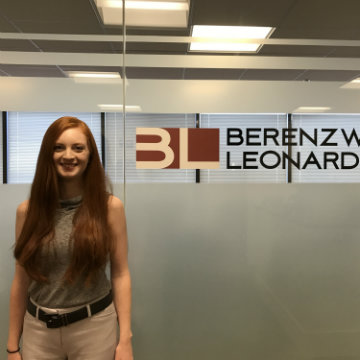 Brooke Blaney
Clerkship
Berenzweig Leonard Law Firm
McLean, VA
Most of my work so far has been on editing and reformatting business contracts, briefing the managing partner before he speaks on the news, and writing blog posts about legal current events.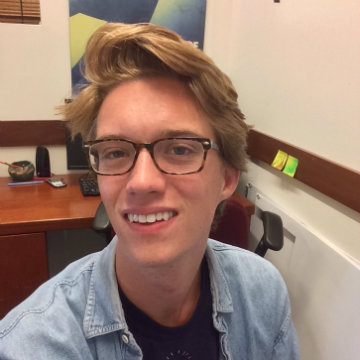 Kyle Kirby
Writing Intern
VA Museum of Contemporary Art
Virginia Beach, VA
I wrote brief descriptions of the themes of artists' work, the backgrounds of the artists, and provided resources such as interviews and their individual artist websites. Based on all the collected information, I came up with questions and a mini-lesson for teachers to use in the classroom.