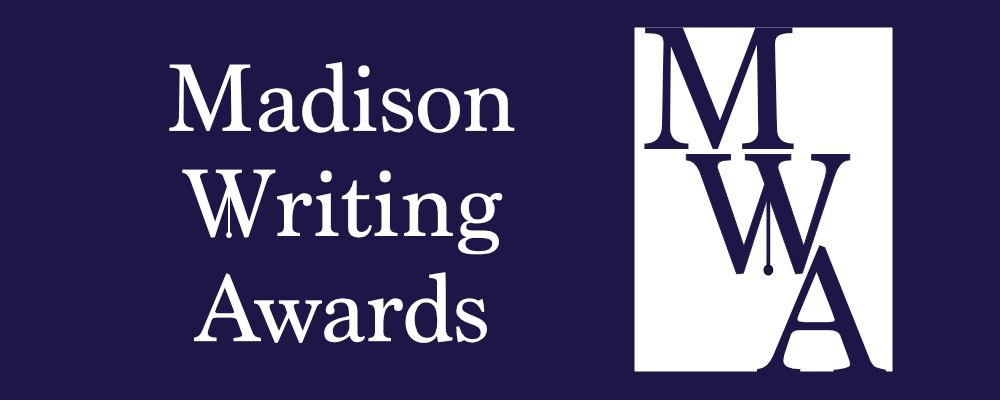 Background of The Madison Writing Awards (MWA): Formerly known as "Write On," these awards now include multimodal works that demonstrate the importance of writing and the awareness of sophisticated rhetorical practice. Now re-established as a biennial campus-wide celebration of the best writing-based communicative work by JMU students, the MWA includes recognition and cash awards for outstanding work. The awards are sponsored by The College of Arts and Letters and the School of Writing, Rhetoric and Technical Communication (WRTC) and administered by a WRTC committee. 
HAVE YOU RECIEVED A GREAT PIECE OF WRITING FROM A STUDENT? Consider nominating them for a Madison Writing Award. Link to nomination form below: 
Madison Writing Awards 2021
The Madison Writing Awards Committee invites each faculty member to nominate one outstanding work by an undergraduate student. We're seeking the best work by undergraduates, regardless of medium and genre, from traditional papers to mulitmodal productions.
The deadline for nominations is January 30, 2021.
Recognition and cash awards will be announced after spring break in Spring 2021. 
For more information about the nomination and selection process, please see the Madison Writing Awards Faculty Nomination Form.
First Place
George Schulz 
Honors Capstone Thesis Project on Dietary Nitrite Supplementation
Nominated by: Stephanie P. Kurti, Kinesiology
Course: KIN 499A-C
Second Place
Olivia Siddle 
Los Efectos del Cambio Climático en la Fiebre del Dengue en Colombia
Nominated by: Diana Galarreta-Aima, Spanish
Course: SPAN 476: Culture and Medicine in Latin America
Honorable Mention
Colleen Novotny 
How Does Traditional Thailand Medical Practices Differ from Modern Medicine and How Does Their Culture Impact These Practices?
Nominated by: Mace Bentley, Geographic Science
Course: GEOG 200: The Global Dimensions
Honorable Mention
Cierra Richerson 
The Hate U Give, Media Analysis Project
Nominated by: Aaron Bodle, Social Studies Education
Course: ELED 334: Children and Social Studies
Honorable Mention
Variah Hauge 
The Past, Present, and Future of Pandemics
Nominated by: Ronald Raab, ISAT
Course: HON 300
First Place
Spencer Law ('20)
A Journey Inward
Nominated by: Jared Featherstone, WRTC
Course: Honors 361: Creativity, Technology, and the Search for Self
First Place
Kaylah McFarland ('20)
Where Would We Be Without Bees?
Nominated by: Shelley Aley, WRTC
Course: WRTC 316: Research Methodologies
Honorable Mention
Bobby Lambert ('19)
Direct Democracy, Judicial Elections, and the Sway of Public Opinion
Nominated by: Kathleen Ferraiolo, POSC
Course: POSC 492: Senior Seminar Direct Democracy
Honorable Mention
Hannah Smetek ('20)
Good Night, Baby Girl
Nominated by: Jay Varner, ENGL
Course: ENGL 391: Introduction to Creative Nonfiction
First Place
Ezra Cooper ('19)
Place and Replacement/The Present and Being Present
Nominated by: Heidi Pennington, ENGL
Course: ENGL 302: Autobiography and Identity: Making Selves through Stories
Second Place
Connor Ham ('16)
Wistful: Experiencing and Creating Girlhood Through Forced Boyhood
Nominated by: Jen Almjeld, WRTC
Course: WRTC 486: Writing for the Community
Honorable Mention
Mackenzie Patrick ('17)
A Non-Invasive Early Diagnostic for Neurodegenerative Diseases
Nominated by: Stephanie Stockwell, ISAT
Course: ISAT 452: Medical Biotechnology
Honorable Mention
Lauren Hunt ('16) and Katie Byrnes ('16)
The Club That No One Wants to Join
Nominated by: Brad Jenkins, SMAD
Course: SMAD 321: Feature Magazine Production