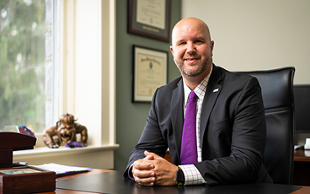 JMU is our people. Our people drive everything we do and they are the foundation of what makes this a special place to live, play, work, grow, learn, serve, and lead. We seek to support every student in finding their place in this community and to know that they belong. This happens through the relationships that are at the core of our work and that illustrate our shared passion for JMU, our students, and our future.
The Student Affairs team is committed to creating a community where we prepare our students to be educated and enlightened citizens who lead productive and meaningful lives. This is our mission as well as our passion and it is the path we follow. Our values guide us on this path and make it possible for us to serve this community and our shared future. I encourage you to take some time and read our mission, vision, values and defining characteristics to better understand both our present and our future.
Thank you for your interest in JMU and please be in touch if you have feedback or perspectives to share with us as we continue to seek out our best possible future as a community.
Go Dukes!

Dr. Timothy M. Miller
Vice President for Student Affairs