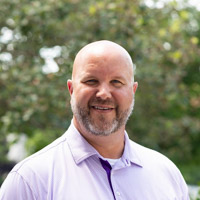 Dr. Miller is the Vice President for Student Affairs at James Madison University and has served in this role since June 1, 2018. He is a Double Duke, having earned his Bachelor's Degree in Political Science and Criminal Justice in 1996 and his Master's Degree in College Student Personnel Administration in 2000 from James Madison University. He earned his Doctorate in Executive Leadership from the George Washington University and his research focused on the decision-making of University Presidents. He has served at James Madison University, the University of South Carolina, and the George Washington University during his over 20-year career and has managed a wide range of university functions in these roles.
He has spoken at a range of conferences including NSEE, ACPA, NASPA, NACA, ACHA, AFA, VSSC, ACUHO-I, and First Year Experience conferences on topics including service-learning, building partnerships, residence hall/space design, food insecurity, balancing free speech and controversial topics on campus, program creation, and assessment. He has appeared on NPR's All Things Considered as well as pieces in the Washington Post focused on the issue of food insecurity in Higher Education. He has also written pieces for both the NACA Programming Magazine and the College Student Affairs Journal. Dr. Miller has served as a faculty member for almost 15 years and has created four courses in different disciplines. He has taught at the George Washington University, Georgetown University, and James Madison University.
Dr. Miller believes that his role is to create and manage communities where individuals are guided and supported in becoming their best possible selves.