Military Science (Army ROTC) - Cannon Crew
CANNON CREW
After the National Anthem and JMU scores a touchdown, listen for the loud report from a cannon replica from the War of 1812 era. The cannon is voluntarily manned by a group of JMU ROTC cadets during each home football game and other special events. The Cannon Crew learns the commands and functions of the equipment that is used during regular firing of the cannon, and learns a little about what the Field Artilery Branch does. If you would like to be a part of the Cannon Crew, please contact the Cannon Crew Commander.
Participating in Cannon Crew is a great way for a cadet to develop leadership skills, discipline, and represent the JMU Duke Battalion. Cadets who volunteer are giving their time for the JMU Alumni, current students, and citizens of the Harrisonburg community who enjoy attending a JMU home football game.
Not a JMU Duke Battalion Cadet?  Still want to see the cannon in action? Come visit the Cannon Crew during regular season home football games! The Cannon Crew is located at the top of the Godwin steps, right off Bluestone Drive.
The JMU ROTC Department is grateful for the permanent loan of this cannon from Shirley McGatha, wife of the late Charles McGatha, a Korean War veteran.
 Cannon Specifications: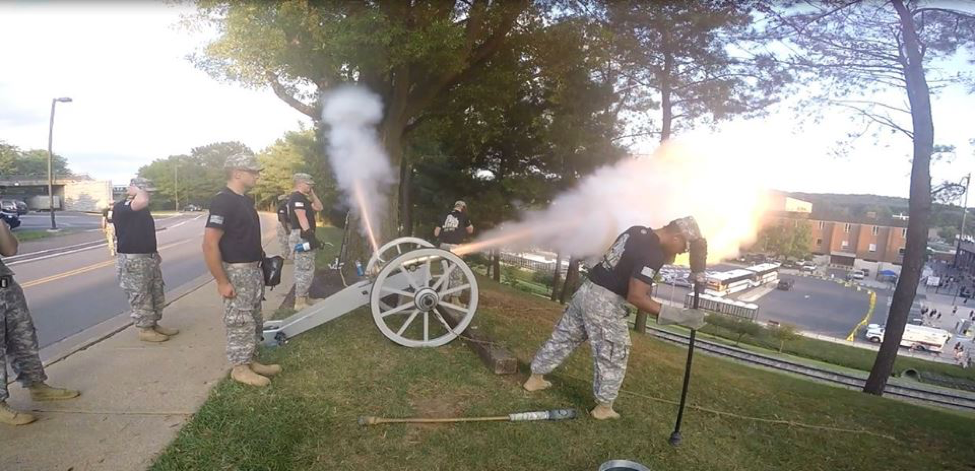 6 Pounder (Smoothbore) War of 1812 Replica Cannon 
Napoleon Style Carriage 
Tube Length:  60 inches 
Tube Weight:  884 pounds 
Bore Diameter:  3.67 inches 
Range:  1520 yards 
Material:  Bronze
Watch the Cannon Crew in Action