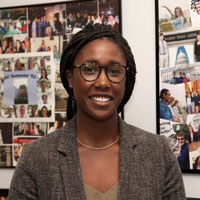 Internship
Office of the Speaker of the House of Representatives
Where are you from?  Why did you choose JMU?
I'm from Leesburg, VA and I choose to go to JMU because of its sense of community, amazing political science department, and beautiful campus. JMU's alumni are the perfect example that the love for JMU extends beyond just the four years someone spends here, and they love connecting with a fellow Duke.
Why did you decide to participate in Washington Semester?
I first heard of Washington Semester my first month into my freshman year, and ever since then I knew I wanted to be a participant. I knew that this would be an amazing opportunity for me to make connections and figure out what direction I might want to take my career.
What were the highlights of your internship?
The highlight of my internship was meeting House Speaker Nancy Pelosi and getting to talk to her. Also, working on healthcare and civil rights policy.
What were the highlights of your Washington experience as a whole?
One highlight of my Washington experience was walking the national mall at night. I've lived near D.C. my entire life and never went to see things like the Washington monument or the Lincoln Memorial. Another highlight was just being able to meet new people from my job and the program as well as alumni.
What advice would you offer to future Washington Semester students?
Don't be afraid to ask questions at your job. They don't expect you to know everything and asking questions shows them that you are interested and want to do a good job. Take time to get to know the people you are working with, ask to grab a coffee and get to know them personally.
What are your long-term career plans?
I plan on going to law school after graduating from JMU and become an attorney.