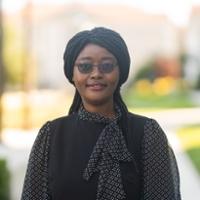 Sombo Muzata received her Ph.D. in Public Policy and Administration from Virginia Commonwealth University. Her research focuses on public financial management, and economic development. 
Dr. Muzata is a multidisciplinary expert. She is a trained accountant, Fellow of the Association of Chartered Certified Accountants (ACCA) and also holds a Master of Business Administration (MBA) with specialization in Strategy. 
She has vast international development experience having worked as country director in Zambia for Diakonia, a Sweden headquartered international nonprofit. As country director, Dr. Muzata was responsible for strategic planning, fundraising, program implementation and program evaluation; gender was a special theme mainstreamed in all of Diakonia. Her research and teaching is informed by perspectives gained from living, working and traveling across more than 25 countries in five continents. Some of her research is published in the Journal of Public Budgeting & Financial Management, and the Journal of African Business. 
---
Office: 2145 Miller Hall
Phone: (540) 568-3770


MAILING ADDRESS:
Department of Political Science
James Madison University
91 E Grace St., MSC 7705
Harrisonburg, VA 22807