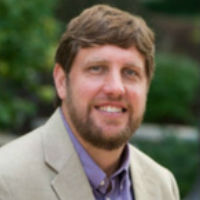 Interim Coordinator, Public Administration Major
Fred Mayhew joined the JMU faculty in August of 2012.  Prior to coming to Harrisonburg he was an assistant professor in the Division of Public Administration at Northern Illinois University.  Mayhew received a BA in political science from Dickinson College and holds a master's of public administration and Ph.D. in public administration from North Carolina State University.  His background includes time working in the private and nonprofit sectors before making his way back into the classroom.
Dr. Mayhew has taught a range of public administration related classes at both the graduate and undergraduate level and enjoys teaching, and continuing to learn about, collaborative governance and intersectoral partnerships.  Articles by Dr. Mayhew have appeared in Nonprofit Management and Leadership, Journal of Health and Human Services Administration, and the Journal of MultiDisciplinary Evaluation.  His current research focuses on governmental contracting, particularly for the provision of social services.
---
OFFICE: 2177 Miller Hall
PHONE: (540) 568-2511
FAX: (540) 568-8021
MAILING ADDRESS:
Department of Political Science
James Madison University
91 E Grace St., MSC 7705
Harrisonburg, VA 22807