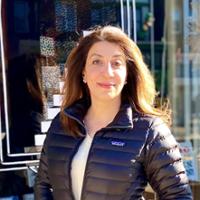 Manal A. Jamal is a professor of political science at James Madison University (JMU).  Her research interests include comparative democratization, civil society, social movements, conflict to peace and the political economy of transitions, and Middle East politics, including the Arab-Israeli conflict. 
She is author of Promoting Democracy: The Force of Political Settlements in Uncertain Times (New York University Press, 2019), and her articles have appeared in Comparative Political Studies, British Journal of Middle Eastern Studies, International Feminist Journal of Politics, International Migration Review, and International Studies Review, as well as in a number of edited volumes. She has contributed political and social commentary to the Montréal Gazette, Al-Ahram Weekly, the Palestine Chronicle, Bitterlemons International, and Al-Jazeera, among others.
One over-arching theme animates her broader research agenda projects: Why and under what circumstances do individuals, groups or movements choose to organize and mobilize, and what factors shape these processes over time? She examines these issues through a cross-regional lens exploring various Middle Eastern and Latin American cases. In her first book, Promoting Democracy, she examined the impact of political settlements and the mediating role of Western donor assistance on political movements and emergent civil society groups in the Palestinian territories and El Salvador, culminating in Hamas' election victory in 2006 and the political aftermath that transpired. The book draws from research for which she won the best fieldwork award of the Comparative Democratization section of the American Political Science Association. In her current book project, The Arab Uprisings & Movement Mobilization in Cross Regional Perspective, she evaluates the political-economic determinants of social movement organization that led to these moments of upheaval in Egypt and Tunisia, compared to their predecessors in Latin America, such as in Argentina, Brazil, and Chile.
She holds a PhD in political science from McGill University and a BA and MA in international relations from UC Davis and San Francisco State, respectively. She has held research fellowship positions at Harvard University's Kennedy School of Government and at UC Berkeley's Center for Middle Eastern Studies. During the late 1990s, she worked as journalist and researcher in the Palestinian Territories. She has consulted for a number of organizations, including the United Nations Special Coordinators Office in the Occupied Territories and the UK's IHS Jane's. She also contributed to the feasibility studies that led to the establishment of the Arab Council for the Social Sciences. From 2010 to 2015, she served as a member of the Middle East Studies Association's Committee for Academic Freedom, and between 2012 and 2014, she was a member of the transitional board of directors of the Association for Gulf and Arabian Peninsula Studies.  
---
OFFICE: Miller 2111
PHONE: (540) 568-3768
FAX: (540) 568-8021
MAILING ADDRESS:
Department of Political Science
James Madison University
91 E Grace St., MSC 7705
Harrisonburg, VA 22807