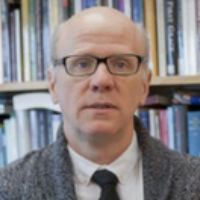 Coordinator, Political Science major
Scott John Hammond, a native of Colorado, received his Bachelor of Arts from the University of Colorado at Boulder, 1980, and his M.A. (1985) and Ph.D. (1989) from the Claremont Graduate School (Claremont, California), since re-named the Claremont Graduate University. At Claremont, he studied primarily with his mentor and friend, Scott Warren, as well as received instruction from a number of notable scholars and exemplary academics, including, among others, Al Louch, Lee McDonald, Leonard Levy, William Allen, Ted Waldman, Fr. Eleutherius Winance, Harry Jaffa, Sharon Snowiss and T. Lindsay Moore.
Prior to coming to JMU, Scott Hammond also taught at Mesa State College of Colorado from 1986-1988 and Western State College of Colorado from 1988-1989. He has been with James Madison University since August of 1989.
He teaches and studies broadly within the discipline of political philosophy (or normative political theory) and numbers as his central interests the ideas and principles of Plato, Aristotle, St. Thomas Aquinas and Jacques Maritain, among many others.
Dr. Hammond lives happily in the Shenandoah Valley with his wife Cheree and his two children, Adriana Nateal and Neil Paul.
---
OFFICE: 2127 Miller Hall
PHONE: (540) 568-6313
FAX: (540) 568-8021
MAILING ADDRESS:
Department of Political Science
James Madison University
91 E Grace St., MSC 7705
Harrisonburg, VA 22807