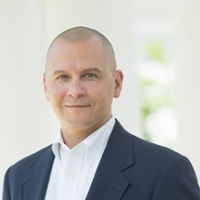 Abraham (Abe) Goldberg is an Associate Professor of Political Science at James Madison University with teaching and research interests in civic learning and engagement, American democracy, community placemaking and higher education. Embedded in all of his work is a deep commitment to building a more inclusive, just and equitable society. He previously served as director of the James Madison Center for Civic Engagement at JMU and as director of the Office of Service-Learning and Community Engagement at the University of South Carolina Upstate.  
Abe's recently published journal articles and book chapters on civic learning appear in PS: Political Science and Politics, Teaching Civic Engagement Globally (APSA), Democracy, Civic Engagement and Citizenship in Higher Education: Reclaiming Our Civic Purpose (Lexington Books) and the eJournal of Public Affairs. He has also written extensively on how the built environment of urban places and the accessibility of community amenities contributes to the social connectivity, health, and happiness of residents, as found in Social Science and Medicine, Urban Design and Planning, Urban Affairs Review and Journal of Urbanism. 

Abe has been a Civic Fellow with AASCU's American Democracy Project, recently served on the Educating for American Democracy initiative's advisory board and regularly presents at conferences for the American Association of Colleges and University, Campus Compact and other national organizations in higher education's civic engagement space. He received a Ph.D. in Political Science from West Virginia University.  
---
OFFICE: 2147 Miller Hall
PHONE: (540) 568-7548
FAX: (540) 568-8021
MAILING ADDRESS:
Department of Political Science
James Madison University
91 E Grace St., MSC 7705
Harrisonburg, VA 22807