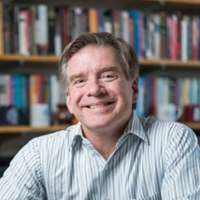 Executive Director, M.A. in Political Science -- EU Policy Studies concentration
Executive Director, JMU Semester in Florence program
Charles H. Blake received the A.B. from Davidson College & a Ph.D. from Duke University. He directs the department's European Union Policy Studies M.A. program in Florence, Italy as well as JMU's Semester in Florence undergraduate program. With Kristen McCleary he co-directs a 9-credit summer study-abroad program in Argentina. His teaching interests include comparative politics (especially in Latin America & Europe), policy analysis, & research methods. He teaches in the European Union Policy Studies graduate program in political science and also in the MPA program. He is a member of JMU's Latin American, Latinx, & Caribbean Studies Committee. He is a past president of the Xi of Virginia chapter of Phi Beta Kappa housed here at JMU. He served as the chair of the Department of Political Science from 2009 through 2016.
His consulting and research over the years has been co-funded by the European Union, the U.S. Department of State, the Fulbright program, the Organization of American States, and the Tinker Foundation. His research examines socioeconomic policies in Latin America and Europe and the pursuit of greater transparency and accountability in public administration. He has field experience at institutions in Argentina, Italy, Mexico, Spain, and Uruguay. With JMU colleague Jessica Adolino, he has co-authored Comparing Public Policies: Issues and Choices in Industrialized Countries for CQ Press which is slated to move to a third edition in late 2023. He has written the textbook Politics in Latin America for Cengage. With Stephen Morris, Dr. Blake has co-edited Corruption and Democracy in Latin America (University of Pittsburgh Press, 2009) and Corruption and Politics in Latin America: Regional and National Dynamics (Lynne Rienner Publishers, 2010). His research has appeared in various journals, including Comparative Political Studies; Democratization; Journal of Health Policy, Politics, & Law; Journal of Inter-American Studies & World Affairs; The Review of International Political Economy; and Studies in Comparative International Development. He is currently studying the relationship between federalism and mechanisms of horizontal, societal, and vertical accountability. For more on his research, consult the CV below or visit his Google Scholar page.
---
ORCID research profile:
https://orcid.org/0000-0001-9398-5328 
OFFICE HOURS:
https://calendly.com/blakech/office-hours/ 
OFFICE: 2129 Miller Hall
PHONE: (540) 568-6344
FAX: (540) 568-8021
MAILING ADDRESS:
JMU Dept. of Political Science
91 E. Grace Street, MSC 7705
Miller Hall, room 2129
Harrisonburg, VA 22807