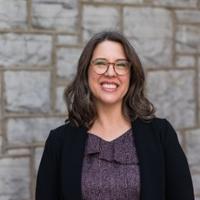 Dean of the Honors College
Bethany Blackstone earned an M.A. and Ph. D. in political science from Emory University and a B.A. in political science from Indiana University. Before coming to JMU in 2022, Dr. Blackstone was the Associate Dean for the Honors College at the University of North Texas.  
Her research considers the U.S. Supreme Court's role in American policymaking and the development of legal rules in the U.S. courts of appeals.  Her work has appeared in the Journal of Politics, Law & Society Review, PS: Political Science & Politics, Presidential Studies Quarterly, and Research and Politics, among others.  She is an award-winning teacher whose recognitions include the University of North Texas's (UNT) 'Fessor Graham Award--the highest honor given by the student body at UNT--and the American Political Science Association Law and Court's Section's Teaching and Mentoring Award. Her teaching interests include the American government, the U.S. Congress, judicial politics, and constitutional law.  
---
Phone number: 540-568-7728
Honors College, Dean, Honors College