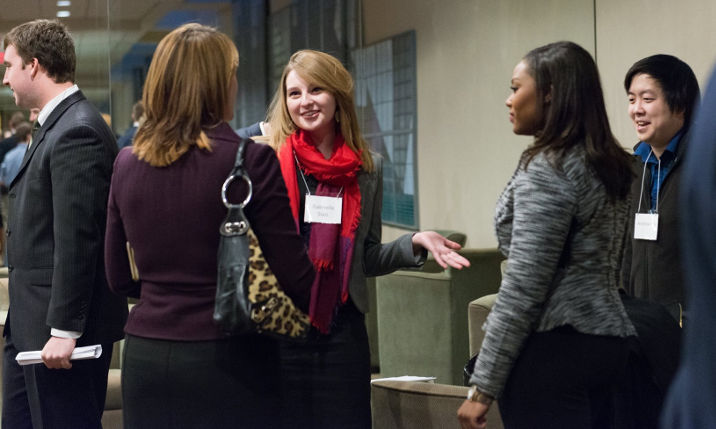 Alumni Engagement
Our department works with its Alumni Board along with the JMU Politicos and its two subgroups to sponsor a variety of events that foster engagement among departmental alumni as well as between alumni and students.
Under the leadership of the departmental Alumni Board, professional networking events are held periodically in Washington, DC & in Richmond. The department & the Alumni Board co-sponsor three annual career workshops – two on campus, the other in D.C. – put students in direct contact with alumni working in fields related to our majors: policymaking, campaign politics, law, the non-profit sector, international NGOs, lobbying, intelligence, government contracting, as well as for state, local and federal agencies. If you are interested in connecting with members of the departmental Alumni Board, please click here to see its website for more information on the board, its activities, and its current members.
In Washington & in Richmond, dinner and lunch events are designed to enable networking among alumni and also with current students. In turn, periodic Public Affairs Roundtable events at JMU's Washington Center enable alumni and faculty to discuss contemporary issues in public & international affairs.
Stay in Touch
If you are interested in getting involved in either the DC, Richmond, or INTA group, please e-mail Dr. David Jones at jones3da@jmu.edu, join us on LinkedIn, or like us on Facebook. (The department also now hosts two sub-groups within JMU Politicos: INTA Politicos for former International Affairs majors and Richmond Politicos for alumni working the commonwealth capital area.)
In addition, please take a few minutes to complete this brief survey and update your contact information. Thanks for sharing an update! Filling out the survey will help us to gather information on the achievements and interests of our former students. It will also help us keep lines of communication open between the department and its alumni. If, rather than filling out a survey, you would prefer to send us an e-mail message update, please send it to posc@jmu.edu.
Image: Alumni of the Political Science Department at a networking event in Richmond. Photo by JMU Photography.