News
The view from 'The Hill'
---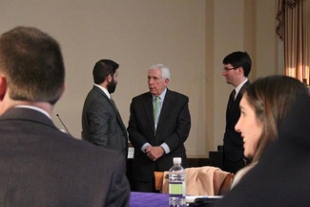 JMU political science students traveled to Washington, D.C., last month to hear from two retiring Virginia congressmen as well as a panel of JMU alumni who work on Capitol Hill. The 32 students, mostly from Dr. Timothy LaPira's U.S. Congress class, joined about 20 Madison alumni from the D.C. area and 16 participants in JMU's Washington Semester program.
The alumni panel consisted of congressional staffers Lee Brooks (Rep. Tom Petri, R-Wisc., 6th), Kristen Fallon (U.S. Sen. Jeff Flake, R-Ariz.), Carrie Meadows (Rep. Bob Goodlatte, R-Va., 6th), Sean Miller (Rep. Dave Loebsack, D-Iowa, 2nd), Jacqlyn Schneider (U.S. Senate Committee on Agriculture, Nutrition and Forestry) and Susan Swinehart (Office of the Speaker of the House). Members shared stories and advice and fielded questions from the students.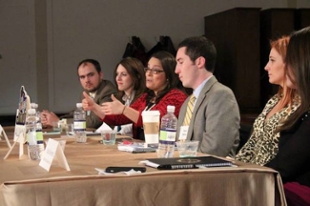 Over lunch in one of the House Judiciary Committee hearing rooms, Rep. Frank Wolf (R-Va., 10th) and Rep. Jim Moran, (R-Va., 8th) — both of whom squeezed in appearances between floor votes — offered their assessments of the state of congressional politics.
"Having the opportunity to listen and network with JMU alumni currently working on Capitol Hill was an invaluable experience," said senior political science major Lueth Akuak. "With graduation steadfastly approaching this spring, I, like many of my peers, am both excited and apprehensive as to what lies ahead. The alumni panel alleviated some of these worries by discussing their transition from undergraduate life to the work force."
Micah Barbour, a senior in the Washington Semester program who is interning in the office of U.S. Sen. Mark Warner, D-Va., said he has learned a great deal during his time on Capitol Hill. "Every day is an adventure on the Hill, and I have enjoyed every moment of it thus far. I have made connections here that will last a lifetime."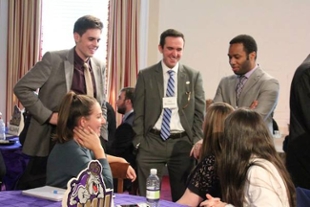 The event was sponsored by the Washington Semester program, the JMU political science department and JMU Politicos, an organization for alumni interested in politics, policy and related fields.
###