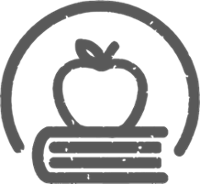 If you plan to follow a career path in education at the pre-K through grade 12 level, then the Roop (Teacher Education Learning Community) is for you.
Imagine living and taking classes with a small group of students who share your interests in teaching! Roop is open to all students seeking a degree in teaching Early Childhood, Elementary, Middle, Secondary, Special Education, Art, Music, and Physical and Health Education.
During the course of your first three semesters at JMU, students in Roop take General Education science classes (ISCI 171, ISCI 172, ISCI 173) and core education classes (EDUC 300, EDUC 310) as a community.  Roop students have one or two of these classes together each semester with some of these classes being taught in your residence hall. Roop students also participate in community service projects, take field trips, and visit local schools beginning in their first semester at JMU.
If you are looking for an integrated learning experience that will help you build a sense of community and develop friendships that will last a lifetime and, at the same time, complete many of your required core classes, you are invited to apply.