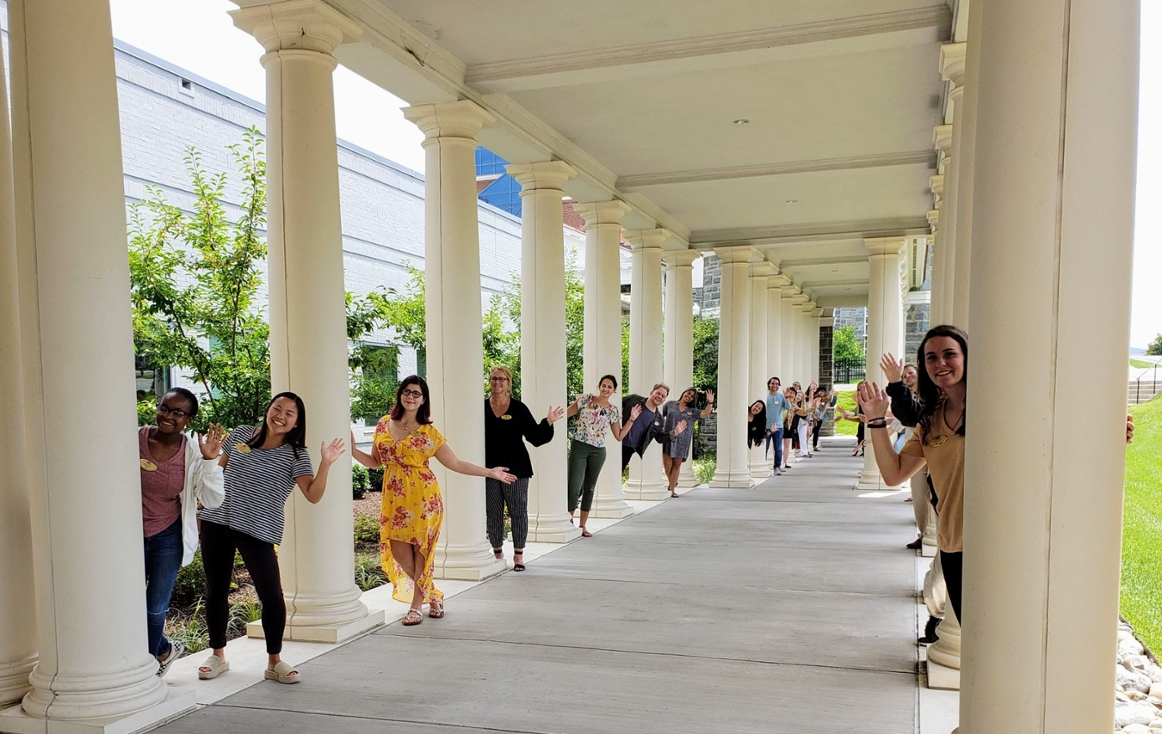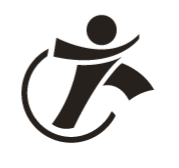 Keep C.A.L.M. 
and
Use Universal Design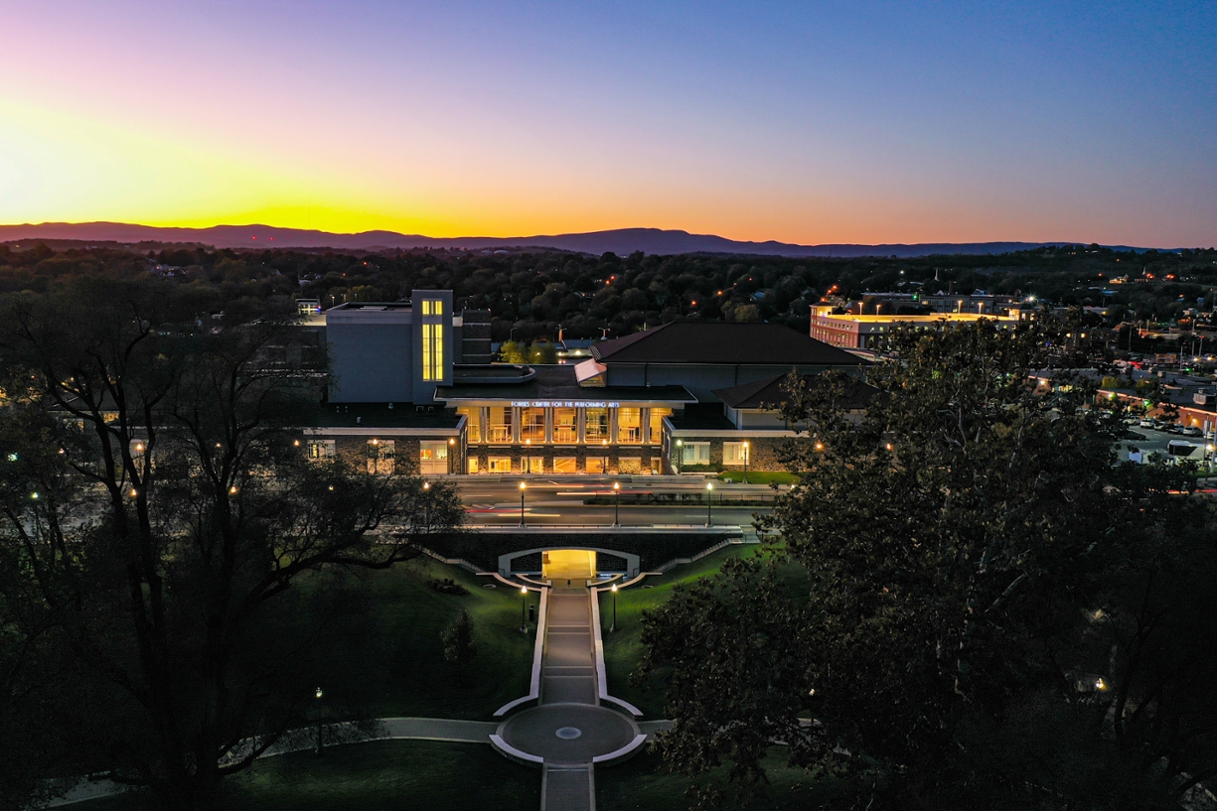 Contents
SPRING/SUMMER 2020
Keep Choosing Accessible Learning Materials (C.A.L.M.)
Keep C.A.L.M and Check Contrast
WCAG and JMU Student Affairs Accessibility Committee
SensusAccess Document Converter
History of Disability Services at JMU
Did You Know? ODS History in Review
Looking back: An Interview with Tracy Hakala
Looking forward: An interview with Jen Gulliver
Disability Services Engagement
Community Engagement 2019-2020
JMU Office of Disability Services 2019-2020 Staff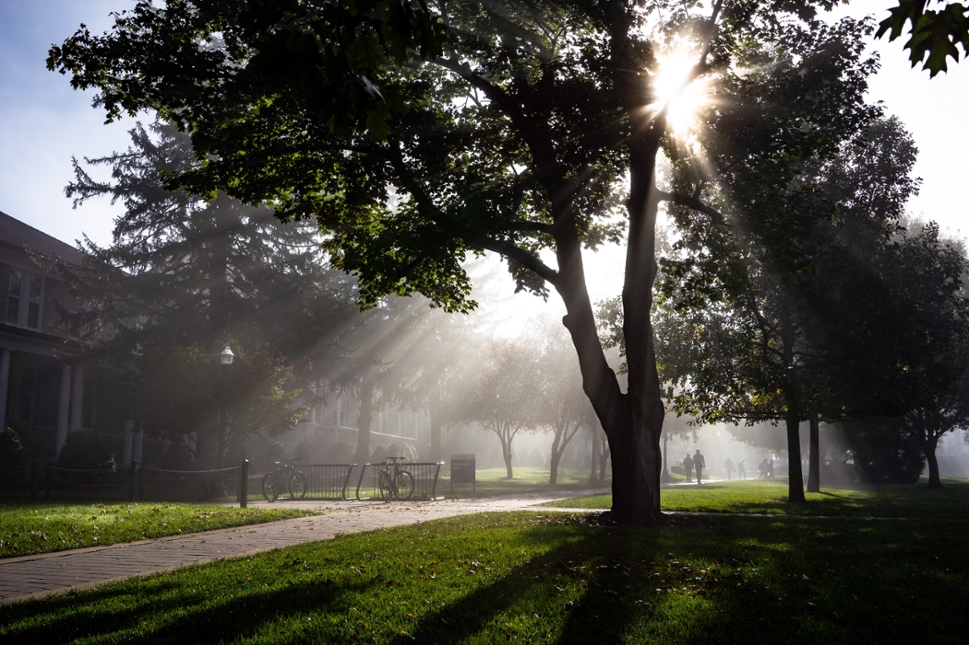 Increasing Access for All
Keep Choosing Accessible Learning Materials (C.A.L.M.)
What is Keep C.A.L.M.?
Choosing Accessible Learning Materials (Keep C.A.L.M.) is a campaign at JMU which promotes the implementation of Universal Design (UD) for students, staff, faculty and stakeholders. Virginia Tech was the first school to successfully implement the Keep C.A.L.M. campaign. For the academic 2019-2020 year, we unleashed the Check Contrast and Caption On campaigns.
What is Universal Design (UD)?
Universal Design is good design. It is an approach to the design or creation of materials which takes into consideration the varied abilities of current and future users and applies to the needs of everyone, regardless of age, size, ability or disability. Materials made with Universal Design can be "accessed, understood, and used i) to the greatest possible extent ii) in the most independent and natural manner possible iii) in the widest possible range of situations iv) without the need for adaptation, modification, assistive devices or specialized solutions, by an persons of any age or size or having an particular physical, sensory, mental health or intellectual ability or disability; means in relation to electronic systems, an electronics based process of creating products, services, or systems so that they may be used by any person". Source: http://universaldesign.ie/what-is-universal-design/definition-and-overview/definition-and-overview.html
By implementing Universal Design and Choosing Accessible Learning Materials from the start, we hope to reduce the need to retroactively apply accommodations for people with disabilities.
Are there other reasons to Keep C.A.L.M.?
JMU Policy 1211 specifies that an objective for JMU is for everyone within the university community, regardless of physical or technological readiness, to have the opportunity for appropriate access to information, materials and technology. By adhering to Section 508 of the Rehabilitation Act and complying with the Web Content Accessibility Guidelines (WCAG) 2.1, we can accomplish this university objective by promoting equal access to information, materials, and technology. By participating in the Keep C.A.L.M. campaign, participants will be part of the movement to use and promote Universal Design in their own work and within their spheres of influence.
What can I do?
We invite everyone to participate in our current and future Keep C.A.L.M. initiatives and follow the campaign information on the ODS website at jmu.edu/keepcalm. Various training opportunities will be available throughout the year. You can also follow ODS on Facebook, Instagram, and/or Twitter for updates.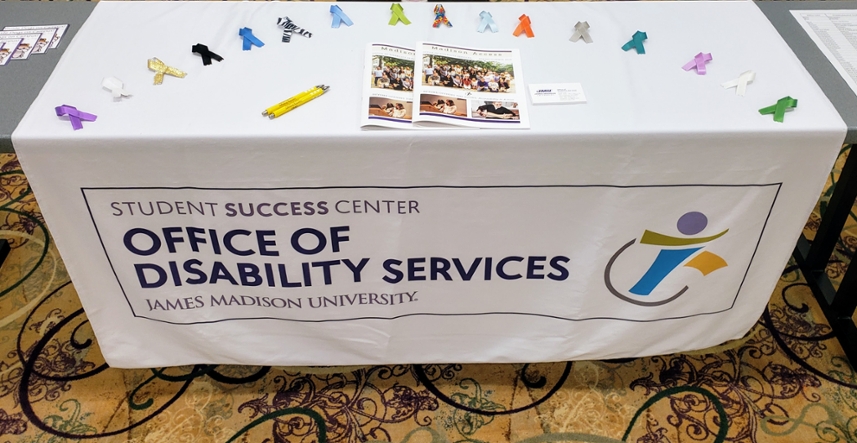 Keep C.A.L.M and Check Contrast
Color contrast is the difference between two colors; the color used in the background and the foreground. Colors should not only be limited to contrasting colors, care should be taken to ensure a level of contrast in body text, logos, and essential diagrams or other pieces of content. Checking color contrast benefits all users, but it is particularly beneficial to those with certain types of color blindness and other similar conditions. They may have difficulty differentiating between similar colors because they may be unable to distinguish between bright and dark areas and therefore have trouble seeing edges, borders, and other details.
There are three primary components for checking contrast:
Check your color contrast with a

 

contrast checker if using color combinations other than black and white or trusted

 

JMU color combinations
When using graphs and charts,

 

communicate

 

results in both color and text.
Create hyperlinks with a different text color than the main body text.  Underline hyperlinks as well.
By checking the color contrast in presentations (such as PowerPoint) and other creative materials (fliers and websites to name a few) you can broaden your audience, thus maximizing the reach of your message! Using this standard in creating materials benefits everyone, not just individuals who have visual impairments (e.g. color blindness, low vision, blindness, etc.).
Keep C.A.L.M. and Caption On
Captioning is the procedure of converting the audio content of a television broadcast, webcast, film, video, CD ROM, DVD, live event, or other media into text on a television, video screen, or other visual display to show what is being said in the program and to provide additional or interpretive information. Captions are a great technique to keep your audience engaged and to avoid miscommunication.
People use captions for a variety of reasons such as, accessibility for deaf, hard of hearing, and multilingual audience members, watching video in sound sensitive environments, supporting additional comprehension and improving search engine hits.
There are four primary components for captioning:
Check for preexisting Captions on selected media.
Turn Captions On.

Use a 

Captioning Vendor

 to caption the selected media.

If Captioning is not available (i.e. Podcasts), provide transcripts of the selected media.
WCAG and JMU Student Affairs Web Accessibility Committee
WCAG is a series of web accessibility guidelines for developed and published by the Web Accessibiilty Initiatie (WAI) of the World Wide Web Consortium (W3C). In 2017, Section 508 of the Rehabilitation Act was revised with the requirement for compliance with WCAG 2.0 A/AA. Websites are legally considered to be places of public accommodation and covered under the ADA. Websites must be accessible to all users.
The 2019-2020 Student Affairs Accessibilty Committee members are Will Brown, Brittany Dioszeghy, Brennan Maupin, Christina Wulf and Tonya Schoenbeck. The task force meets weekly to discuss and formulate a plan to assist the Student Affairs Division in remediating their existing websites so that they are accessible. Keep an eye out for additional information and training opportunities.
Accommodate: Coming Soon!
By: Scarlet Nishimoto
The Office of Disability Services is excited to announce the launch of our new database, Accommodate! We are currently in the process of launching the new system and we are eager to share it with the JMU community. Accommodate is an online database platform that can be accessed by students and faculty to create a safe, secure, and easy format to use and implement accommodations.
Students will have login access to their own page where they can get a quick overview of their access documents, accommodations, and more.
Faculty will also be able to readily see which students in their courses have requested accommodations and what those accommodations are. Professor collaboration and communication is vital in providing the best educational experience for our students and we look forward to making that process more streamlined with Accommodate.
The Office of Disability Services strives to provide support for equitable learning in the JMU community. We are excited to work with faculty and students in using Accommodate to provide a more efficient system for implementing accommodations. There will be more information for registered students and faculty on Accommodate coming soon!
SensusAccess Document Converter
By: Christina Wulf
A key component of accessibility and universal design is the flexibility to convert one format into a variety of others, like turning the scan of a printed textbook into an audio file or ebook. This variety of options helps not only students with registered disabilities but also the broad spectrum oflearners at JMU.
Now JMU Libraries, in partnership with the Office of Disability Services and funded in part by a JMU IDEA grant, is providing the JMU community with a free tool for document conversion called SensusAccess. The tool can be used by anyone with an @jmu.edu or @dukes.jmu.edu email, so even alumni are able to take advantage of a wide range of formats.
JMU's SensusAccess Document Converter is hosted on the JMU Libraries website. Follow the simple three step process: select your file to upload, select the desired format, and enter your email. SensusAccess will automatically convert your material and email it to you.
What are some ways I might use SensusAccess?
Turn an image-based PDF of a scanned document into a text-based version that you can listen to with text-to-speech software or copy and paste.
Convert a text-based document into a MP3 audio file to listen to while you commute.
Turn content into an ebook format to read on a mobile device. 
History of Disability Services at JMU
Did You Know? ODS History in Review
In 1985, Dr. Elizabeth Ihle, who was a full-time associate professor, was given one-quarter release time to be the university's Affirmative Action Officer, which included oversight of services for students with disabilities. In 1986, Carole Grove was hired as the coordinator of Disability Services (part-time role) and served in that capacity for 4 years. Then, Tracy Hakala served as the coordinator of Disability Services from 1990-1993. During this time, the Americans With Disabilities Act was enacted into law (July, 1990). The Disability Services coordinator position was not given a full-time role and was paired with a role in the Office of Career Services. Following Tracy Hakala, Kara Karr coordinated Disability Services from 1993-1996 along with working in the Counseling Center. In 1994, Lou Hedrick became the first Director who oversaw Disability Services. In July of 2009, our current Director, Valerie Schoolcraft, was hired as the Director of the Office of Disability Services. Last year she celebrated her 10th year as Director of ODS.
We would like to thank Tracy Hakala for providing this history of the Office of Disability Services at JMU!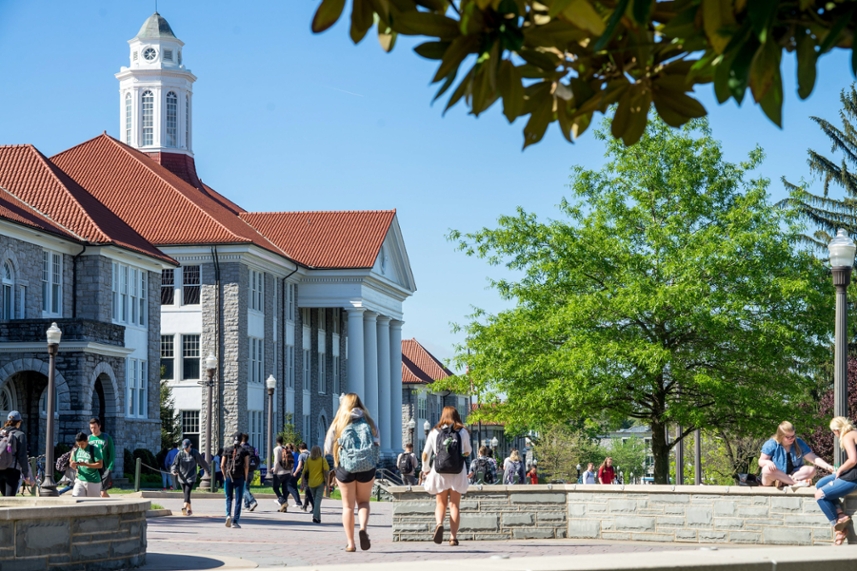 Looking back: An Interview with Tracy Hakala
Tracy Hakala is one of the original employees of the Office of Disability Services. She has been with JMU since her undergradate and graduate education, as well as during her professional career.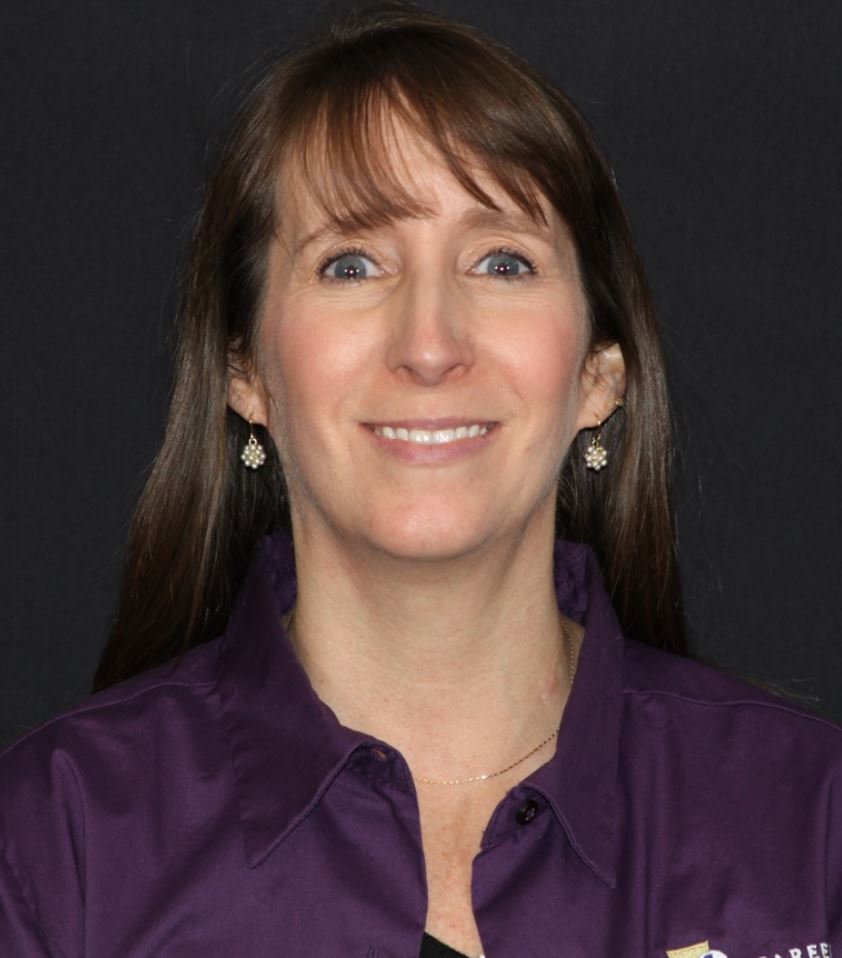 Tracy was employed at the Office of Disability Services for three years in the early 1990's. At the time, the position was not full time, so she split her time between ODS and Career Services. During that time, ODS was moved to several different locations on campus, including Roop Hall, Wilson Hall and Alumni Hall. Several of these buildings were not accessible for those with physical disablities and often required those in ODS to meet students at alternate, accessible locations.
During the time that Tracy was coordinator of ODS, the Americans with Disabilites Act (ADA) was enacted. Due to the passage of the ADA, Tracy began to see changes on campus, especially in regards to physical access. More doors were installed with automatic door openers, allowing students who used wheelchairs access to more buildings. Tracy recalled that prior to the installation of the automatic door openers, students who used wheelchairs had to wait until someone was entering or exiting the building to enter the building and to get to class. The enactment of the ADA gave more recognitation and rights to people with disabilities and the population of students with disabilities at JMU grew as a result.
Tracy shared that there was also was a change in technology with the enactment of the ADA. ODS gained a small room in the library that contained a Kurzweil reader, an Arkenstone (another type of reader) and other donated items for students with disabilities to use. These items helped read materials to students with disabilities and they were donated since ODS did not have a budget at that time for accessible technology equipment. Additionally, students were able to use macro-cassette recorders for some classes to record lectures.
Tracy recalled that during her time as coordinator, test accommodations were usually handled between the student and the faculty member. Often, the testing would occur in a space within the faculty's department. ODS did have a small space that students could use if the professor needed.
When asked what excites her the most about the future of Disability Services, she stated that she has seen an increasing awareness and attention to people with disabilities and their needs.  She is excited to see access and inclusion continue to increase as a result. She has seen evidence of this trend in disability awareness and topics being part of diversity conferences, faculty incorporating more universal design and collaborations such as the one between CAP and ODS in 2019 regarding Employment Accessibility.
With Tracy's retirement in Spring 2020, she is leaving JMU more hopeful that disability awareness is continuing to evolve and that universal design is gaining support. We are full of gratitude for her contribution to the disability community at JMU and for her many years of dedication to educating and supporting students.
Looking forward: An interview with Jen Gulliver
Jen Gulliver is the newest full-time employee with the Office of Disability Servies. She has been with both JMU and ODS since 2017 as a temporary employee. She recently transistioned to the Exam Accommodations Coordinator position where she works with a team to ensure that registered students with exam accommodations can use their exam accommodations with ease throughout the year, and especially during final exams. Jen also supports the Housing Accommodations Committee, helps to coordinate the annual ODS training week for all staff and student employees and continues to assist with making materials accessible, as needed. 
A significant part of Jen's role as Exam Accommodation Coordinator is relationship management. She enjoys working with both students and faculty to ensure that the appropriate accommodations are being provided and answers questions and concerns that may arise in regards to Exam Accommodations. She considers herself to a relational person and enjoys this aspect of her position.
In the past two years that Jen has been at JMU and in ODS, she has seen a positive shift in the culture and mentality surrounding disabilities and accommodations. She sees that the topic of disability has less of a stigma surrounding it and that there are now more higher education conferences that discuss the diversity of disabilities. In the Spring 2019 semester, Jen and her fellow Accessible Media co-workers partnered with students to spread awareness of guide dogs on campus and proper guide dog etiquette. They created and strategically distributed flyers with a dog treat attached and spoke to students and faculty on the Quad. The initiative was quite successful and was received positively by students.
Jen is excited about the future of ODS, which includes the new Accommodate database and the Keep C.A.L.M. campaign. She would like to see the Keep C.A.L.M. campaign be topic of conversation on campus, especially where disabilty awareness has previously not been prominent. She is also excited to continue working with students and faculity, as well as informing the JMU community of the mission of ODS and educating them on what ODS does.
Disability Services Engagement
Community Engagement 2019-2020
July 2019
The Association on Higher Education and Disability (AHEAD) Conference
Kathryn Rathgeber and Joy Martin attended the Annual AHEAD Conference in Boston, Massachusetts. The theme of the conference was "Equity and Excellence in Higher Education". The keynote speaker was Haben Girma, the first Deafblind person to graduate from Harvard Law School.
August 2019
JMU Libraries Back to School Showcase
Kathryn Rathgeber collaborated with Jess Garmer of JMU Libraries, and Jesse Rathgeber of the JMU Center for Inclusive Music Engagement for a presentation for the JMU Libraries Back to School Showcase. The presentation, Engaged Learning for Disability Awareness Week, highlighted development, outcomes, and future work related to a ThingLink and Photovoice project implemented within various campus disciplines.
October 2019
Homecoming Door Decorating Contest
ODS entered the annual Homecoming door decorating contest and received an Honorable Mention! The door featured American Sign Language, Braille, and Duke Dog as a Service Animal!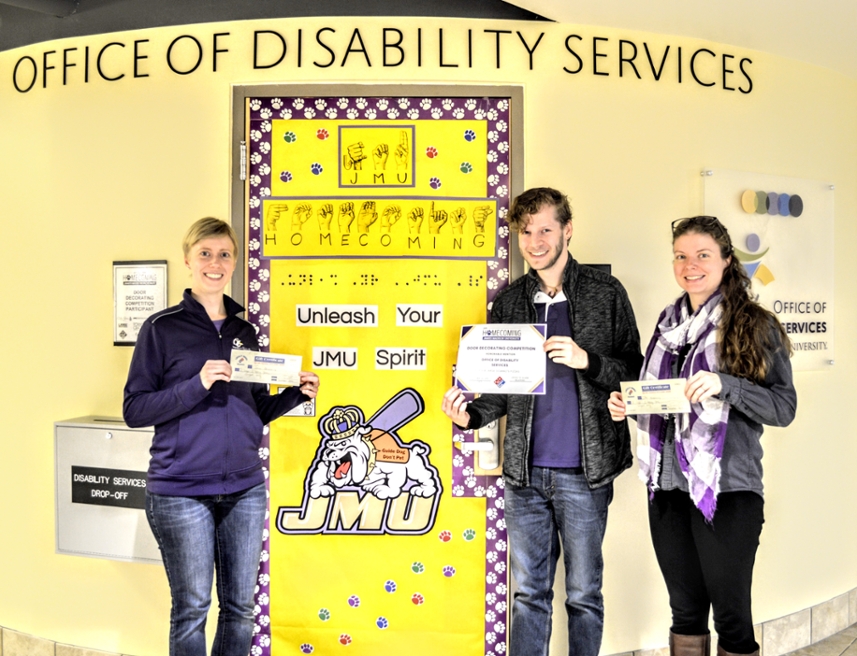 Halloween Inclusion Fair
ODS hosted a Halloween Inclusion Fair in the Student Success Center for the first time this year. The JMU Community was invited to enjoy some fun Halloween activities, learn about having an inclusive, safe, and fun Halloween and receive free giveaways! Information about the Teal Pumpkin Project, sensory safety, choosing appropriate costumes, SafeRides information, and more was available. It was a spooky good time!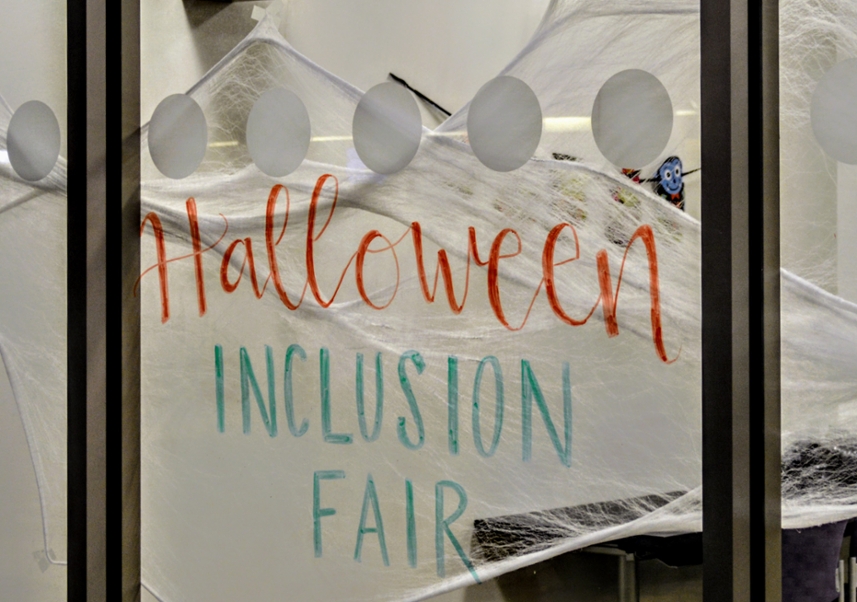 Peer Access Advocates' Open House
The Peer Access Advocates held an open house event that was open to students with disabilities to come for a meet-and-greet. The PAA's met with several students and discussed the students' experiences at JMU in regard to classes, social activities on campus and how they were getting along with their accommodations.
"Using Technology for DIY Universal Design" Presentation
Accessible Media team members Christina Wulf, Bryant Leonard, Brennan Maupin and Jen Gulliver presented "Using Technology for DIY Universal Design" at the Teaching & Learning with Technology conference at JMU. This presentation discussed no-cost and readily-available tools for everyone to create Universally Designed materials.
Accessibility Virtual Conferences
Accessible Media also hosted two virtual conferences that were available to all JMU faculty and staff. DigiCom 2019 was a virtual conference regarding Universal Design for Learning in Higher Education and was co-hosted with Library Services. The second conference was the AHEAD webinar on Web Accessibility Guidelines.
November 2019
November Thankfulness Event
ODS hosted a November Thankfulness event for ODS registered students for the first time this year. Registered students were invited to stop by the office and write thank you cards expressing appreciation of professors, staff members, or offices on campus that they felt have embraced accessibility and inclusion. The cards were delivered by the students themselves or they could opt to have ODS deliver them anonymously on their behalf.
Virtual Conference
Accessible Media hosted the "Accessing Higher Ground: Accessible Media, Web & Technology" virtual conference for all JMU staff and faculty. This conference included five full days of conference presentations on a myriad of topics designed to help faculty and staff learn how to use universal design.
Gratitude Campaign
ODS staff and the Peer Access Advocates ran the second annual Graditude Campaign and recognized JMU staff and faculty for creating and maintaining accessibility at JMU. Recognized individuals had their picture taken with November the Turkey and the photos were posted to the ODS social media platforms. Professor Sarah Taylor in the School of Communications (pictured below) was nominated by a student for this year's Gratitude Campaign and was one of over ten JMU Faculty and Staff who were recognized on social media during the campaign.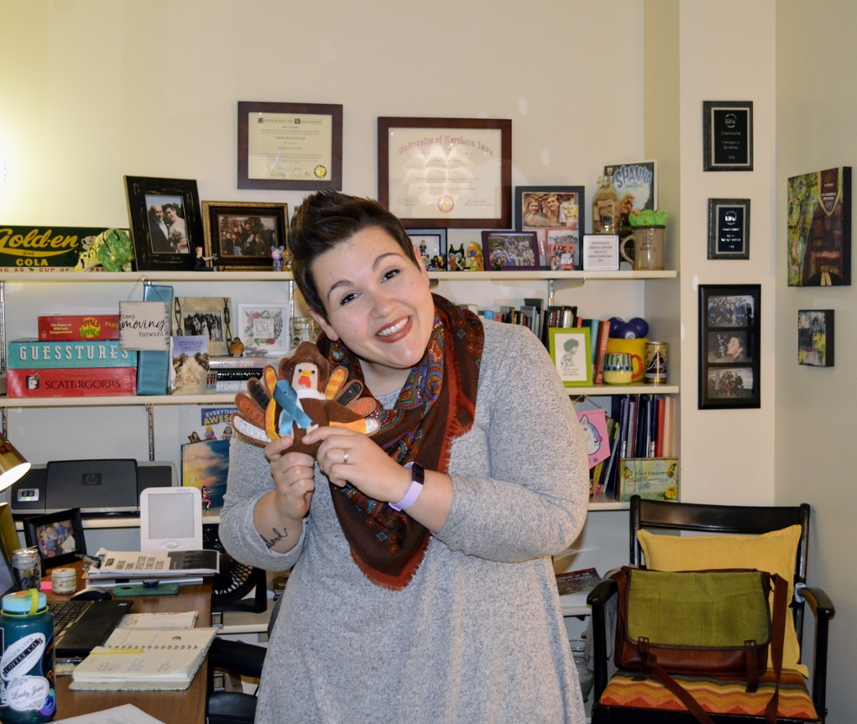 January 2020
Braille Educational Event
ODS hosted an informational event called ABCs of Braille at the info table in the Student Success Center. The event was open to the public, and everyone that stopped by had the opportunity to learn some of the different ways Braille can be used. Additionally, everyone was given the chance to try reading some Braille and everyone was given a Braille Alphabet and Numbers Card to take with them!
Mental Health First Aid Certification
Joy Martin, Kathryn Rathgeber, Brittany Dioszeghy and Tonya Schoenbeck received Mental Health First Aid Certification after attending the accredited eight-hour course. In this course, they learned risk factors and warning signs of mental stress, strategies for how to help someone in crisis and non-crisis situations and where to turn for help.
February 2020
Countering Stigmas of Invisible Disabilities
ODS collaborated with the Student Government Association (SGA) Diversity & Inclusion Committee to host an even called "Countering Stigmas of Invisible Disabilities", which was held in the Student Success Center. The event included defining the differences between visible and invisible disabilities, combatting stigmas, a call to action, and more!
Also during the month of February, the Peer Access Advocates presented "Countering Stigmas of Invisible Disabilites" independently to an undergraduate class at JMU.
March 2020
JMU's Annual Diversity Conference
Brittany Dioszeghy, Brennan Maupin, and Tonya Schoenbeck submitted a proposal for JMU's Annual Diversity Conference and were accepted to present "Keep C.A.L.M. and Check Contrast". Due to COVID-19, the conference was cancelled, but the content is available on the Keep C.A.L.M. web page.
Adult Degree Program Support
Valerie Schoolcraft and Joy Martin met with students in the Adult Degree Program to offer support related to how COVID-19 is impacting them. They discussed relevant ODS and Student Affairs support programs that had moved their services online in order to address their concerns and questions.
11th Annual Disability Awareness Week
This year would have marked the 11th Annual Disability Awareness Week. Our theme this year was "Keep C.A.L.M. and Use Universal Design", in alignment with promoting accessibility through the Keep C.A.L.M. campaign on campus. In the interest of being a good public citizen during the COVID-19 outbreak, the university cancelled all events hosted at JMU's facilities, including Disability Awareness Week events. We would like to thank our partners for their engagement with us throughout the year to plan a wide range of awareness-raising events: X-Labs, UREC, Career and Academic Planning, Student Employment, Human Resources, & Library Services!
We can't wait to see everyone at next year's Disability Awareness Week!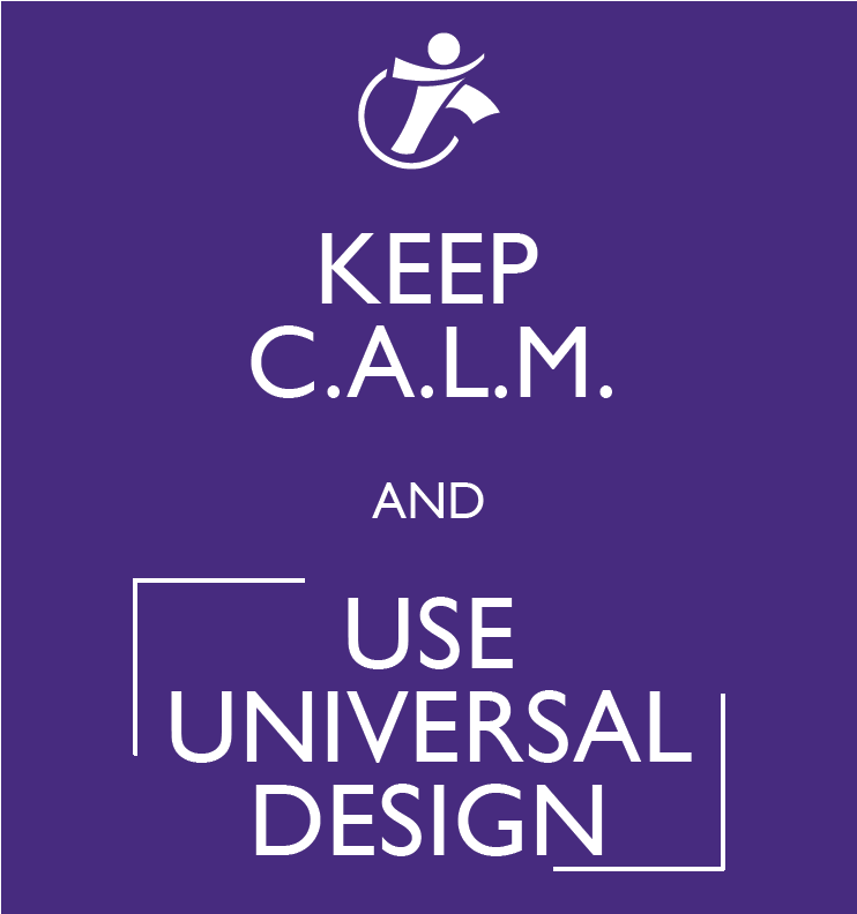 All year
Learning Strategies Instruction Campus Engagement
Throughout the year, Learning Strategies Instruction held presentations and workshops for numerous student groups at JMU. These groups included transfer, graduate, and international students, Centennial Scholars, On the Road Collaborative, Nursing, Psychology, Biology, Chemistry, Student Athlete Services, the Academic Mentor program, the Academic Success Program, and ROTC.
Through a collaboration with the Office of Strategic Planning and Engagement, LSI was able to purchase online modules for learning and study strategies that is open to all JMU students! For more information, visit the LSI website.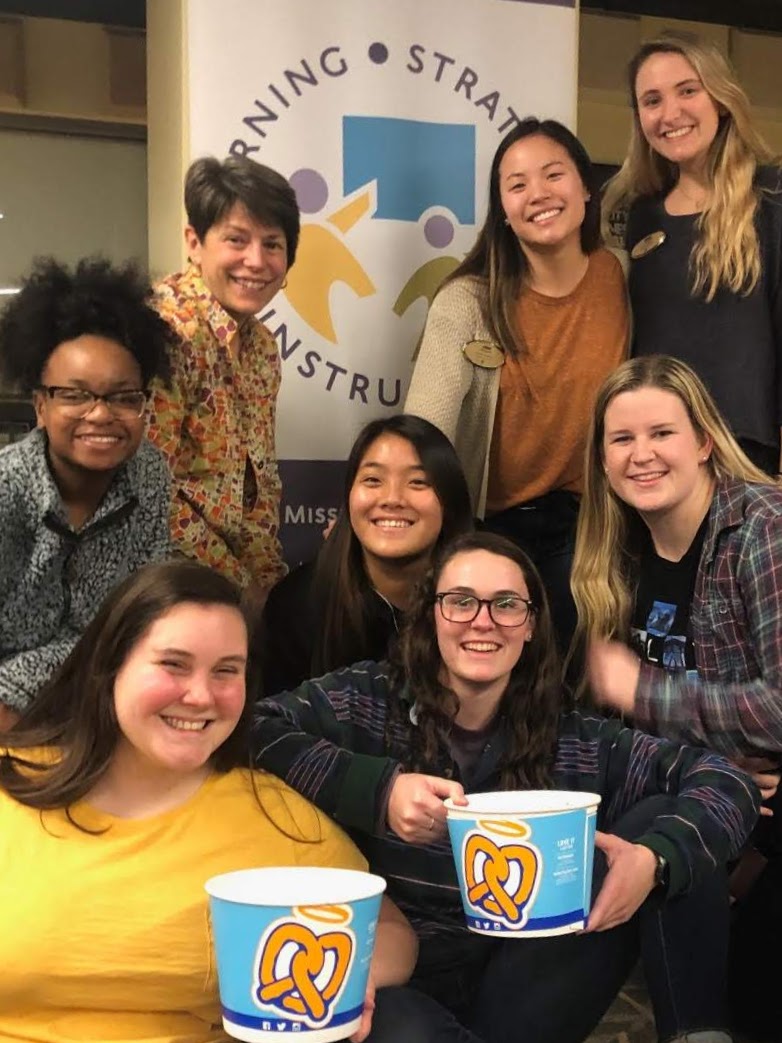 Student Farewells
I have had the honor of working in Accessible Media at the Office of Disability Services for about a year and a half now, and it has been absolutely life changing. Everyone that I've worked with during my time here has made such a huge impact in my life. I've learned so much from those who have trained me, and I'm excited to take the skills that I've learned working here out into the "real world". This job has taught me more about what James Madison University has to offer its students, and I'm so happy that I got to play a big part in giving back to a university that has given me the best experience of my life. I am forever thankful for my ODS family. I will miss you guys so much. Thank you for everything!
Abby Conde, Accessible Media Student Assistant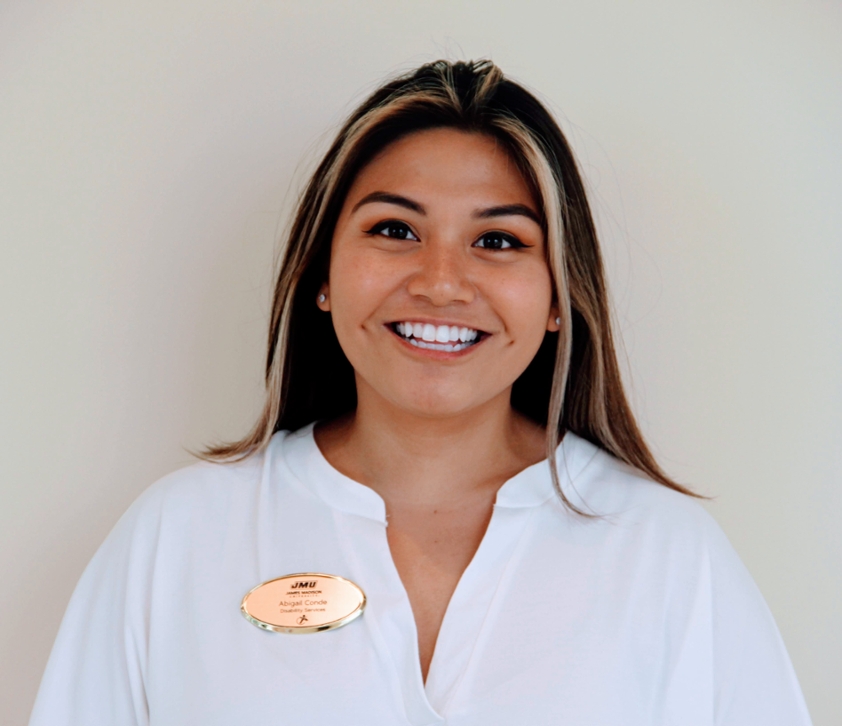 Sophomore year I registered with the Office of Disability Services. I was immediatly welcomed with open arms and felt like I found my safe place. Fast forward to my Senior year of college, I applied to become an Office Assistant for the ODS. I can happily say that after years of internships and other job experiences, I have never gone into work with a smile and left with a smile until I worked at the ODS. The Office of Disability Services is not only a workspace but is also a family. I consider Sandra, Amy and Karen my "Work Moms" due to their compassion, kindness and loving motherly nature for the ODS staff. It has been such a gratifying experience being able to assist students, staff, parents and my coworkers. I will always cherish this opportunity working at the ODS, for it has encouraged me to pursue my passion in helping others. Thank you ODS for an amazing year.
Olivia Bergman, Office Assistant
I have thoroughly enjoyed my time working at ODS as a Peer Access Advocate over the past two years. I am very thankful for all of the opportunities and experiences that this position and ODS have allowed me. During my time here, I have learned numerous skills that will greatly help me in my future and throughout life. It has been such a pleasure to work with everyone in this office and I am grateful to have been part of such an amazing and hardworking team. I will miss my time here but, I will always look back fondly at my time at ODS.
Sydney Sharp, Peer Access Advocate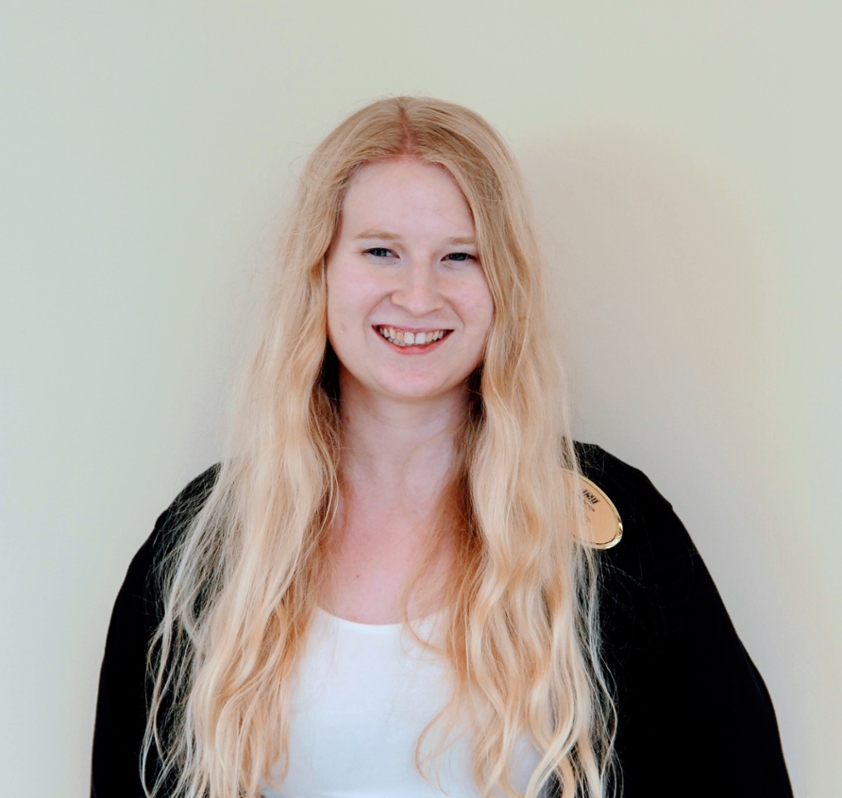 Though my time in person at ODS was unexpectedly cut short, I am so grateful to have been a member of such an amazing office. As a student the office made me feel so welcome, and that feeling of belonging was even more present in the workplace. I enjoyed my time as a peer access advocate since it allowed me to help fellow Dukes with issues they may have faced, but it also allowed me to raise awareness about issues that I am passionate about. The communication, time management, and planning skills I learned while working in ODS are going to serve me well in grad school and beyond, but the memories and friends I made will always be there to comfort and cheer me up.
Jackie Larrauri, Peer Access Advocate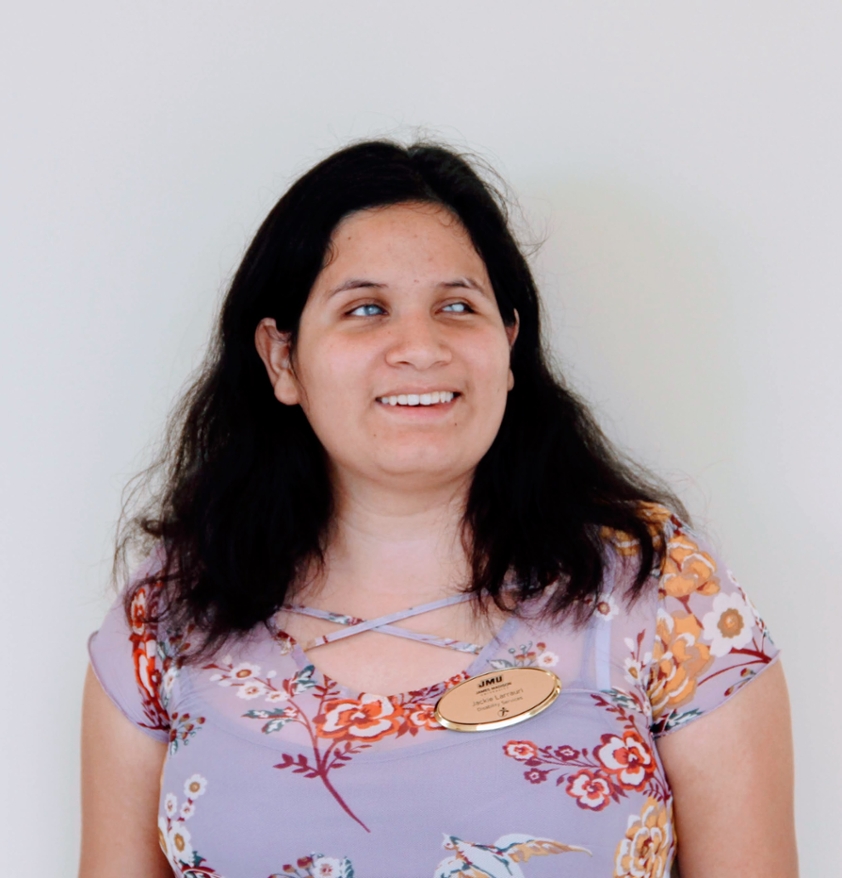 As the spouse of an Active Duty Soldier, I am used to moving and building a new network of support, friends, and colleagues. I am so proud to say that the Office of Disability Services has been the strongest and most valuable of all networks that I have been a part of. The staff continously presented opportunities for growth, both professionally and individually. The student staff provided insights into what it is like to be a Duke, needs and opportunites that they see for involvement and what that involvement looks like. I am appreciative of everyone that I met during my two years working at ODS ; their positivity, their willingness to share, learn and teach, and most of all their contagious passion.
Tonya Schoenbeck, Communications and Marketing
Graduate Assistant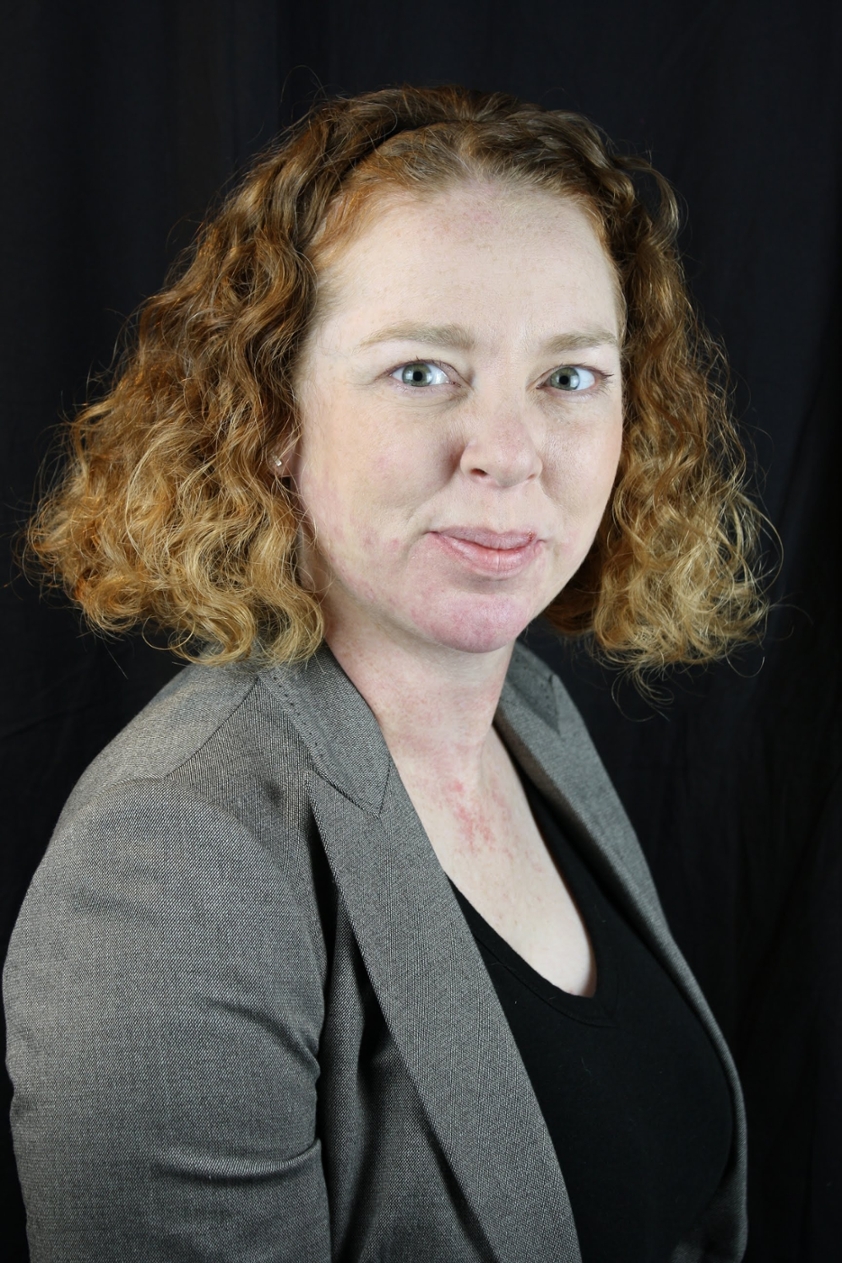 JMU Office of Disability Services 2019-2020 Staff
Professional Staff
Valerie Schoolcraft
     Director
Christopher Kinney
     Associate Director
Kathryn Rathgeber
     Assistant Director
Joy Martin
     Assistant Director
Brittany Dioszeghy
     Assistant Director
Sandra Gulliver
     Executive Administrative Assistant
Amy Cook
     Administrative Assistant
Karen Buchanan
     Office Assistant
Christina Wulf
     Accessible Media & Technology Specialist
Brennan Maupin
     Visual/Hearing Impairment Accommodation Specialist
Bryant Leonard
     Accessible Media Production & Accommodation Specialist
Jen Gulliver
     Exam Accommodation Coordinator
Christopher Riffo 
     Exam Proctoring & Accommodation Assistant
Scarlet Nishimoto
     Notes & Accommodation Assistant
Graduate Assistants
Tonya Schoenbeck
Anna Weaver
Emily Smith
Sophia Stone
Office Assistants
Lauren Pinelli
Olicia Bergman
LSI Peer Educators
Illiana Ioannides
Alaina Agatone
Taylor Beckel
Katie Twigg
Morgan Hilton
Michelle Whetstone
Natalie Nhan
Caroline Urlwin
Peer Access Advocates
Ashley Harris
Sydney Sharp
Jackie Larrauri
Accessible Media Assistants
Allahjah Smith
Tristan Thorgersen
Abigail Conde
Kaitlyn Makl
Ethan Lee
Mary Beth Brosan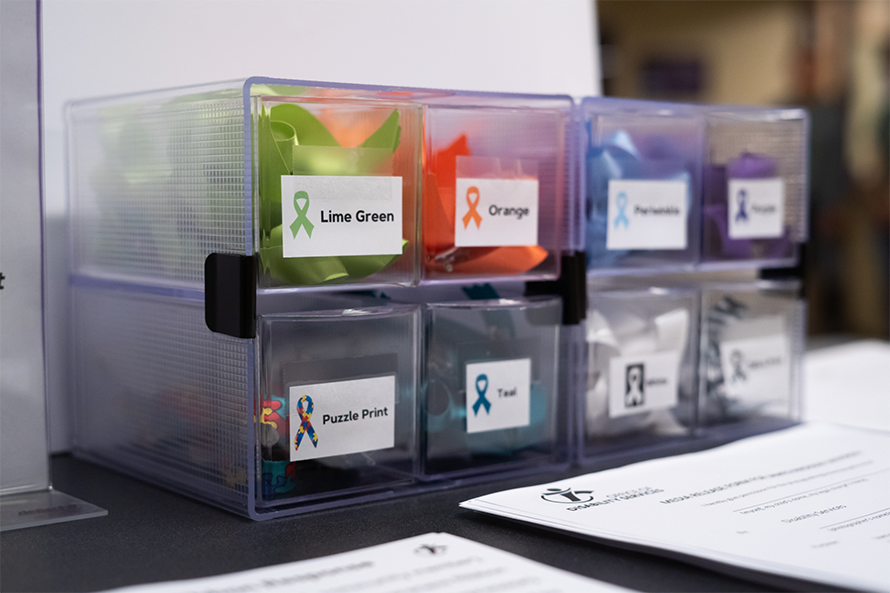 EDITORIAL
Editor Brittany Dioszeghy
Co-Editor Tonya Schoenbeck
Contributors Scarlet Nishimoto, Christina Wulf, Tracy Hakala, Abby Conde, Olivia Bergman, Sydney Sharp, Jackie Larrauri and Tonya Schoenbeck.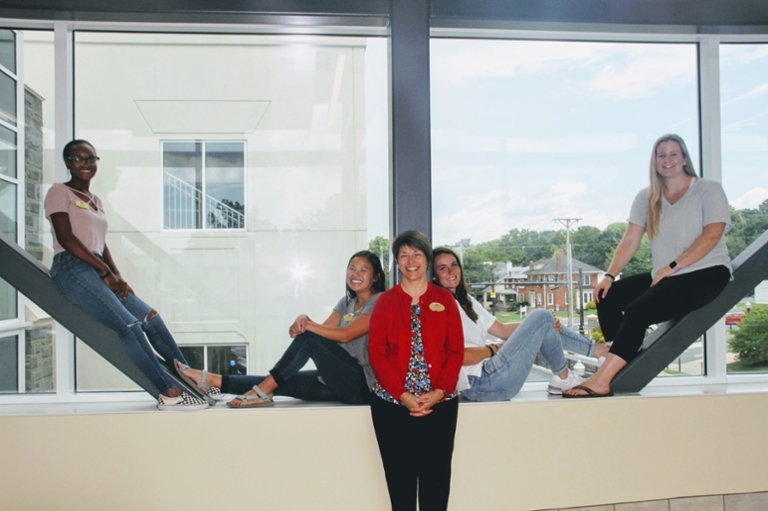 ART
Photography JMU Creative Media, Kathryn Rathgeber, Tonya Schoenbeck and Brittany Dioszeghy
ADMINISTRATION
Disability Services Director Valerie Schoolcraft