Getting Started
At James Madison University, we are committed to providing our expert faculty and staff with competitive compensation.
"Total Compensation" includes not only salary, but also additional benefits such as paid leave, insurance benefits, retirement plans, educational assistance programs and more. Just as an example, insurance benefits available for qualifying JMU employees include health, dental, vision, and life. The total compensation estimator provides current and prospective employees with an illustrated breakdown of the total value of their total compensation.
Directions
Start by answering the questions on the left hand side.
All questions are required.
Click "Calculate"
If you are unsure of your employment type or any other criteria used in the estimator as it relates to your position, please contact the JMU Benefits Team (ext. 83593).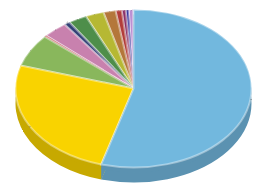 **The JMU Total Compensation Estimator provides an approximation to be used for illustration purposes only and is not intended to be a substitute for formal financial planning advice. Individuals are strongly encouraged to consult with their own independent financial advisor for personal financial planning guidance.