Make the most out of your college experience – join a student organization!
You'll find yourself immersed in a world of opportunities. Whether it's a club related to your major, a cultural group, a community service organization, or a club dedicated to something you've always wanted to explore, there's something for everyone.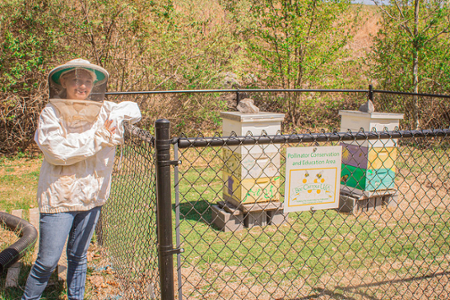 Student organizations are more than just extracurricular activities. They provide a supportive network where you'll find mentors, friends, and future colleagues who can offer guidance, share experiences, and cheer you on as you navigate your academic journey. You'll have the chance to collaborate on projects, attend inspiring events, and make a positive impact on your campus and beyond.
Did you know? Being part of a student organization also looks great on your resume. Employers and graduate schools love to see that you've been actively involved outside of the classroom. It shows your commitment, leadership skills, and ability to work as part of a team – all qualities that will set you apart in the competitive world beyond college.
ISAT Honor Society
The ISAT Honor Society is an organization for distinguished students of the ISAT program. Students focus on tutoring students, contributing to the community, providing support to the the ISAT program, and support greater interaction of devoted ISAT students. The organization recognizes exceptional students who show a passion in academics and in community involvement. 
Air & Waste Management Association
The Air & Waste Management Association (A&WMA) is a nonprofit, nonpartisan professional organization that enhances knowledge and expertise by providing a neutral forum for information exchange, professional development, networking opportunities, public education, and outreach to more than 5,000 environmental professionals in 65 countries. A&WMA promotes global environmental responsibility and increases the effectiveness of organizations to make critical decisions that benefit society. Contact Steve Frysinger for more information.
American Society of Mechanical Engineers
American Society of Mechanical Engineers (ASME) is a not-for-profit membership organization that enables collaboration, knowledge sharing, career enrichment, and skills development across all engineering disciplines, toward a goal of helping the global engineering community develop solutions to benefit lives and livelihoods. Contact Karim Altaii for more information.
American Wind Energy Association
The American Wind Energy Association (AWEA) Student Chapter exists to provide an opportunity for students to learn about the wind industry, to develop relationships with industry professionals and researchers, to provide education and outreach, and to raise awareness about wind energy. The association focuses on campus and community enrichment through an interdisciplinary approach. Members will be able to participate in a variety of interesting activities including, outreach events at fairs and festivals, organizing and hosting campus-wide turbine challenges, technology demos and projects, as well as acting as a volunteer pool for the Virginia Center for Wind Energy (VCWE). Contact Remy Pangle for more information.
Association of Energy Engineers
The Association of Energy Engineers is an organization formed by students interested in the energy field to cultivate interests, network with energy industry professionals, and provide a springboard for students interested in community action.  The AEE JMU Chapter is committed to helping the local community increase energy efficiency, utilize innovative energy service options, enhance environmental management programs, and improve equipment performance. Contact Jonathan Miles for more information.
Institute of Electrical and Electronic Engineers Computer Society
The Institute of Electrical and Electronic Engineers Computer Society (IEEE) is the world's leading membership organization dedicated to computer science and technology. Serving more than 60,000 members, the IEEE Computer Society is the trusted information, networking, and career-development source for a global community of technology leaders that includes researchers, educators, software engineers, IT professionals, employers, and students. Contact Tony Teate for more information.
Society of Automotive Engineers International
Society of Automotive Engineers International presents 12 different Collegiate Design Competitions - events that put classroom training into action by challenging students to design, build, and test the performance of a real vehicle in a competitive environment. SAE Collegiate Design competitions draw more than 4,500 students from 500 universities on six continents. Formula SAE, SAE Mini Baja, and SAE Clean Snowmobile Challenge are a few examples of these exciting competitions. For more information, contact Chris Bachmann.
Student Conservation Association
The Student Conservation Association (SCA) is America's conservation corps. Our members protect and restore national parks, marine sanctuaries, cultural landmarks and community green spaces in all 50 states.  SCA's mission is to build the next generation of conservation leaders and inspire lifelong stewardship of our environment and communities by engaging young people in hands-on service to the land. Tens of thousands of green professionals, from park superintendents to urban planners, can trace their start to SCA.  This is where college and high school students connect with nature, render hands-on service, gain new skills and perspectives, and launch a lifetime of stewardship.
JMU Beekeepers
JMU "Bee-Friendly" Beekeepers was founded in the Fall of 2018 as a student-run organization that manages an apiary of two hives on the East Campus Hillside. Our aim is to increase the local population of bees in Harrisonburg and support JMU in becoming a more pollinator-friendly campus. Indirectly, our organization works to promote sustainability and a sense of community, as well as spread awareness throughout the JMU and Harrisonburg communities about the importance of pollinators. For more information, contact Wayne Teel.
Virginia Biotech Association
Nearly 300 biotechnology, pharmaceutical and medical device companies are based in Virginia, regionally clustered around universities in Blacksburg, Charlottesville, Richmond, Norfolk and Northern Virginia. The Virginia Biotech Association (VaBIO) hosts regional events, often in partnership with the local technology councils, to help bioscience professionals network with their neighbors.