ISAT opens up a wide range of exciting paths, whether you're dreaming of a fulfilling career or considering further education.
Our graduates have accomplished incredible things. Some have become entrepreneurs, while others have ventured into fields like engineering, consulting, politics, the Peace Corps, and teaching.
What sets ISAT graduates apart is their unique skill sets in holistic problem solving. They are system thinkers, exceptional communicators, and lifelong learners. Throughout their time in ISAT, they gain extensive experience working collaboratively in dynamic environments. These qualities are in high demand and serve as a solid foundation for success in numerous career paths.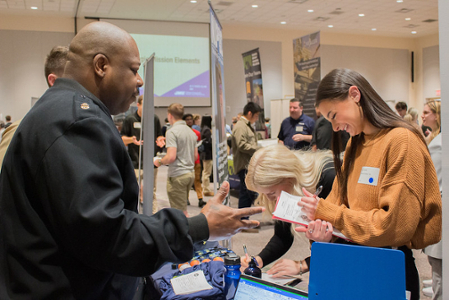 Our faculty and staff prepare students by
Providing hands-on opportunities to tackle real-world problems head-on
Assisting students with their resumes and portfolios
Inviting Industry Partners to campus to connect with students
Providing opportunities to participate in the CISE Career and Internship Fair
Our graduates have been at the forefront of incredible initiatives in recent years. They are
Busy finding innovative solutions to local environmental challenges, such as combating river pollution and promoting sustainable farming practices.
Exploring the world of genetic research, fighting against infectious diseases and bioterrorism right in our labs.
Developing cutting-edge computer databases to address practical issues like traffic congestion and parking woes.
Tackling energy problems by creating and utilizing energy sources like solar and wind power.
Making a significant impact by assisting villagers in developing countries, implementing appropriate technological solutions that secure clean water sources and improve their quality of life.
With ISAT, you'll have the knowledge, skills, and hands-on experiences to make a difference in the world. Whatever your passion, we're here to help you pursue it in a learning environment that will both support and challenge you to excel.