Stay in Touch
We encourage Social Work alumni to keep their information up-to-date through the JMU Alumni Association. The Alumni Association maintains a database of our alumni. Please take a few moments to fill out their online form.
The Latest News
Congratulations to Nicole Acosta who was recently named as the R. Ann Myers Distinguished Alumni Award! This award recognizes an alumnus of the JMU Social Work program for excellence in practice and service to the profession, community and/or department. A 2004 graduate of the BSW program, Nicole completed her Senior practicum at ACTS/Turning Points Domestic Violence Program and received her MSW from That Catholic University. She has continued her work around issues of domestic violence in Northern Virginia, specifically in Loudon County where she served on the steering committee for the Child Advocacy Center, helping to develop the first collaboration between law enforcement and county government in providing support for child victims of abuse.
The Social Work Advisory Group of the Department of Social Work is pleased to announce our 2020 winner of the R. Ann Myers Alumni Award winner – Rashema Jefferson Meekins!
Rashema is a 2015 graduate of the BSW program at JMU. Since graduating she has been working with formerly incarcerated individuals through the VCU Health Systems and the Richmond City Sheriff's Office. She is also the Family Readiness Group Leader (volunteer position) for the Virginia Army National Guard, and is active with the Virginia Sheriff's Association, the Urban League of Greater Richmond and the National Association of Black Social Workers.
Social work alumna Ha Tang ('14) has embraced social justice as a core value of the social work profession in advocating for healthcare equity and accessibility for all. She recently took this to the next level speaking at a national rally in supporting protection of the Affordable Care Act.
Rebecca Wood named 2019 R. Ann Myers, Distinguished Alumni Award Recipient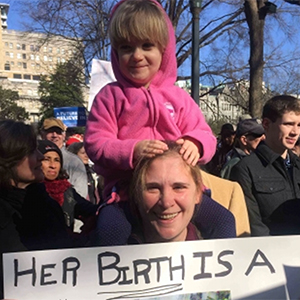 Rebecca Wood, community advocate and mom to Charlie, graduated with her BSW as a member of the Class of 2008. Her interests were macro practice and community organizing, and she performed her field practicum with United Way.  At the time of graduation, Rebecca was committed to:
environmental issues with focus on education, outdoor involvement, and advocacy. She continues to commit her passion and skills to these areas as indicated by her work with the Virginia State parks, and
her new marriage--to a fellow JMU alum!--and starting a family. It is from her family experience that Rebecca's exceptional  advocacy work emerged.
A few years after graduation, Rebecca became an expectant mother and anticipated the birth of her firstborn: a daughter, Charlie.   Unanticipated was the reality that Charlie came 14 weeks early, and faced many serious medical challenges.   After a period of sorting through the realities of Charlie's status as a "micro preemie" and her role as Charlie's mom, Rebecca  went into social worker mode.  She identified and connected to resources to support Charlie's development. She launched a blog to both seek and offer social support. Simultaneously, the circumstances of Charlie's birth activated Rebecca's macro spirit. She networked. Coordinated.  Researched. She became expert on health care policy. On Medicaid. On the Affordable Health Care Act.  On Medicaid expansion. She lobbied, protested, marched, and got arrested. More than once. The results of Rebecca's efforts have been noteworthy. She has gained recognition as a local, regional and national advocate for affordable, high quality healthcare, children with disabilities, and rights of immigrants.  Rebecca and her daughter, Charlie, have participated in over 30 demonstrations and events on these essential issues and initiatives. They have been invited and cited by national policy leaders, including Tim Kaine (D-Virginia Senator, former VEEP candidate), Speaker of the House Nancy Pelosi and Bernie Sanders (I-Vermont Senator, former presidential contender). 
Rebecca, JMU BSW, shares her story all around the country, including in JMU Social Policy classes each year.  Charlie and Rebecca have engaged dozens of senators and congressional representatives at state and national levels in their advocacy journey. They were featured in a CNN story in June 2017.  Rebecca's advocacy and activist energy includes collaborative efforts with   MoveOn.org,  The Little Lobbyists, and offering a keynote address for the Women's Marchin Roanoke, VA in January 2018.  Rebecca also serves as a volunteer with Remote Area Medical – Virginia and as a speaker for the introduction of Bernie Sanders' bill – Medicare for All. 
Rebecca has served as a guest speaker on healthcare access and advocacy in numerous Social Policy classes over the past five years.  She also has been very involved in MadiThon – the JMU fundraiser for the University of Virginia Children's Medical Center, and has attended several  "Social Work Celebration" events. Rebecca interacts regularly with department faculty and is active with students and alumni on the JMU Social Work Facebook page.