The Biology Department offers a concentration in neuroscience for all Biology majors with an interest in molecular, cellular, systems, and/or behavioral neuroscience. The Neuroscience Concentration aims to provide students with a strong foundation in neuroscience and a deeper exploration of various neuroscience topics.
Coursework
Courses in the Neuroscience Concentration include:
BIO 301 Introductory Neuroscience 
BIO/PSYC 375 Sensation and Perception
BIO/PSYC 385 Biopsychology
BIO/CSD 415 Neuroanatomy and Neurogenic Communication Disorders 
BIO 443 Understanding Techniques in Neuroscience
BIO 445 Neurobiology
BIO 446 Experimental Neurobiology
BIO 448 Developmental Neurobiology
Students in the Neuroscience Concentration choose two foundational neuroscience courses, followed by three more courses in advanced topics. All courses in the concentration can also fulfill certain Biology major requirements. 
Neuroscience concentrators can view this guide to completing the concentration successfully. 
The information above is intended as a general guide for this concentration. Please reference the online course catalog for official information.
Declaring the Concentration
The concentration can be declared by Biology majors at any time on MyMadison. However, students are highly encouraged to declare the Neuroscience Concentration early to receive timely information about enrolling in certain courses.
The full requirements of the concentration are outlined in the official JMU catalog.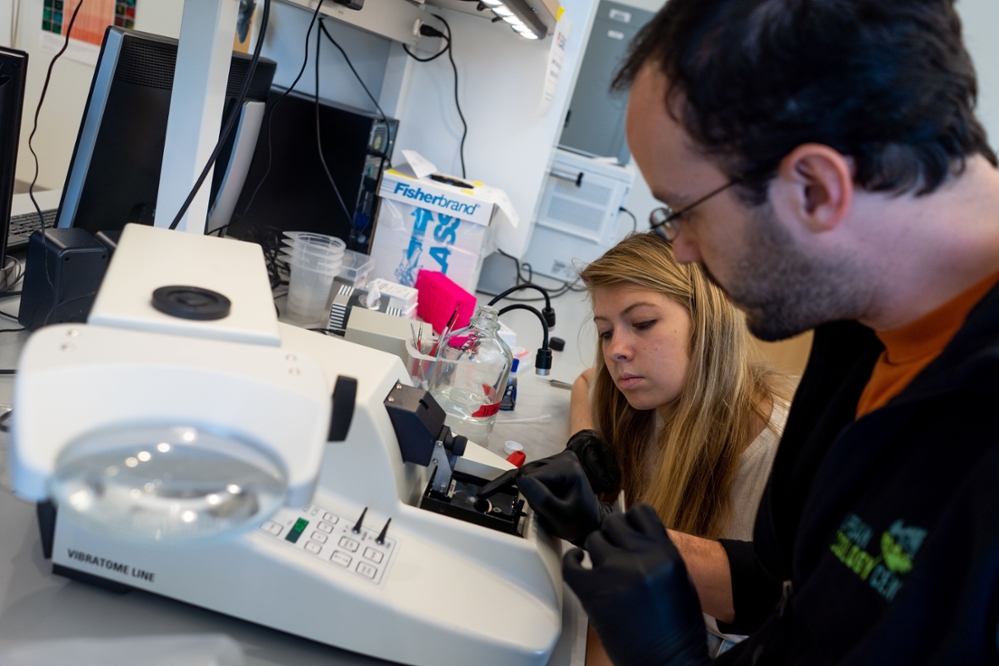 Neuroscience Faculty
The Biology faculty who teach Neuroscience Concentration courses all have active research programs that involve JMU undergraduates. Involvement in neuroscience research is encouraged for concentrators.
For more information, please contact the Neuroscience Concentration Coordinator, Dr. George Vidal.