Life after JMU is marked by success.
Emily Warden knows how to take her shot. She credits her time at JMU with helping reinforce this when it comes to her creativity and also her willingness to stretch her entrepreneurial wings. The results so far for the 27-year-old jewelry-making star are extraordinary.
---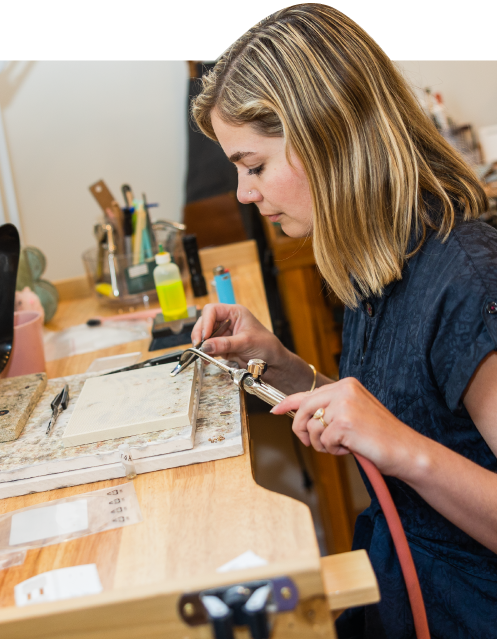 Emily Warden - Class of 2017
Major: Studio Art
Hometown: Norfolk, Virginia
High School: Norfolk Academy
Highlights: Founder of Emily Warden Designs; was chosen from among 12,000 as a 2023 Forbes 30 Under 30 Arts & Style List awardee; credits JMU professors Allyson Mellberg Taylor and Mark Rooker as keys to her meteoric rise; has had work featured in Vogue; is thriving in her Richmond, Virginia-based showroom and studio.
Was there one moment at JMU that changed everything for you?
When we brought out the stones to do costume settings in jewelry, I was really drawn to that—and that opened up a whole new world of opportunity for me. So that's when I started to experiment with pieces that I would personally wear and then other people around me would wear. And that's kind of what started my side designing business.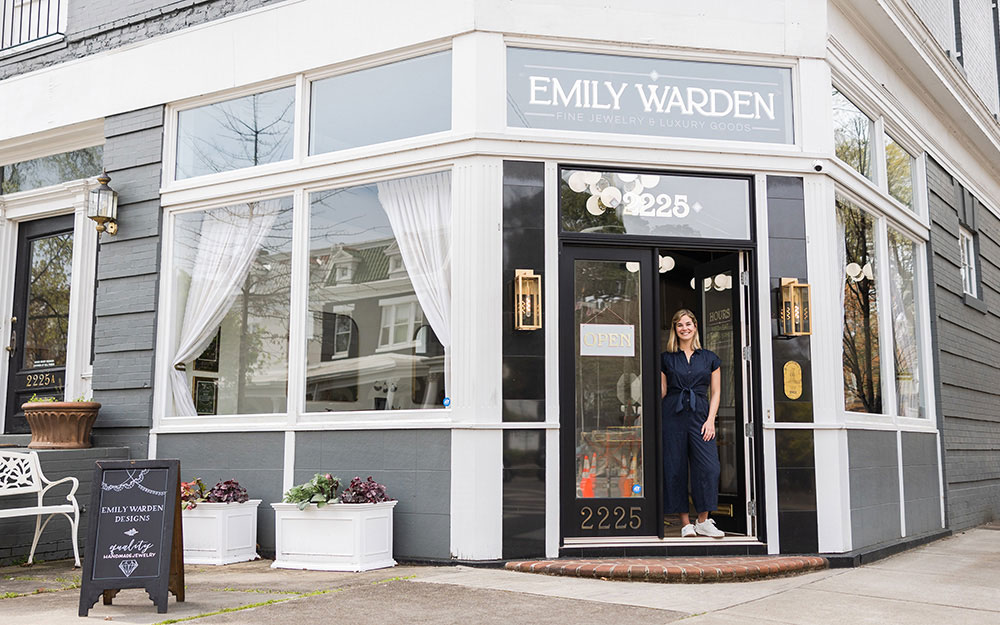 So you started your business while at JMU?
I was selling to my friends and my family on the side, and then kind of created more of a line of recreatable pieces, which is what ended up going on my website first when I had to make that for JMU. I remember thinking, "Well, am I going to put these pieces that I'm already selling on there?" And that's kind of what started the first step of a real e-commerce situation.
Were you successful from the start?
I would say so. To me, selling one piece was a huge success. So selling a couple of pieces a month was, I considered, successful. And then it kind of just grew from there. 
Talk about the Forbes 30 Under 30 award.
So you nominate yourself or someone else in the application process. So that's what I did. And I heard back with a second round of interview questions and it was pretty extensive interviews all online. And then I made the cut a couple months later. So very exciting. And since then we've definitely had a peak in business and have reached a lot of audiences that we probably wouldn't have before. So it's been really beneficial.
How come were you drawn to this form of art?
I really enjoy all the different facets of working with the stones. I mean, you can't really wear a piece of glass, you know, whereas there's a really intimate connection between jewelry and the wearer. You can wear it on your body and look at it and it represents something more symbolic a lot of times.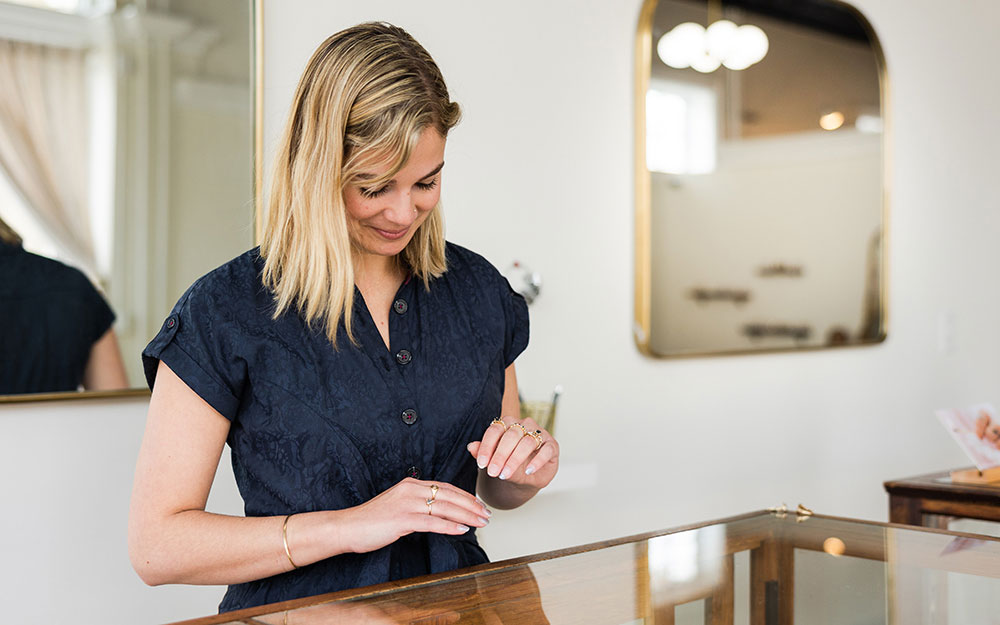 Did you study those relationships while at JMU?
I did my senior thesis all about the connection between symbolic things like a relationship or historical symbolism. Throughout history there's been mourning jewelry and things like that. So I was just really interested in that kind of thing, and that definitely kept me focused in those areas.
Do you find your customers bring a connection to certain jewelry with them?
About 90% of the time we're creating something to represent either their relationship to each other or a piece like an heirloom piece that was passed down and they want to put the stone in something new and kind of create the modern heirloom. Sometimes, we have people who have a spouse that passes away and they want to use their birthstone and memorialize them in some way through a piece of jewelry. So it's definitely often all about a deeper connection, which makes it more meaningful than just adornment for no reason.
Talk about your favorite professors.
My two favorite professors are Allyson Taylor and Mark Rooker. Allyson taught my Intro to 3D Arts class, I think. She is an incredible painter and drawer. We actually did trades throughout my college experience—her paintings for my jewelry. She's just really inspiring design-wise and inspired me to be really creative. And then Mark was the metals professor who worked with me through countless projects and gave me so many opportunities. I feel like not many other professors would have given me the freedom that he gave me to kind of pursue what I wanted to do.
Did you do any independent study classes where you could sort of do your own thing?
Yes. I actually convinced Mark to let me use the metals casting equipment to cast glass stuff, which he was like, "Go for it." That really changed a lot of things for me, I think.
---
More Profiles