Hands-on learning is real-life problem-solving.
Diego Crespo Guido knows the courage it takes to take chances. And for this Mexico City native, that includes taking on the right kinds of outside-the-classroom learning experiences that are setting him up to continue making his childhood dreams feel more and more like realities.
---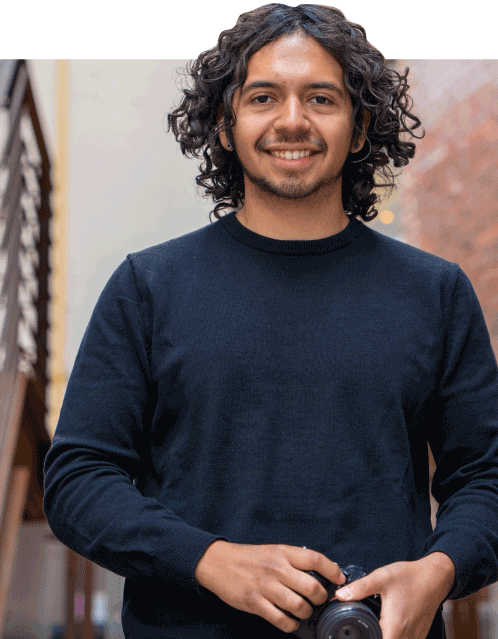 Diego Crespo Guido - Class of 2025
Major: Media Arts and Design
Minor: Sports Communication
Hometown: Mexico City, Mexico
High School: Escuela Tomás Alva Edison
Highlights: Concentration in Digital Video and Cinema; dream job is on the media production team for his childhood soccer club in his native Mexico; has internships with JMU Marketing and Branding and creating content for the U.S. Tennis Association for the August 2023 U.S. Open Tennis Championships.
Are you happy with the hands-on learning choices you've gotten so far?
Definitely. I am very, very happy with the opportunities that I've had from my Media Arts and Design program but also from JMU. I feel like programming has given me the very basics of what I need to know. I already had a background in media because I've been doing stuff on my own before JMU because I was curious about finding what I wanted. So I already had knowledge about the media. And I feel like my School of Media Arts and Design classes definitely gave me a broader view and a broader knowledge. But what made me go above and beyond that was my internship here with JMU Marketing and Branding.
Explain what you mean by that.
Because what I always say is that it's very different to be in a classroom, even with being with the better teachers like I have been, than it is being out there and actually being in a crowd and taking pictures or video actually putting up a set or all the stuff like that. It's a very different experience. And you learn from actually getting the hands-on aspect that I have gotten, the different things that you need to do. So I would say that, definitely, what has been the biggest knowledge and the biggest learnings that I've had so far have been things with this internship.
Does this internship help you apply what you are learning in your different classes?
I learned the basics, just like how to set up a mic or how to set up a shot. But the actual experience of being out there and doing it, I definitely got that from this internship. What they teach you in the classroom is very important. You can bring certain rules and still take different approaches. I think that that was very valuable for me.
So there's more to your current internship than just the technical aspects of shooting video?
Oh definitely. I think more than just shooting videos, it's just amazing how many connections you can make with other people. And I'm always surprised at how talented my co-workers are. You learn from them the same as they learn from you. So that's something really valuable.
So yeah, definitely, this internship goes way beyond just like shooting videos.
Talk about other positive aspects of this hands-on experience.
It's also forming connections because you go to different shoots to take like pictures or videos, but you're also interacting with the people that are involved in the shoots, and they're taking pictures. And you just get connected, and you start talking to them. And they tell you like, Oh, what are you doing? And you ask them back and just like start making new connections that you never know—maybe they might be useful in the future, or maybe you just made some friends. So I think that's really valuable.
From a purely technical standpoint, how good an editor are you?
I would say I'm good, but I know there are definitely people that are better than me. And again, part of this internship is learning from other people and what other people have done recently. Back in February, I was editing the video for Black History Month, when I was in charge of a big part of the project with my colleague, Judahpraise Acheampong.
Were you both in charge of the video editing?
I was in charge of the video. And I had a I had a specific view of what I wanted the video to look like. But when I went to touch base with my supervisors about recommendations, they gave me so many good recommendations that my view just became so much broader that it ended up looking so much better than what I ever expected it to look because they just know so much stuff that they can just help make your stuff look better because they have a different mindset. 
Ultimately, what did you get out of it?
I just learned a lot from that experience of the Black History Month video because I'm working with my colleagues and working with my supervisors and it really gave me a very good insight and a lot of new skills.
---
More Profiles