Living on campus sets you up well.
Juliana Cruz says living on campus got her amazing JMU journey off to the right start. A first-generation student, Cruz was confident that she would find an academic path that would lead to a significant career—yet she never imagined herself becoming an engineer. Happens all the time at JMU.
---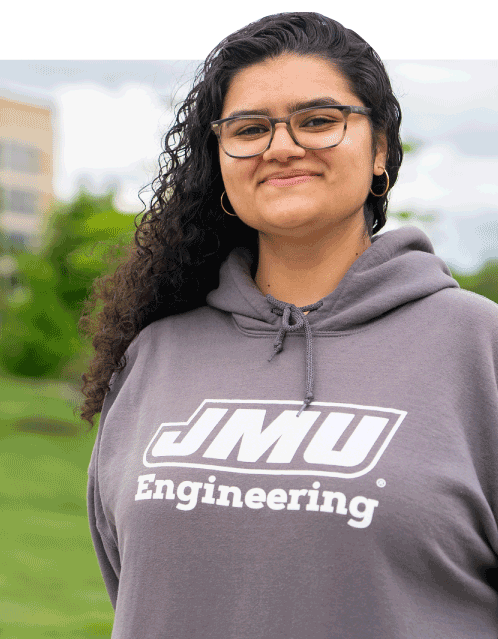 Juliana Cruz - Class of 2023
Major: Engineering
Minors: Mathematics, Honors
Hometown: Springfield, Virginia
High School: John R. Lewis
Highlights: First person from her family to pursue a degree beyond high school; Madison Excellence Scholarship recipient; parents are El Salvadorian natives; two-year-long engineering capstone project is Earthships, which are sustainable passive homes built with repurposed materials such as mud and used tires.
So living on campus was good for you?
It was amazing. I liked it a lot and it really helped me get off to a great start at JMU.
Talk about your first residence hall.
Freshman year I lived in Shenandoah Hall on East Campus. All the Honors students who wanted to live there could live there, so that's what I did.
How did it help you?
I met most of my friends there that first year, for one thing. I built my study group community there, which I think was really helpful. It challenged me because it was a lot of like-minded people in terms of what I could call educational determination. 
Explain what you mean by educational determination.
There were a lot of people in Shenandoah who studied the same as me or studied with the same effort as I did—and that was really helpful that first year of college just transitioning to the workload of college classes.
It sounds like you found just the right fit for you?
The best part of freshman year was that many of us in Honors were taking the same classes and Honors seminars together so we could study for all of our classes by meeting in the communal study room in Shenandoah. And then if somebody needed to go to Rose Library which is close to Shenandoah, we might travel there as a group. And also in Shenandoah, there was a quiet room that was specifically for when you needed to get your work done independently. And we also had a place that was kind of designated as a room for when we needed a break. It was all really great.
So have you found JMU academically rigorous enough for you?
Definitely yes, and I took a lot of International Baccalaureate classes in high school. I felt challenged from the start here. And I also felt welcomed.
You felt welcomed by the community in Shenandoah, you mean?
We would all stay up until 2 or 3 a.m. studying and it was a great time. I learned a good routine for studying because studying was the biggest transition from high school for me—just the sheer amount of work.
What else helped you?
I think that I learned based off of how others studied and what I could introduce into the group studying dynamic in our hall. It was a study-heavy place in our hall, and I really enjoyed that.
What's next?
I will be a project engineer up in the Reston and Herndon area of Northern Virginia. I will be doing engineering construction, so more on the project management side.
Do you see yourself going to graduate school?
I do. Yes. My five-year plan is work for a little bit. Financial independence is important to me, so I want to make sure that I have the money saved up before I go back to school. At this point, my plan is a master's either in architectural enginnering or maybe to get my civil engineering master's.
---
More Profiles