Dingledine-Bluestone Scholarships
Thomas A. Dingledine helped create the Dingledine-Bluestone Scholarships to recognize and encourage JMU students with a demonstrated vision to impact others.
The Dingledine-Bluestone Scholarships are awarded based on demonstrated excellence in academic achievement, leadership, and community service.
The Dingledine-Bluestone Scholarship for freshman students is equivalent to in-state tuition and fees per year for a total of four years if eligibility requirements are met (see below). For the 2021-2022 academic year, that amount is $12,638.
Scholarships are given annually by the Dingledine-Bluestone Academic Selection Committees.
All eligible in-state and out-of-state students entering JMU as freshman in the fall semester may apply.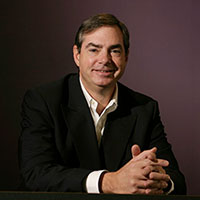 " To me, it's making a difference in the lives of others."
— Tom Dingledine
Criteria
Competitive applicants must either:
Have a 3.6 cumulative GPA (on a 4.0 unweighted scale) or a 91 (on a 100 point scale); OR

Have a 1250 SAT (out of 1600 - writing portion not considered) or a 27 ACT score (composite only). If you choose to meet this criteria, you must have your scores sent officially from the testing agency to James Madison University and received by November 15th. 
Maintaining Eligibility
All Dingledine-Bluestone Scholars will be offered automatic admission to the JMU Honors College. While it is not a requirement, all scholars are highly encouraged to take advantage of Honors College opportunities and experiences during their undergraduate career.

The recipient must participate in the Dingledine Scholarship Leadership and Mentorship program led by the Dingledine scholars, or D-Unit, in partnership with the Honors College.

A minimum 3.0 GPA must be maintained each year.

Recipients must volunteer at annual Dingledine-Bluestone Scholarship interviews and banquet.
How to Apply for the Dingledine-Bluestone Scholarship
Apply to JMU - we encourage you to complete your early action freshman application before the deadline of Nov. 1 because you must apply early action to be granted access to the electronic scholarship application. Don't wait! The Dingledine-Bluestone Scholarship deadline is November 15. 


Once you apply to JMU early action, you will then have access to your MyMadison account where you will find the Madison Scholarships Hub, which is the online portal for the majority of scholarships at JMU, including the Dingledine-Bluestone Scholarship.


Begin working on materials so that when you apply you are ready to enter information and you can just cut and paste or attach.


You will need to write 2 essays. Essay Instructions:
Type up your essays to the following questions below and copy and paste in the box when prompted.
Do NOT put your name, date of birth, student ID or identifying information on your essays.
Essay #1: Describe and discuss a time when you were under pressure to make a significant decision. Explain the causes of the pressure, the reasons you decided as you did, and the impact of your decision. Would you make the same decision again today? (Limit: 500 words)
Essay #2: Choose one of your service or leadership experiences and describe how it relates to your dream for a different and better world. How are you presently working to better the lives of others in fulfillment of your dream? How do you expect to make your dream a reality in the future? (Limit: 500 words)
You will need to have access to your unofficial high school transcript showing your senior schedule.  You will upload (.pdf format) this document as part of the application in Madison Scholarships Hub.  NOTE: you will send an official transcript as part of your freshman application. 


Type a bulleted list of your activities, leadership and community service and include in your application as directed.


Type a bulleted list of academic awards, honors and recognitions that you have received and include when prompted.


Once you are ready to apply, log into Madison Scholarships Hub:
Complete the General Scholarship application and Submit.
You may see the Dingledine-Bluestone Scholarship application under 'Recommended Opportunities'. Click Apply to begin the application.
If you do not see the Dingledine-Bluestone Scholarship, then click on 'Opportunities' and then under the drop-down list, 'Ours' and you will have access to the Dingledine-Bluestone scholarship. Click Apply to begin the application.
Any questions please contact dingledinescholarships@jmu.edu
Notification
An update:  We will be notifying all candidates of their decisions by late February. We appreciate your patience in this process.

Students who apply for the Dingledine-Bluestone Scholarships will remain in the pool to be considered for the Madison Award for Academic Excellence.

The following scholarships cannot be combined: Dingledine-Bluestone Scholarship, Madison Award for Academic Excellence, First Generation Scholarship, Second Century Scholarship, Centennial Scholarship or Fellowship offers. If offered more than one of these merit-based awards, students must choose one and decline the other offer(s).