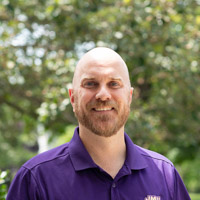 Dr. Jonathan Stewart serves as the Director for Finance, IT and Assessment for the Division of Student Affairs at James Madison University. Within the Vice President's office, he provides leadership and oversight on matters related to finance, IT and assessment.  He leads the Assessment Council, Student Affairs Technical Services, and the Student Affairs Finance Team. Jonathan also teaches in the CSPA program and JMU X-Labs. He previously served as an assistant professor of theatre and as the arts administration specialist for James Madison University's School of Theatre and Dance.
He earned his Bachelor of Arts in Theatre Performance, his MBA from Seton Hill University, and a Ph.D. in Strategic Leadership Studies from James Madison University.
His research interests include arts-based pedagogy, ethical reasoning, leadership development, and change management.