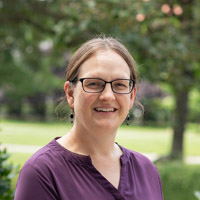 Dr. Kristina Blyer serves as the Associate Vice President for Health and Well-Being. She has oversight for the University Health Center, the Counseling Center and University Recreation.
Kristina received her Bachelor of Science in Nursing from Eastern Mennonite University, followed by a Master of Science in Nursing and Doctor of Nursing Practice here at JMU. She began her JMU career as a registered nurse, holding multiple roles as she completed her degrees and most recently serving as Director of the University Health Center and adjunct instructor for the JMU School of Nursing.
She enjoys spending time outdoors, gardening and visiting National Parks with her family.