Agency Specific Help
National Science Foundation (NSF)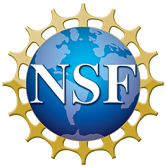 This page provides information and helpful links pertaining to NSF funding.
The following guidelines establish the minimum type size requirements; however, PIs are advised that readability is of paramount importance and should take precedence in selection of an appropriate font for use in the proposal. Small type size makes it difficult for reviewers to read the proposal; consequently, the use of small type not in compliance with the above guidelines may be grounds for NSF to return the proposal without review. Adherence to type size and line spacing requirements also is necessary to ensure that no proposer will have an unfair advantage, by using smaller type or line spacing to provide more text in the proposal.
Page Numbers
NSF does not automatically paginate a proposal. Each section of the proposal that is uploaded as a file must be individually paginated prior to upload to the electronic system.
Fonts
Use one of the following typefaces identified below:
Arial*, Courier New, or Palatino Linotype at a font size of 10 points or larger
Times New Roman at a font size of 11 points or larger
Computer Modern family of fonts at a font size of 11 points or larger
A font size of less than 10 points may be used for mathematical formulas or equations, figures, table or diagram captions and when using a Symbol font to insert Greek letters or special characters. PIs are cautioned, however, that the text must still be readable.
Note - While Ariel 10pt font is allowed, it often violates the vertical spacing requirements outlined below. It is strongly recommended to use Times New Roman 11pt to ensure compliance.
Spacing
No more than six lines of text within a vertical space of one inch.
Margins, in all directions, must be at least one inch.
Page Formatting
Proposers are strongly encouraged to use only a standard, single-column format for the text.
In case you didn't know…. UNALLOWABLE COSTS:
 Entertainment: Costs of entertainment, amusement, diversion and social activities and any costs directly associated with such activities (such as tickets to shows or sporting events, meals, lodging, rentals, transportation and gratuities) are unallowable. Travel, meal and hotel expenses of grantee employees who are not on travel status are unallowable. Costs of employees on travel status are limited to those allowed under the governing cost principles for travel expenses. 
Meals and Coffee Breaks: No funds may be requested for meals or coffee breaks for intramural meetings of an organization or any of its components, including, but not limited to, laboratories, departments and centers. Meal expenses of grantee employees who are not on travel status are unallowable.
Alcoholic Beverages:  No NSF funds may be requested or spent for alcoholic beverages.
Useful NSF Links
Funding Opportunities Announcements
Familiarize yourself with the variety of Funding Opportunities
Types of Funding Opportunities

Program Descriptions

Proposals for a Program Description must follow the instruction in the Proposal and Award Policies and Procedures Guide (PAPPG)

Program Announcements

Proposals for a Program Announcement must follow the instructions in the PAPPG

Program Solicitations

Proposals must follow the instructions in the Program Solicitation; the instructions in the PAPPG apply unless otherwise stated in the solicitation

Dear Colleague Letters

Dear Colleague Letters are notifications of opportunities or special competitions for supplements to existing NSF awards

Types of Proposal Submissions

Full Proposal

The National Science Foundation (NSF) will reject submissions of full proposals that do not contain the mandatory sections. The required sections must be included or identified as not applicable.  For instructions and templates see Proposal Component Resources. The 10 required sections, as of March 18, 2013, are as follows:

Letters of Intent

Some NSF program solicitations require or request submissions of a letter of intent (LOI) in advance of a submission of a full proposal. A LOI is not binding.

Preliminary Proposal

Some NSF program solicitations require or request submission of a preliminary proposal in advance of a full proposal.

When to submit proposals

No Deadlines

Many NSF programs accept proposals at any time.

Target Dates

Dates after which proposals will still be accepted, although they may miss a particular panel or committee meeting

Deadline Dates

Dates after which proposals will not be accepted for review by NSF. The deadline date will be waived only in extenuating circumstances. Such a deviation only may be authorized in accordance with PAPPG Chapter II A.

Submission Windows

Designated periods of time during which proposals will be accepted for review by NSF. It is NSF's policy that the end date of a submission window converts to, and is subject to, the same policies as a deadline date.
Form Preparation
Project Summary
Project Description
Referenced Cited
Budget (Including Justification)
Facilities, Equipment, and Other Resources
Biographical Sketches
Current and Pending Support
Supplementary Documents
Data Management Plan
Mentoring Plan
Other Supplementary Docs
Single Copy Documents
Collaborators and Other Affiliations
Research Performance Progress Report (RPPR)
Supplements
Below is a summary of available NSF Supplements. Some requests can be made in conjunction with regular competitive proposals, or as a supplemental funding request to an existing NSF award.  
Research Opportunity Awards (ROA) - They can provide support (e.g. salary, per diem, and travel funds) for summer research or during sabbatical leave.  The types of ROA opportunities include:
A supplement to an existing NSF award to support ROA activities for PUI faculty.
Requests to rebudget funds in an existing NSF award to support ROA activities for PUI faculty.
Submission of a new collaborative proposal between a PUI and another institution(s), with a ROA component as a subaward or as part of a linked collaborative proposal
For more information, please see solicitation 14-579 at the following URL: https://www.nsf.gov/pubs/2014/nsf14579/nsf14579.htm
Research Experience for Undergraduates (REU) - Investigators with an active NSF research award may request an REU Supplement through the Supplemental Funding Request module in FastLane; or investigators preparing a research proposal may include an REU Supplement request as a component of the proposal. Both methods are described in the current solicitation. An REU Supplement typically provides support for one or two undergraduate students to participate in research as part of a new or ongoing NSF-funded research project. They provide summer or calendar year stipends for the students and possibly modest supplies for the undergraduate project. The students must be US citizens or permanent residents and may not receive REU support after graduating.
For more information about the current solicitation, please view the following link:
https://www.nsf.gov/crssprgm/reu/faculty.jsp
Research Experience for Teachers (RET): Funding Opportunity in the Biological Sciences - The purpose of Research Experiences for Teachers (RET) activities is to facilitate professional development of K-12 science teachers through research experience at the cutting edge of science. The Division is particularly interested in encouraging its researchers to build mutually rewarding partnerships with teachers at inner city schools and less well endowed school districts. For more information, please visit the following URL: https://www.nsf.gov/funding/pgm_summ.jsp?pims_id=503658
Grant Opportunities for Academic Liaison with Industry (GOALI) - A GOALI type of proposal may be used to support projects that seek to stimulate collaboration between academic research institutions and industry. Under this proposal type, academic scientists and engineers request funding either in conjunction with a regular proposal submitted to a standing NSF program or as a supplemental funding request to an existing NSF-funded award.  At least one industrial participant must be included in the GOALI activity and must be specified in the GOALI-Industrial PI Confirmation Letter. The industrial participant cannot use or receive any NSF funds.  More information about the GOALI type of proposal can be found at https://www.nsf.gov/eng/iip/goali.jsp
Career-Life Balance (family leave provisions) - NSF policies and procedures support the ability of project personnel to address personal issues such as dependent care. For example, existing Foundation-wide policies permit the extension of NSF awards for researchers who take a leave of absence for dependent care responsibilities, as well as the use of NSF award funds to replace project personnel during a leave of absence. Those standard provisions are described in the Career-Life Balance Frequently Asked Questions (FAQs).
Non-Academic Research Internships for Graduate Students - NSF will provide support for supplements to current NSF grants awarded by the Directorate for Education and Human Resources (EHR), Directorate for Engineering (ENG), and Office of Advanced Cyberinfrastructure (OAC) within the Directorate for Computer and Information Science and Engineering (CISE), to enhance professional development opportunities for graduate students.  Note, however, that OAC will only support graduate students who are doctoral candidates. Graduate students must have completed at least one year in their graduate programs and be making satisfactory progress towards the completion of their degrees. More information can be found at the following link: https://www.nsf.gov/pubs/2017/nsf17091/nsf17091.jsp
Facilitation Awards for Scientists and Engineers with Disabilities (FASED) - As part of its effort to promote full utilization of highly qualified scientists, mathematicians and engineers, and to develop scientific and technical talent, the Foundation has the following goals: to reduce or remove barriers to participation in research and training by persons with physical disabilities by providing special equipment and assistance under awards made by NSF; and to encourage persons with disabilities to pursue careers in science and engineering by stimulating the development and demonstration of special equipment that facilitates their work performance. Requests can be made in conjunction with regular competitive proposals, or as a supplemental funding request to an existing NSF award. More information can be found in the PAPPG under section II. E. 6.
Supplemental Support - In unusual circumstances, small amounts of supplemental funding and up to six months of additional support may be requested to assure adequate completion of the original scope of work. More information can be found in the PAPPG under section II. E. 4.