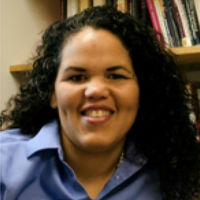 Amanda Teye earned a B.A. degree in Government at Claremont McKenna College, a Master of Public Administration degree at California State University San Bernardino and a Ph.D. in Political Science with emphasis on American Politics and Public Policy at Claremont Graduate University in 2010.
She has been at JMU since Summer 2010 as a core member of the Master of Public Administration program. Currently, Dr. Teye teaches graduate-level courses in Research Design and Program Evaluation.
Her research interests focus on community-based outcomes assessment, impact evaluation, and assessment development. Dr. Teye has been a Principle Investigator on two Office of Juvenile Justice and Delinquency Prevention, Mentoring Best Practices Research grants. The most recent grant entitled, "Long-Term Study on the Impacts of Training and Peer Support on Relationship Quality and Mentee Outcomes" seeks to isolate the impact of one-to-one youth mentoring on adolescent and young adult outcomes several years after program intervention. Dr. Teye also has extensive consulting experience. Her work has been supported by the Department of Education, the Annie E. Casey Foundation, Big Brothers Big Sisters of America, and various local and state organizations.
---
OFFICE: 2149 Miller Hall
PHONE: (540) 568-5308
FAX: (540) 568-8021
MAILING ADDRESS:
Department of Political Science
James Madison University
91 E Grace St., MSC 7705
Harrisonburg, VA 22801