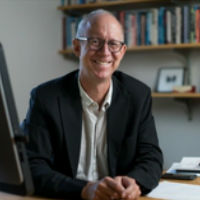 Director, Washington Semester program
Dr. David A. Jones teaches courses and conducts research in U.S. politics, particularly in the areas of elections and media.  His book, U.S. Media & Elections in Flux: Dynamics and Strategies, was published in 2016 by Routledge.  He is currently writing a book entitled Managing Chaos: Political Campaigning in the U.S., which is under contract by Rowman & Littlefield.  His papers have been published in Political Communication, the International Journal of Public Opinion Research, the Harvard International Journal of Press/Politics, Politics & Policy, and P.S.: Political Science & Politics.
Dr. Jones directs JMU Washington Semester, a program that brings 15-20 students to D.C. for a full-time internship and upper-level coursework in political science.  He also oversees the JMU Washington Center and coordinates the department's alumni outreach efforts.  In 2017, he received the Provost's Distinguished Service Award. 
---
OFFICE: 2113 Miller Hall
PHONE: (540) 568-2918
FAX: (540) 568-8021
MAILING ADDRESS:
Department of Political Science
James Madison University
91 E Grace St., MSC 7705
Harrisonburg, VA 22807