Dr. Kristin N. Wylie: Associate Professor of Political Science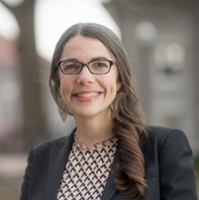 Kristin N. Wylie received her Ph.D. from the Department of Government at the University of Texas at Austin, with specializations in comparative politics and methodology. She also holds a B.A. in political science from Louisiana State University and a Master's degree in Latin American Studies from the Teresa Lozano Long Institute of Latin American Studies at the University of Texas. Prior to joining the JMU community, she was a visiting assistant professor at SUNY-Geneseo and an adjunct instructor at Louisiana State University. Her teaching interests include gender and politics, comparative and global politics, political institutions, race, development, social movements, and research methods.
Dr. Wylie's research examines how electoral rules, political parties, and constituencies interact to affect the representativeness and accountability of democracy. In her first book, Party Institutionalization and Women's Representation in Democratic Brazil (Cambridge University Press, 2018), she explains how weakly institutionalized and male-dominant parties interact to undermine descriptive representation in Brazil. The book illustrates how women leaders in Brazil's more institutionalized parties can enable white and Afro-descendant female aspirants to navigate the masculinized terrain of formal politics. Dr. Wylie is currently developing a research agenda exploring popular movements for political reform, and connections between women's participation in social movements, electoral politics, and gender equity policy initiatives.
---
ORCID research profile:
http://orcid.org/0000-0003-3010-8365 
OFFICE: 2163 Miller Hall
PHONE: (540) 568-5307
FAX: (540) 568-8021
MAILING ADDRESS:
Department of Political Science
James Madison University
91 E Grace St., MSC 7705
Harrisonburg, VA 22807