---
*Please note that this page is for semesterly ensemble auditions. If you are looking for School of Music admission auditions, please visit this webpage.*
---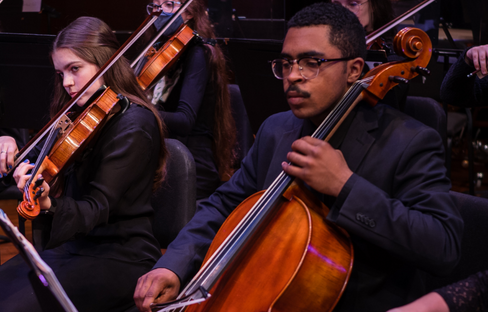 Fall 2023 Orchestral Ensembles Information
Chamber Orchestra (MUAP 344) meets MWF 11:30-12:20. The group is typically a mix of music majors and non-majors. They perform two concerts a semester. The repertoire tends to be from the baroque, classical, and early romantic eras. 
Chamber Orchestra Fall Concert #1
Dress Rehearsal: Friday, October 13th, 7:30-10:00pm (Forbes Recital Hall)
Concert: Sunday, October 15th, 2:00pm (Forbes Recital Hall)
Chamber Orchestra Fall Concert #2 - TBD
---
Symphony Orchestra (MUAP 345 [section 002 for string players]) meets Monday and every other Wednesday from 3:00-3:50pm and T/Th from 2:20-3:35pm. The Symphony Orchestra is the premiere performing group of the orchestral area with a wide and diverse repertoire and up to 5 concerts performances per semester. Entrance into this group is via audition regardless of major. The repertoire for the upcoming semester includes works by John Williams, Johnny Greenwood, Howard Shore, and Igor Stravinsky. 
Symphony Orchestra Fall Concert #1
Dress Rehearsal: Monday, October 2nd, 7:30-10:00pm (Forbes Concert Hall)
Concert: Tuesday, October 3rd, 8:00pm (Forbes Concert Hall)
Symphony Orchestra Fall Concert #2
Dress Rehearsal: Wednesday, November 29th, 7:30-10:00pm (Forbes Concert Hall)
Concert: Thursday, November 30th, 8:00pm (Forbes Concert Hall)
Symphony Orchestra—Holidayfest
Dress Rehearsal: Thursday, December 7th, 5:00-9:00pm (Forbes Concert Hall)
Dress Rehearsal: Friday, December 8th, 5:00-9:00pm (Forbes Concert Hall)
Concert: Saturday, December 9th, 8:00pm (Forbes Concert Hall)
Concert: Sunday, December 10th, 2:00pm (Forbes Concert Hall)