In Photos: The JMU School of Music
Forbes Center for the Performing Arts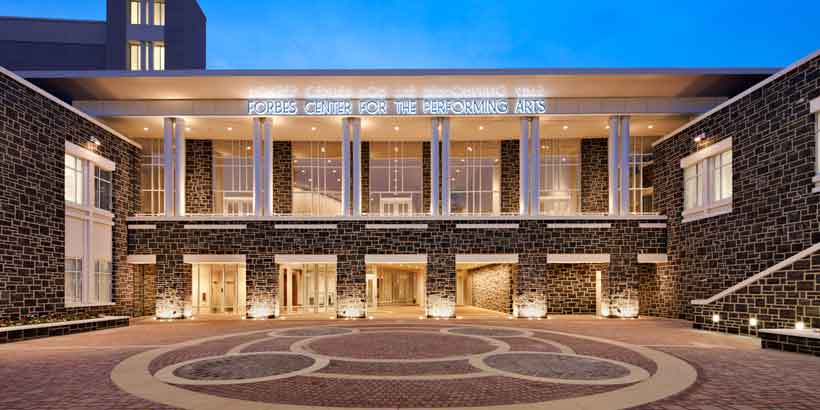 The School of Music has three concert/recital halls as part of the Forbes Center for the Performing Arts.
The facility also houses a large ensemble rehearsal hall, as well as additional practice rooms, classrooms and office spaces.
Learn more about the Forbes Center venues.
---
Wayland Hall: Live where you learn
Walking into the lobby of the newly renovated Wayland Hall you immediately feel like you are somewhere important. You know you are at JMU, but this version of residential living elevates the on-campus experience to new levels of sophistication, function and form.
Wayland Hall is a true living and learning center where students in the Visual and Performing Arts Community reside, practice, perform and display their art.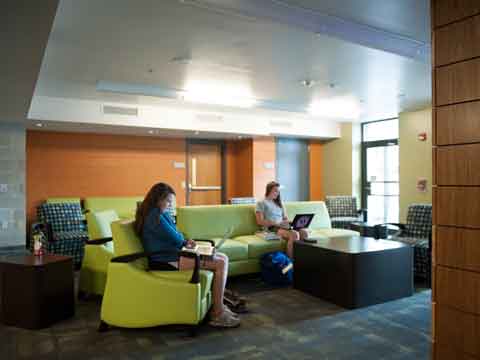 ---
Practice and study spaces
In addition to rehearsal spaces in the Forbes Center for the Performings Arts (one of which is pictured above), JMU boasts The Music Building, one of the region's largest and most contemporary music instruction facilities. The building -- with music administrative and faculty offices, classrooms, practice rooms, studios, rehearsal halls, laboratories, a recording studio, a music library/listening lab and little Gallery Underground -- has become the university's central facility for music instruction and activities.
Acoustical properties throughout The Music Building on the JMU Quad were designed and engineered by Gerald Marshall of Klepper, Marshall & King in New York. That includes 44 practice rooms, 35 faculty studios and in the four rehearsal areas: the band/orchestra room, the choral/lecture room, the Madisonian/opera room, and the jazz/recording studio room.