The 5th Year MAT, Concentration in Elementary Education, will sunset in May 2023 and no new applications are being accepted. This program will continue for JMU junior and senior students who are enrolled in the ELED program during the 2022-2023 academic year.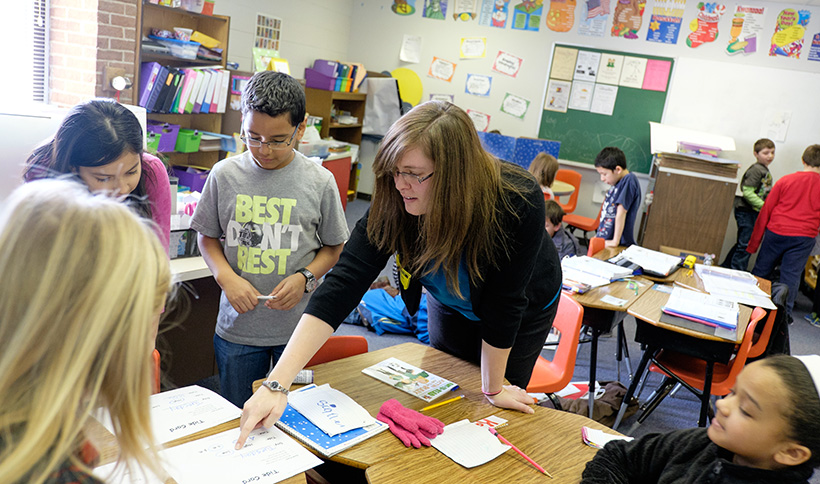 Earn your Master's degree at JMU
We train teachers who challenge conventional wisdom. Identify hidden assumptions. Reach beyond their comfort zone to support and develop the whole person, starting in childhood.
Description of Program
The Master of Arts in Teaching with a concentration in elementary education (PreK-6) initial licensure program seeks to foster in its candidates:
An understanding of the ways that children are affected by social contexts and by the children's own abilities/disabilities.
The knowledge and pedagogical skills to support each child's success.
These school professionals will:
Critically challenge conventional wisdom and common practices to identify hidden assumptions and activities that constrain or privilege some at the expense of others.
Openly consider and explore a range of teaching philosophies and practices and their relevance in particular contexts.
Ask questions and develop an inquiring approach.
Reflect deeply on relationships with their own families, peers, and university and school mentors and their students.
Express knowledge, skills and attitudes in ways that communicate the creative and academic expression of the profession and the self.
Develop an appreciation for the global connection of all humanity and our interdependence on the finite, natural resources of the earth.
Experience life among people whose social contexts are unlike their own to broaden and deepen their respect of and sensitivity to various cultures and social contexts.
Appreciate the complexity of human development from conception throughout the period of childhood/preadolescence.

Degree Offered
Master of Arts in Teaching (M.A.T.)
Concentration
Elementary Education (PreK-6)