The Mahatma Gandhi Center for Global Nonviolence promotes the insights and practices of Being the Change You Want to See in the World by functioning as a local and global hub to advance the understanding of justice and nonviolence through individual and collaborative endeavors.
The Gandhi Center prioritizes JEDI (justice, equity, diversity, inclusion) in education, scholarship, and engagement.
Core values:
Respect (for life and its myriad forms)
Reconciliation (for those in struggle)
Restoration (of the social and spiritual health of diverse communities)
Mahatma Gandhi Center National Nonviolence Award
The Gandhi Center at JMU will honor David Hogg and March for Our Lives (MFOL) with the Mahatma Gandhi Center National Nonviolence Award on Saturday, September 24 from 6:00pm-7:00pm in Festival Grand Ballroom. Tickets are free and open to the public, but registration is required.
On February 14, 2018, David's life changed forever. As a senior at Marjory Stoneman Douglas High School in Parkland, Florida, he lost friends, classmates, and teachers. Committed to becoming an agent for change, he resolved that no other young person should have to experience the tragic impact of gun violence.
He joined with friends from high school to co-found March for Our Lives, now one of the world's largest youth-led movements. Five weeks after the shooting, March for Our Lives mobilized one of the biggest demonstrations in the nation's history.
Over a million citizens turned out for marches against gun violence in 2018, making MFOL one of the largest youth-led movements since the Vietnam War. After the Uvalde tragedy, MFOL hit the streets again with chapters organizing protests across the nation.
A prolific voice on social media with more than a million followers, David uses his platform to promote civic engagement, activism, and voting. As a speaker, he informs, challenges, and energizes, empowering his generation to resist apathy and become catalysts for positive social change.
The inaugural National Nonviolence award was bestowed upon Honorable John Lewis in 2020 for his legacy of promoting nonviolent strategies to enact social change. Mr. Lewis passed away before formally accepting the award in July 2020.
The Gandhi Center chose MFOL to receive the second National Nonviolence award due to their commitment to education, civic engagement, and nonviolent direct action. From the website, "Whether organizing a walkout at a high school, lobbying for better safety measures on campus, writing statewide legislation, or showing up at school board and city council meetings, our chapters make change."
Previous award winners of the Mahatma Gandhi Center Global Nonviolence Award include Archbishop Desmond Tutu and Former U.S. President and Nobel Peace laureate Jimmy Carter and former First Lady Rosalynn Carter.
Parking:
Guests may park in Ballard Deck or Lots C12, D3, D6, and R4. See the parking locations here:
Grupo de baile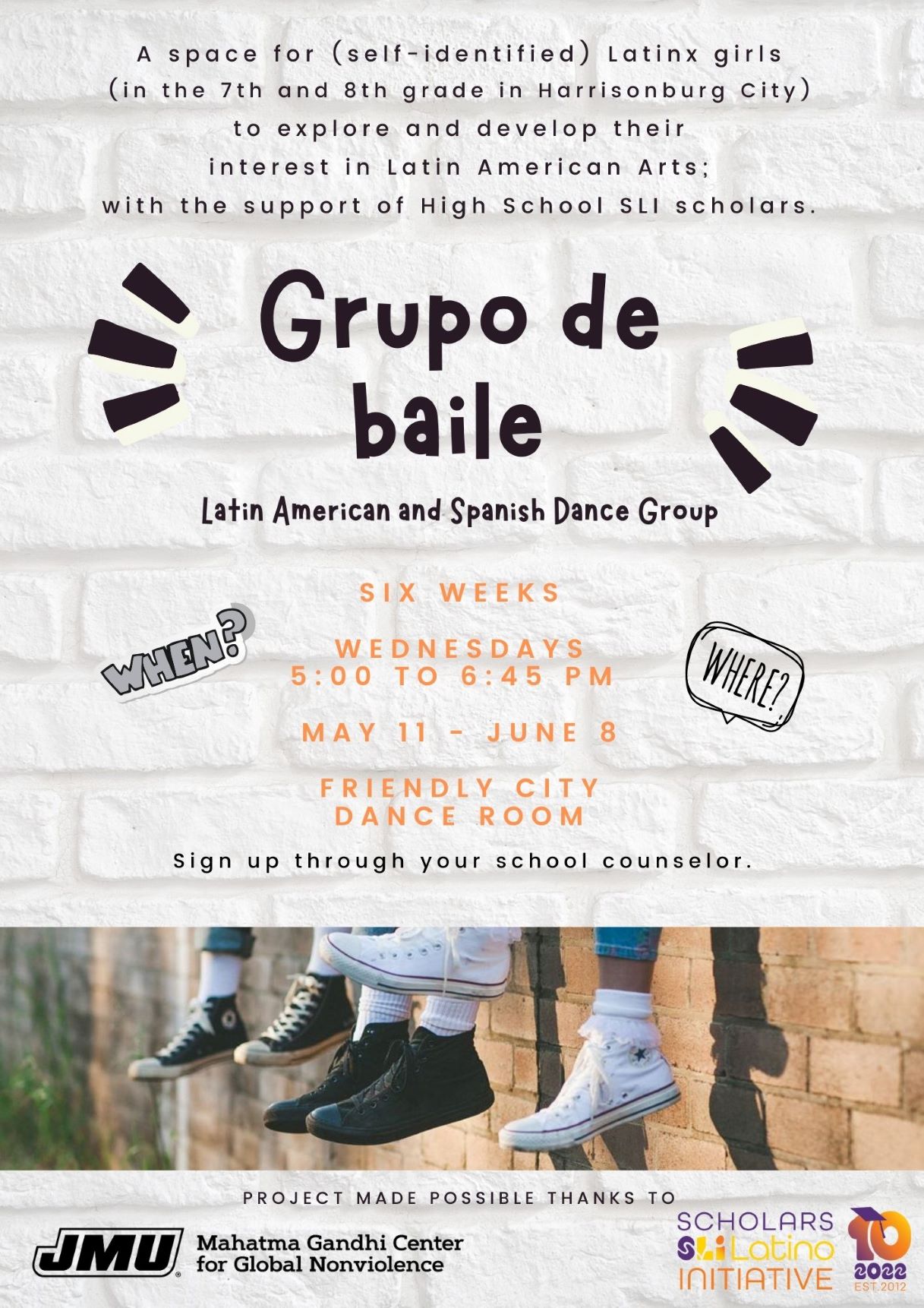 Things are quiet around the Center over the summer but we did just successfully pilot the first Latin American and Spanish Dance Group. Special thanks to Sylvia Whitney Beitzel & Lisa Porter for all of your hard work on this program! 
Follow them on Instagram @grupochicasb
Service: The Path to Justice Second Edition
The second edition of this seminal text will be released this spring. Stay tuned for details!
Virtual Beitzel Symposium
Please join us for the virtual Beitzel Symposium on Thursday, April 7 from 6:00-7:30 p.m. as we continue to honor and celebrate the life and legacy of Dr. Terry Beitzel. In this symposium, we highlight Dr. Beitzel's scholarship in the area of responsibility by presenting research from the International Journal on Responsibility, which he co-founded with Howard Carrier.
Hosted by the Mahatma Gandhi Center for Global Nonviolence and the Department of Justice Studies at James Madison University. Register via the action link
As we strive to make this virtual event welcoming, accessible, and equitable, please direct any questions or requests related to access to justicestudies@jmu.edu
Thank you! 
April 7 Bystander Intervention Training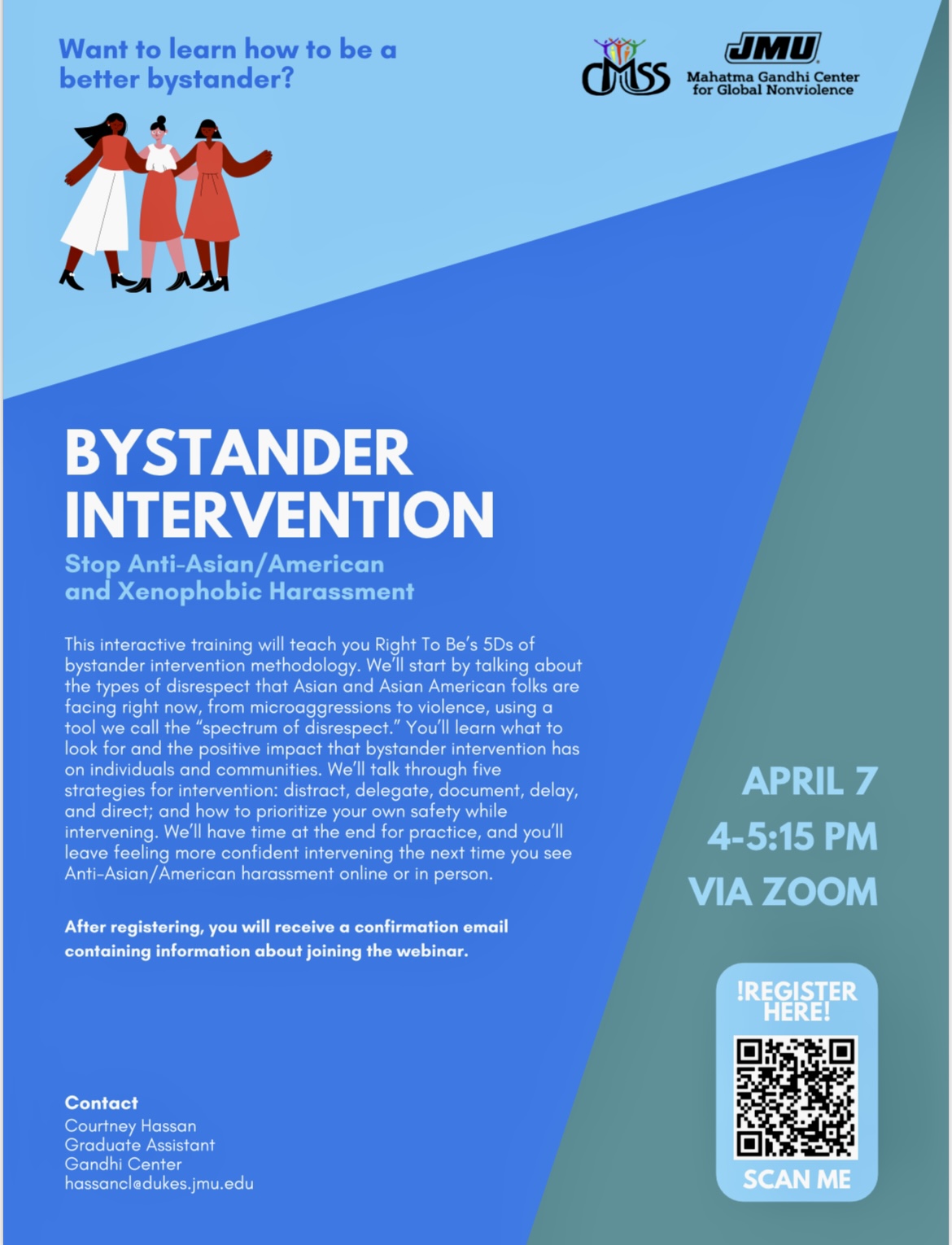 Parking for the Beitzel Lecture
Parking for Visitors:
Please park in the Warsaw Ave Parking Deck located behind the Forbes Center:
Please let us know asap if you have accessibility needs that require a shuttle to Wilson Auditorium from the Warsaw Parking Deck. Email castletl@jmu.edu 
Giving Day Donations
**If you want to donate to the Gandhi Center or the Beitzel Memorial Scholarship on Giving Day, please call 855-568-4483 and we can process your gift over the phone**
Beitzel Lecture Series