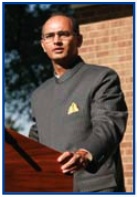 Dr. Sushil Mittal established the Mahatma Gandhi Center for Global Nonviolence at James Madison University in 2005 and served as Director until 2010. During his tenure as Director, Dr. Mittal created the Mahatma Gandhi Award for Global Nonviolence, awarded to Archbishop Desmond Tutu (2007) and jointly to former President Jimmy Carter and first lady Rosalynn Carter (2009).
Dr. Mittal also established the Mahatma Gandhi Visiting Professorship in collaboration with the Government of India, who donated the bronze statue of Mahatma Gandhi that currently resides in the entrance to the Rose Library.
Under his leadership, the Gandhi Center also organized and sponsored international, national, and student conferences, a public lecture series, student internships, and community engagement programs. The drawing for peace, summer peace camp, school reading programs continue to be offered by student interns.