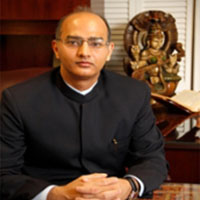 Office: Cleveland 205
Phone: (540) 568-6394
Fax: (540) 568-8072
Welcome: Who am I and What do I do?
My name is Sushil Mittal.
I was born in Canada (my "janma-bhumi"), and grew up partially in English Canada and India and mostly in French Canada. For over twenty-five years I have dedicated myself to working in the United States of America (my "karma-bhumi"). And I am tied to India or Bharat (my "dharma-bhumi") with a sacred thread.
I am a Hindu and rooted in my Hindu identity, values, and traditions. For me, Hinduism -- like Bharat -- is a journey, an emotion, a feeling, an experience.
I am an ethnographer and historian of religions, with a B.A. from McGill University in Montréal, M.A. from Carleton University in Ottawa, and Ph.D. from the Université de Montréal.
I am a student of Hindu civilization. My emphasis on teaching and mentoring is critical to my work as is field research in India. Although I teach and write in English, I think in Hindi my mother tongue.
I hold a tenured appointment as full professor of Hindu religion at James Madison University in Harrisonburg in the beautiful mountains of Shenandoah Valley in Virginia. I joined James Madison in 2004. Previously, I served on the faculties of the University of Florida in Gainesville (1998–1999) and Millikin University in Decatur, Illinois (1999–2004). Since 2016 I am also honorary professor of Gandhian Studies at GITAM University in Visakhapatnam, Andhra Pradesh, India.
Below are some highlights of my academic work, and will hopefully be of interest to you.
(1) ADMINISTRATIVE EXPERIENCE
Fostering Academic Communication through Scholarly Journals
Even before I completed my undergraduate studies in 1990 at McGill University in Montréal, my vision and energy were directed toward establishing a new comparative and interdisciplinary humanities and social science journal called the International Journal of Hindu Studies, the first publication of its kind. However, it would take a few years – eight to be exact – before it would be published, as mainstream Western academia was then not "ready" (and I am being diplomatic here) for a scholarly journal for the study of Hinduism with the word "Hindu" in its title! As a result, I first published a journal with a "more acceptable" title. The International Journal of Indian Studies came out in 1990 while I quietly continued working on the "Hindu Studies" journal (with guidance from Professors Robert I. Levy, T. N. Madan, Bimal Krishna Matilal, K. D. Prithipaul, Arvind Sharma, M. N. Srinivas, Gene R. Thursby, and my father, Professor Dr. K. R. Mittal).
In 1991 (during the first year of my master's studies), a contract for the "Indian Studies" journal was signed with Peter Lang Publishing. This journal was, however, relatively short-lived, as it got incorporated into the (originally conceived) International Journal of Hindu Studies which came out in April 1997 (a year before I completed my doctoral studies at the Université de Montréal) and was published by World Heritage Press.
Now in its twenty-seventh year of publication in 2023, the International Journal of Hindu Studies has had the positive effect of making the field of academic studies of Hindu civilization more clearly and effectively defined. My guiding principle has been that the aims of the journal can be met only if we are able to think about its title "Hindu Studies" in a broadly civilizational way rather than in some parochial or narrowly religious way. There is no need to think in terms of the religious versus secular dichotomy when referring to things Hindu. No need to restrict it to the realm of "religion." This principle continues to serve the journal (and my work overall) well.
Furthermore, in 2012 I launched a new journal called the International Journal of Gandhi Studies, and with it, inaugurating the first phase to effectively define a new field of academic studies in Gandhian thought. I am currently in conversation with a publisher for its continued publication.
Creating Academic Programs
In 1993 (during the second year of my master's studies), I established an independent research institute for the study of India. The International Institute of Indian Studies was housed at Carleton University in Ottawa. Its initial activities included research and publications. To fund the Institute and its programs, a publishing house of scholarly books in the humanities and social sciences, called the World Heritage Press, was founded in 1994 (during the first year of my doctoral studies). Fifteen original titles were published before the publishing house, as well as the Institute, were dissolved to devote full time to university teaching and research immediately following my doctoral degree at the Université de Montréal in July 1998.
Then as a university faculty member, following the creation of a minor program in Gandhi Studies in 2001 at Millikin University in Midwest Illinois, in 2005 I established the Mahatma Gandhi Center for Global Nonviolence at James Madison University in the Shenandoah Valley of Virginia. The Center was conceived as a "laboratory" for dialogue among civilizations. I served as its founding Director from 2005 to 2010. Some of my significant accomplishments include:
Organized 6 conferences around global and intercultural themes: 3 international conferences (in 2005, 2007, and 2009) which brought national and international scholars to engage the campus and the community in dialogue; and 3 national student conferences (in 2006, 2008, and 2010) which brought undergraduate and graduate students to campus.
Established the Mahatma Gandhi Award for Global Nonviolence. The inaugural award was given in 2007 to Archbishop Desmond Tutu and the second award was given in 2009 jointly to former U.S. President Jimmy Carter and first lady Rosalynn Carter. These events were recognized by the then-university president as "the most successful 'academic' events at James Madison University ever."
Established the Mahatma Gandhi Visiting Professorship in collaboration with the Government of India, with the belief that endowed professorships are critically important for the success of academic programs. It was established in 2009 as a rotating professorship with a two-year tenure. The first holder of the professorship was from the University of Delhi.
Established the Tolstoy Lecture Series, which brought national and international scholars to campus for public lectures and seminars.
Established a highly successful undergraduate student internship program. The program combined academic study with practical application and experience.
Established an effective community engagement program, co-led by undergraduate student interns. It included a summer camp for children, middle school reading program, prison reading program, Gemeinschaft Home reading program, drawing peace contest, and alternative spring break.
Implemented a grassroots fundraising effort for the work of the Center, an essential for university success in an environment of ever-tightening state budgets.
Received from the Government of India a larger than life-size bronze statue of Mahatma Gandhi to James Madison University. The gift was made "in recognition of the work of the Gandhi Center." The statue was dedicated and unveiled on October 2, 2008, by the then-Ambassador of India to the United States. The statue is the first of Gandhi in the Commonwealth of Virginia.
(2) SCHOLARSHIP
Much of my scholarship is collaborative. It focuses on two independent subfields in India Studies: Hindu Studies and Gandhi Studies.
Hindu Studies
My most precious contribution to scholarship is the International Journal of Hindu Studies. I consider my journal work to be particularly important. Scholarly journals play a fundamental role in the dissemination of scholarship and research, in shaping their disciplines, and in the initiation of scholarly debates that enrich knowledge. Journals constitute a cumulative record of the theory and history of a given field that even published books cannot match. The work of universities and their members could not be done and would certainly not be recognized without the contribution by learned journals. Now in its twenty-seventh year of publication, the International Journal of Hindu Studies appears three times a year and is published both online and in print by Springer.
My work as editor of the International Journal of Hindu Studies has prepared the way for the creation of truly post-colonial and non-imperial teaching and research materials in this area. The journal has provided the context for sustained communication that has made it possible to pursue these collaborative projects effectively. My work of special importance is an interdisciplinary trilogy: The Hindu World (2004), Religions of India (2006, second edition 2018), and Studying Hinduism: Key Concepts and Methods (2008), in collaboration with my academic guru Professor Gene R. Thursby. Published by Routledge, the trilogy is designed to reshape the ways in which the religious traditions of India in general, and Hinduism in particular, are understood. All three books are widely used as textbooks in higher education institutions. And in continuation of this work, two major projects are currently underway: The Living Hindu World (a companion to The Hindu World) and the Encyclopedia of Hindu Studies.
I also consider my work to be necessarily comparative. Such perspective is explored in the collection Surprising Bedfellows: Hindus and Muslims in Medieval and Early Modern India (2003, Lexington Books), as also in the second of the trilogy (Religions of India) and to some extent in the collection Development and Change in India (1993, D.K. Publishing).
Gandhi Studies
This is a new field of academic studies of Gandhian thought. There is a two-phase process to effectively define this emerging field of inquiry. In the current first phase, a new interdisciplinary journal called the International Journal of Gandhi Studies is being nurtured. The inaugural volume was published in 2012. The second phase will create a new generation of teaching and research materials, with the initial publication of a textbook with a working title of An Introduction to Gandhian Thought.
Student-Oriented Scholarship and Research
Equally importantly, my scholarship provides undergraduate students the opportunity to learn about research as a process and enables their participation in that process. My journals and collaborative book projects become powerful centers of education when I draw them into the editorial process. I also have an excellent record of securing funding to support student research – for example, to conduct ethnographic research projects in India, to conduct library research projects, and to present research papers at national and international forums. Moreover, I have organized three national conferences for students to present their research.
(3) TEACHING
My teaching is rooted in more than three decades of ethnographic and textual engagement with society, culture, and religion in India.
At James Madison University I teach courses on Hindu traditions (course title: "Rethinking Order and Chaos: An Introduction to Hinduism"), ethics (course title: "Dharma/Adharma: Hindu Ethical Reasoning"), and Gandhian thought (course title: "Hope or Terror: Gandhi and the Other 9/11").
I am currently developing a new course entitled "Modern Hindu Political Thought: Svami Vivekananda, Aurobindo Ghose, Vinayak Damodar Savarkar, M. S. Golwalkar, and Deendayal Upadhyaya."
In my teaching, I find that Mohandas K. ("Mahatma") Gandhi provides a most effective entrée into the study of India and Hinduism for students in the West. Yet Gandhi's experience transcends geographical and political boundaries. He serves as a bridge from post-modern to modern and pre-modern thought. He is at a meeting point of religions and cultures. Because conflicts and violence are always with us, and the contemporary situation is not exceptional in general but exemplifies the perennial human situation, Gandhi provides tools of thought and resources for action to respond in less destructive ways to situations of conflict. Perhaps more importantly, in the global context of a plurality of contending and mutually qualifying social voices, Gandhi provides for dialogue in understanding. His life is full of contradictions and of creativity. Both merit study by any student.
Teaching is a complex process. It is never quite the same across teachers and across classrooms. I am therefore continuously investigating what works best for my students, how to effectively apply instructional strategies to my own unique classrooms, and how to "read" a class and to know when to set aside my plans and seize the teachable moments.
My teaching calls for tolerance: the need to remain open to new ideas, new thoughts, new ways of looking at the familiar, while subjecting misguided, uninformed, or prejudiced views and deep-seated convictions to scrutiny. I am most interested in problems of understanding and fairly representing cultural and religious traditions. Anthropology has provided me with some of the tools for those tasks. Anthropology places great emphasis on fieldwork in a foreign or second culture as a way to appreciate the importance of cultural differences, and religious differences are to some extent correlated with cultural differences. This is as true of differences within a great tradition as of differences between separate traditions. Anthropology keeps one alert about the role of context (or ethos) along with text (or worldview). Religion is behaved as much as believed. And that behavior becomes meaningful in specific cultural contexts. This is exactly what keeps me interested to contribute to an appreciation of the beautifully complex nature of human religious life.
In my teaching, I have concentrated on the improvement of existing courses, on the development of new courses, on formal and informal mentoring of students, and, most generally but perhaps most crucially, on the evolution of an approach to teaching that engages students in informed reflection and discussion of intellectual issues, making them aware of the ways that research feeds into the classroom and intellectual issues connect to the "real world." I believe that the humanities provide a way to think about "big ideas" while retaining a link to real people's lives. This link continues to be what excites me about the field and informs both what and how I teach. I teach about the diverse connections between religions, societies, and cultures and the ways ordinary people understand the world and act upon it. As I try to convey to students the vitality of different modes of seeing, I also point to how ideas are tied to their own lives and the life of their society. I have found that talking about my own research often furthers this engagement. It can give students a sense that a subject is alive, that people are discovering new things about it – in fact that there are new things to be discovered. I encourage students to see themselves as part of this community of inquirers and to realize that they also can discover new things. I invite them to think – about their own values, beliefs, and practices and about those of people who authentically hold ones that are different from theirs. This translates to the ability to ask sensitive and searching questions of a religious tradition, to question stereotypical representations, as well as to have confidence to pick up, say, the Bhagavad Gita five years after completing a course and reading it with some pleasure and understanding as important contribution to world literature. This is the best way I believe to prepare our future to find their way through the actual world.
Learning Beyond Classroom
My teaching also nurtures learning beyond classroom. It provides students the opportunity to design a program of study tailored to their own needs and interests, by engaging in "self-directed" education through independent research studies and by participating in experiential learning through internships, service-learning, and study abroad. These opportunities allow students to develop practical knowledge in their areas of interest and to link those interests to the wider world.
To summarize: Mahatma Gandhi's idea of Sarvodaya lies at the core of what I do and who I am. It means finding the ways to serve the welfare of all. I am concerned for the educational welfare of my students as much as for the well being of my family.
July 20, 2023