Dr. Sushil Mittal: Professor of Religion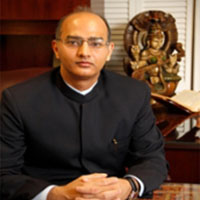 Office: Cleveland 205
Phone: (540) 568-6394
Fax: (540) 568-8072
Education
B.A. McGill University, Montreal, Canada
M.A. Carleton University, Ottawa, Canada
Ph.D. University of Montreal, Canada
Research and Teaching
A fellow philosophical traveler with Mahatma Gandhi, Sushil Mittal is Professor of Hindu Studies and Gandhi Studies at James Madison University and Honorary Professor of Gandhian Studies at GITAM University in Visakhapatnam, Andhra Pradesh, India. Previously, he has served on the faculties of the University of Florida in Gainesville and Millikin University in Decatur, Illinois.
Professor Mittal has an undergraduate degree from McGill University in Montréal, a master's degree from Carleton University in Ottawa, and a Ph.D. from the Université de Montréal. His discipline by training is cultural anthropology, though he is located in a department of religion where he teaches Hindu traditions (course title, "Rethinking Order and Chaos: An Introduction to Hinduism"), Hindu ethics (course title, "Dharma / Adharma: Hindu Ethical Reasoning"), and Gandhian thought (course title, "Gandhi and the Other 9/11").
Professor Mittal has conducted archival and field research in India, North America, Europe, and South Africa at intervals during the last three decades. The recipient of numerous grants and fellowships, his book publications include Development and Change in India; Surprising Bedfellows: Hindus and Muslims in Medieval and Early Modern India; The Hindu World; Studying Hinduism: Key Concepts and Methods; and Religions of India: An Introduction. His current work-in-progress includes The Living Hindu World, Encyclopedia of Hindu Studies, and The Gandhi Reader.
Professor Mittal is the (founding) Editor of the International Journal of Hindu Studies (Springer, 1997- ) and the International Journal of Gandhi Studies (WHPress, 2012- ).
Besides his passion for teaching and advancing the fields of Hindu Studies and Gandhi Studies, Professor Mittal also lectures widely at universities in India.
Professor Mittal was born in Canada (his "janma-bhumi"); and for over two decades he has dedicated himself to working in the United States of America (his "karma-bhumi"); and he looks to India, or the land of Bharata, as his main source of spiritual inspiration (his "dharma-bhumi").