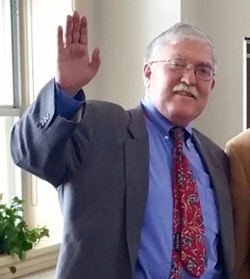 In Memoriam: Dr. Iain Maclean
The faculty and staff of the Department are deeply saddened by the sudden passing of our beloved colleague, Dr. Iain Maclean, on June 2nd, 2017.

Iain was an effervescent presence in our department, beloved of students and faculty alike – certainly for his keen wit and self-deprecating humor – but also for his genuine love of people and a selflessness evident in his profound kindness and generosity to all who came in contact with him.

Behind Iain's endearing shambolic ways and twinkling eyes was a brilliant, extraordinarily learned man. He had language facility in Afrikaans (a dialect of Dutch), Dutch, Zulu, German, Portuguese, and French, as well as ancient Hebrew, Greek, and Latin. Born to Scottish parents in Durbanville, South Africa, as a young man Iain entered the University of Cape Town, graduating with degrees in English and Greek in 1976. Sensing a call to Christian ministry, he went on to earn his BD degree (equivalent to the Master of Divinity in the U.S.) in New Testament and Theology at Rhodes University, subsequently receiving his ordination in the Presbyterian Church of South Africa. In 1985 he earned a masters degree in theology at Princeton, a year later a further bachelor's degree in Greek and Latin from the University of South Africa, and then in 1996 his doctorate in theology from Harvard Divinity School.

During his time in South Africa, Iain also served two years as chaplain in the South African Army, at the rank of colonel. It is perhaps a little known fact that during his training Iain qualified as a sharpshooter. Years later Iain had his Browning rifle shipped to him, and – in a classic "Iain moment" that those who know Iain will immediately recognize – after picking it up at Dulles Airport ambled through the terminal holding it.

After graduating from Harvard Divinity School in 1996, Iain held visiting professor positions at Roanoke College and Washington and Lee University. In 1998 he was appointed to his position at JMU, where for nineteen years he taught courses in the department on the history of Christian thought as well as a range of courses on religion and society. Iain served as the Department's pre-seminary advisor and tirelessly supervised many students in their religion internships. He also became famous university-wide for his "High Teas", his attempt to bring some British class and culture to his North American colleagues.

We also remember Iain as a man of deep Christian faith. He was one of the once common but increasingly rare breed who seamlessly combined in his own person and professional life love for the academy and love for the Church. As a student in South Africa he was involved in groups such as Youth for Christ, and while a Th.D. student in Boston he pastored and revitalized an inner-city church that had been decimated by "white flight". Over the past ten years, in addition to working full-time as a professor, he served tirelessly as minister in the Presbyterian parish in Fincastle, Virginia, preaching weekly, founding and leading a youth group, and visiting his parishioners.

Dietrich Bonhoeffer described Christ as "the man for others." Iain Maclean was a man for others. We will miss him. May he rest in peace.