Adult Education/Human Resource Development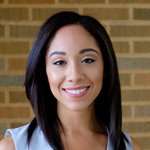 'This program gave me the opportunity to learn practical work skills so I don't just have one competency. When I interview for jobs and they ask if I have experience in various areas, I can answer yes.'
-Brittany Bilodeau ('16M)
A degree with a difference
The AHRD Master's program gives program graduates a competitive edge when they enter the workplace. Our program provides both the theoretical grounding and practical experience necessary to design. develop, implement, and evaluate innovative and effective technology infused learning programs. Our core curriculum ensures that students are prepared to work in the field, and our summer study abroad program builds skills in global competence and visual communication, both critical competencies in today's job market.
Flexible Instruction
The program includes a choice of online and/or face-to-face instruction, making it accessible for students in the local area and working professionals. Request Info or Apply Now
Admission Requirements
An Online Application submitted at: https://www.jmu.edu/grad/prospective
Official transcripts reflecting all post-secondary education, with a cumulative grade point average of 2.75 or higher. Applicants can have electronic copies sent via eSCRIP-SAFE
A two or three page personal statement explaining why the applicant is interested in pursuring a Master's in AHRD.
Two letters of recommendation from employers or educators who can attest to the applicant's potential for graduate-level course work.
A copy of the Applicant's current resume.
Program Cost - Financial Aid
Adult Education/Human Resource Development (M.S.Ed)
36 credit hours
$17,964 in state
$44,316 out of state
Career opportunities for graduates
Instructional Designer
Human Capital Consultant
E-Learning Designer
Curriculum Developer
Corporate Trainer
Organization Development Specialist
Instructional Technology Specialist
Training and Development Specialist
Human Resources Generalist
Performance Analyst
Workforce Educator
Program Manager
Project Manager
Program Evaluator
HRD Manager
Training Manager
'I love teaching in this program because hopefully I can prepare students for the future. I was in the corporate world for 12 years. Everything from supervisor, HR analyst, trainer, resume screener — I've been there.'
-Randy Snow, AHRD professor
'I've been able to find my way when I wasn't sure what I wanted. I ended up with the job of my dreams. I wouldn't have been able to do that without this program.'
-Meredith Kozikowski ('16M), human capital consultant for Deloitte
'I come from an Athletic Training background. I really appreciate how my professors incorporated my undergraduate degree into this program. It's not just for HRD majors.'
-Mackenzie Simmons ('16M)
Are you an AHRD alum? We want to hear from you!
Tell us what you've been up to. Your update may appear in Madison magazine's Class Notes too.