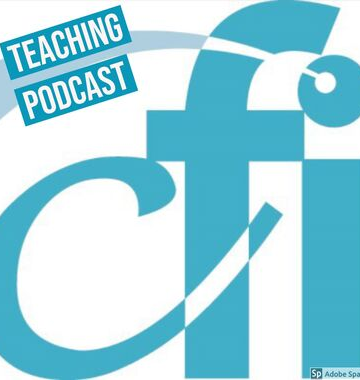 The CFI Teaching Podcast is a pilot project that offers professional development to JMU instructors from all disciplines in a way that honors busy schedules and doesn't require on-campus attendance. The goal is to deliver teaching tips and ideas in a 10-15 minute podcast that anyone can listen to at their leisure, on or off campus. Questions about the podcasts can be directed to Kristi Lewis, CFI Teaching Team Faculty Associate and Professor in the Department of Health Sciences, at lewiskl@jmu.edu. The CFI Teaching Podcasts is a collaboration between the CFI Teaching Team and JMU Libraries.
Episode Four: Diversity in Higher Education. In this episode, David Owusu Ansah, Professor of History, Associate Provost for Diversity and Executive Director for Faculty Assess and Inclusion along with Art Dean, Executive Director for Access and Inclusion discuss the importance of diversity in higher education. David and Art provide insight into the impact of diversity on student learning, as well as current and upcoming initiatives to increase diversity at JMU.
Episode Three: Group Learning. In this episode, Michael Kirkpatrick, Associate Professor, in the Department of Computer Sciences at JMU and a CFI Teaching Team Faculty Associate, discusses group learning. Michael provides details on the current research as well as strategies to implement group learning. He also discusses some of the elements around successful group or cooperative learning and the use of peer evaluations.
Episode Two: Background and Teaching Tips on Ethical Reasoning. Welcome to another episode of the CFI Teaching Podcasts. For this podcast, we will discuss the James Madison University (JMU) Madison Collaborative: Ethical Reasoning in Action initiative. The Madison Collaborative is part of the Southern Association of Colleges and Schools Commission on Colleges Quality Enhancement Plan (QEP). The goal of the QEP, according to the Madison Collaborative website, is to "enhance educational quality via student learning." The focus of the JMU QEP is to teach students ethical reasoning skills that can be applied in all aspects of their daily life (professional, personal, etc.).

Dr. Audrey Burnett, Associate Professor in the Department of Health Sciences and Dr. Kara Kavanagh, Assistant Professor in the Department of Early, Elementary, and Reading Education provide a background on the this initiative at JMU and tips for integrating ethical reasoning into your course(s). Both Audrey and Kara are serving as Faculty Fellows with the JMU Ethical Reasoning in Action office.
Episode One: Services Offered by JMU Libraries. Welcome to the first episode of the CFI Teaching Podcasts. For this episode, we have representatives from the JMU Libraries discussing some of the many services they offer to both students and instructors. Speakers for this podcast include: Liz Thompson, Instruction and Educational Resources Coordinator; Grover Saunders, Head of Innovation Spaces; and Jamie Calcagno-Roach, Head of Instructional Technology.