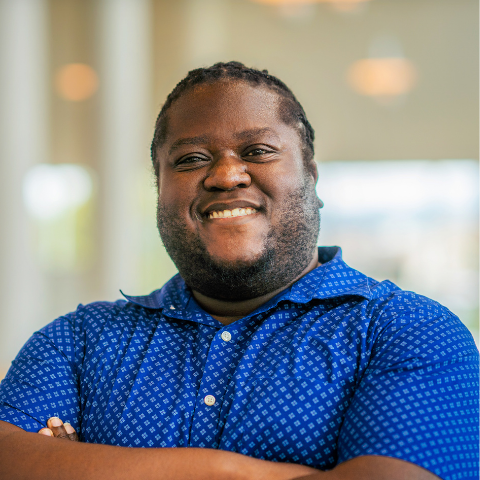 Associate Vice Provost, Faculty Success and CFI Executive Director
Year Started at JMU: 2015
hornsbgd@jmu.edu
Contact Info
Pronouns:
he/him/his
Education
B.S., University of North Texas
M.S., Oklahoma State University
Ph.D., Oklahoma State University
Biography
Gilpatrick Hornsby is the Associate Vice Provost, Faculty Success and Executive Director, Center for Faculty Innovation as of August, 2023. Most recently, Gilpatrick has served as the Interim Executive Director for CFI and as an Associate Professor in the School of Hospitality, Sport, and Recreation Managementand. Since joining JMU in 2015, he served the department and college is a variety of roles ranging from CFI faculty associate and a culinary program coordinator to an entrepreneurship faculty fellow.
Gilpatrick has a passion for helping colleagues reach their goals through faculty development and supporting minoritized faculty as they navigate the university context. Outside of work, Gilpatrick enjoys cooking, going to the movies, and spending time with his family and friends.
Courses Taught
Foundations of Hospitality Management
Leadership at Sea: Exploring Cultural Competency
Culinary and Menu Management
Introduction to Event Management
Cost Control and Budgeting
Advanced Event Management
Hospitality Human Resources
Honors Leadership III
Hospitality Entrepreneurship
Senior Seminar
Advanced Culinary Arts and Menu Management
Select Publications 
Hornsby, G., & Hornsby, T. (In Press). It's above me now: Managerial support of minority front line employees. Journal of Hospitality and Tourism Cases.
Hornsby, G. (2021). We are the Future of ICHRIE. Journal of Hospitality & Tourism Research. March 2021. doi:10.1177/1096348021998747
Hornsby, G. (2020). Exploring minority students' sense of belongingness and satisfaction in U.S. hospitality programs: An examination of departmental cultural climate. The Consortium Journal of Hospitality, 22(1), 3-29
Hornsby, G. (2020). The case for a tri-continuum of entrepreneurial behavior. ICHRIE Research Reports. International Council on Hotel, Restaurant, and Institutional Education. https://www.chrie.org/files/04202020_Hornsby_The_Case_for_Tri-ContinuumFINAL.pdf
Hornsby, G. (2019). Minority entrepreneurship. Events and Tourism Review, 2(1), 30-48.
Hornsby, G. (2020). Staying Productive in the Pandemic. ICHRIE Communique, 37(10), 3
Hornsby, G. & Hornsby, T. (2020). Engaging students in all facets of our professional life. ICHRIE Communique, 37(4), 3.
Hornsby, G. (2018). The scholarship of teaching and learning: Exploring high impact practices. ICHRIE Communique, 32(10), 3.
Hornsby, G., Scott-Halsell, S., Curtis, C., Ryan, B., & Kirksey, J. (2017). Do I fit in? Impact of race on hospitality student perceptions of departmental climate. Journal of Teaching in Travel & Tourism, 17(4), 219-236.
Hornsby, G. & Scott-Halsell, S. (2015). Minorities in hospitality management: State of diversity in hospitality education. Journal of Hospitality and Tourism Education, 27(3), 102-111.
Hornsby, G. & Scott-Halsell, S. (2015). Social responsibility in events. International Journal of Hospitality and Event Management, 1(3), 276-292. 
Service and Leadership
Member- President's Taskforce on Racial Equity
Member- American Hotel and Lodging Educational Institute (AHLEI) Education Certification Advisory Committee
Board Member- Virginia Restaurant, Lodging, and Travel Association Educational Foundation (VRLTAEF)
Editorial Board Member- International Journal of Gaming, Hospitality, and Tourism
Editorial Board Member- Consortium Journal of Hospitality and Tourism