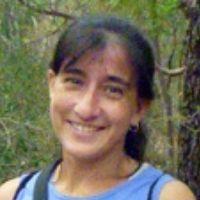 Research Description
I am interested in the functional morphology and biomechanics of the primate hindlimb and the processes by which animals use and adapt to different locomotor regimes and substrates. I am investigate the evolution of bipedalism, by studying the relationship between form and function in modern primate feet in order to reconstruct behavior in fossil specimens.  I also have clinical interests in diabetic foot problems and athletic footwear, particularly in understanding the etiology of plantar ulceration and overuse injuries and developing strategies for early detection and prevention.
Courses
Human Anatomy (BIO 290)
Forensic Anatomy (BIO 325)
Advanced Human Anatomy (BIO 410)
Clinical Anatomy for Physician Assistants (BIO 413/513)
Biomechanics (BIO 490)
Education
PhD, State University of New York at Stony Brook
MA, State University of New York at Stony Brook
BA, University of Virginia
Select Publications
2017 Wunderlich, R.E. and Ischinger, S.B. Foot use during vertical climbing in chimpanzees (Pan troglodytes). Journal of Human Evolution, 109, 1-10.
2016 Hatala, K. G., Wunderlich, R. E., Dingwall, H. L., & Richmond, B. G. Interpreting locomotor biomechanics from the morphology of human footprints. Journal of human evolution, 90, 38-48.
2016 Vereecke, Evie E., and Roshna E. Wunderlich. "Experimental Research on Hand Use and Function in Primates." The Evolution of the Primate Hand. Springer New York, 2016. 259-284.