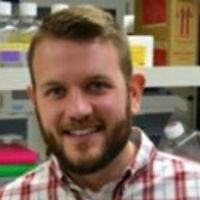 Research Description
The Parker lab studies multiple facets of reptile reproduction: behavior, sex pheromones, gene expression, host-microbe interactions, and invasive species biology. Students learn a variety of techniques to address integrated questions across these research foci, such as how hormone manipulation changes pheromone composition, the role of chemical signals in mate searching in invasive species, and genes controlling sex pheromone production. The lab conducts intensive field and laboratory projects, including Honors theses, and works collaboratively.
Courses
Human Physiology (BIO 270)
Reproductive Physiology (BIO 426)
Advanced Topics in Cellular and Molecular Biology (BIO 630)
Education
PhD in Zoology, 2010, Oregon State University
MS in Zoology, 2004, Washington State University
BS in Zoology, 2002, University of Arkansas
Select Publications
Rucker HR,* Parker MR. 2022. Decreased attractivity in female garter snakes treated with an aromatase inhibitor. J Exp Zool A Ecol Integr Physiol. 337(2):171–180. doi:10.1002/jez.2546.
Parker MR, Currylow AF, Tillman EA, Robinson CJ, Josimovich JM, Bukovich IMG,* Nazarian LA,* Nafus MG, Kluever BM, Adams AYY. 2021. Using enclosed Y-mazes to assess chemosensory behavior in reptiles. J Vis Exp.(170). doi:10.3791/61858.
Baedke PE,* Rucker HR,* Mason RT, Parker MR. 2019. Chemical isolation, quantification, and separation of skin lipids from reptiles. J Vis Exp.(144). doi:10.3791/59018. 
*indicates student co-author