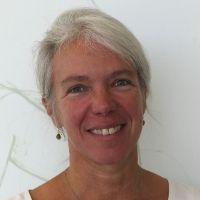 Research Description
Interdisciplinary research that focuses on the interactions between physical, chemical and biological processes in river systems. Specifically, I am exploring hydrologic and geomorphic processes that shape river systems, and the role of disturbance in aquatic ecosystems. Of particular interest are mountain stream communities, brook trout habitat, American eels, and freshwater mussels.
Courses
Ecology and Evolution (BIO 124 lecture & lab)

Freshwater Ecology (BIO 459/559)

Geology and Ecology of the Bahamas (BIO/GEOL 400)

Advanced Graduate Topics in Ecology (BIO 660)

Capstone Seminar in Environmental Problem Solving (ENVT 400)

Natural Hazards (GSCI 104)

.
Education
PhD in Fisheries Science, 2002, Oregon State University, Corvallis, OR
MS in Forest Hydrology, 1998, Oregon State University, Corvallis, OR
BS in Natural Resources, 1994, Humboldt State University, Arcata, CA
Select Publications
Harmon PA*, Riscassi AL, Scanlon TM, Galloway JN, Demarest D, May CL. 2021. The impacts of stream acidification on fish assemblages: Assessing three decades of recovery in Shenandoah National Park. Glob Ecol Conserv. 26(e01386):e01386.
Teears TD*, Baedke SJ, Downey DM, Jonathan A. Studio*, May CL. 2020. Water chemistry and light effects on survival of hatching salmonids in spring channels. J Freshw Ecol. 35(1):13–28.
Courtwright J*, May CL. 2013. Importance of terrestrial subsidies for native brook trout in Appalachian intermittent streams. Freshw Biol. doi:10.1111/fwb.12221. 
*indicates student co-author