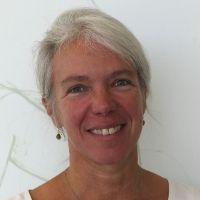 Research Description
Interdisciplinary research that focuses on the interactions between physical, chemical and biological processes in river systems. Specifically, I am exploring hydrologic and geomorphic processes that shape river systems, and the role of disturbance in aquatic ecosystems. Of particular interest are mountain stream communities, brook trout habitat, American eels, and freshwater mussels.
Courses
Ecology and Evolution (BIO 124 lecture & lab)

Freshwater Ecology (BIO 459/559)

Geology and Ecology of the Bahamas (BIO/GEOL 400)

Advanced Graduate Topics in Ecology (BIO 660)

Capstone Seminar in Environmental Problem Solving (ENVT 400)

Natural Hazards (GSCI 104)

.
Education
PhD in Fisheries Science, 2002, Oregon State University, Corvallis, OR
MS in Forest Hydrology, 1998, Oregon State University, Corvallis, OR
BS in Natural Resources, 1994, Humboldt State University, Arcata, CA
Select Publications
*Watt, C., *Swanson, C., *Miller, D., Chen, L., and C. May. 2017. Social Hierarchies Override Environmental Conditions in Determining Body Coloration of Brook Trout. Journal of Freshwater Ecology 32(1):575-580.
May, C., Roering, J., *Snow, K., Griswold, K., and R. Gresswell. 2016. The waterfall paradox: How knickpoints disconnect hillslope and channel processes, isolating salmonid populations in ideal habitats. Geomorphology, special issue on Landscape Connectivity DOI: 10.1016/j.geomorph.2016.03.029
May, C.L., and B.S. Pryor. 2015. Explaining spatial patterns of mussel beds in a northern California river: The role of flood disturbance and spawning salmon. River Research and Applications. DOI: 10.1002/rra.2894

.
*undergraduate student author