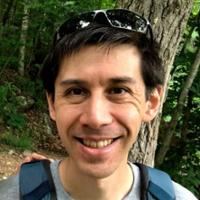 Research Description
I study how cells in the body sense and modify their tissue environment, and the implications of this for cancer progression and tissue regeneration. I also develop resources for light microscopy research and education.
Education
PhD in Molecular Biophysics, 2009, ETH Zurich, Switzerland
BS in Biomedical Engineering, 2002, University of Southern California, Los Angeles, CA
Select Publications
Pamonag M*, Hinson A*, Burton EJ*, Jafari N*, Sales D*, Babcock S*, Basha R*, Hu X, Kubow KE. Individual cells generate their own self-reinforcing contact guidance cues through local matrix fiber remodeling. PLoS One. 2022;17(3):e0265403. doi:

10.1371/journal.pone.0265403

. eCollection 2022. PubMed PMID: 35333902; PubMed Central PMCID: PMC8956187.

Xie Z, Janczyk PŁ, Zhang Y, Liu A, Shi X, Singh S, Facemire L, Kubow K, Li Z, Jia Y, et al. 2020. A cytoskeleton regulator AVIL drives tumorigenesis in glioblastoma. Nat Commun. 11(1):3457.

Mische, S. M., Fisher, N. C., Meyn, S. M., Church, K. S., Hegstad-Davies, R. L., Weis-Garcia, F., Adams, M., Ashton, J. M., Delventhal, K. M., Dragon, J. A., Holmes, L., Jagtap, P., Kubow, K. E., Mason, C. E., Palmblad, M., Searle, B. C., Turck, C. W., & Knudtson, K. L. (2020) A Review of the Scientific Rigor, Reproducibility, and Transparency Studies Conducted by the ABRF Research Groups. Journal of Biomolecular Techniques. 31(1):11-26. DOI: 10.7171/jbt.20-3101-003.   
*indicates student co-author